ANALISIS FAKTOR YANG BERHUBUNGAN DENGAN MEKANISME KOPING PASIEN HEMODIALISA RSUD DR. M. YUNUS BENGKULU
Handi Rustandi

Fakultas Kesehatan Universitas Dehasen Bengkulu

Hengky Tranado

Fakultas Kesehatan Universitas Dehasen Bengkulu

Helen Xlara Darnalia

Fakultas Kesehatan Universitas Dehasen Bengkulu
Keywords:
Analisis Faktor, Hemodialisa, Mekanisme Koping
Abstract
Chronic Renal Failure (CRF) disease is a clinical state of progressive kidney damage and variable from various causes of diseases. From the data in some of the nephrology center in Indonesia estimated the incidence and prevalence of chronic kidney disease each ranging from 100-150 / 1 million inhabitants and 200-250 / 1 million population, but were diagnosed with chronic renal failure on dialysis (Hemodialysis) only about 4000 to 5000 alone.This study aimed to determine the factors associated with the dominant coping mechanism on hemodialysis patients in hemodialysis unit of Dr. M. Yunus Hospital Bengkulu 2016.This study is an analytical research using cross-sectional design which use variable measurement or observation at a given moment. This study was conducted in Hemodialysis unit of Dr. M. Yunus Hospital Bengkulu on June 20 to July 20, 2016. The samples in this study were hemodialysis patients who had conducted dialysis over a year of 50 people. The instrument used were questionnaire and checklistsheets.Most respondents31 people from 50 respondents in hemodialysis unit of Dr. M. Yunus HospitalBengkulu adapted coping mechanisms. Almost all of the respondents21 people had little knowledge. Most respondents primary who had education level (primary and junior equivalents) were 21 of 50 respondents. Half of the respondents aged 41-60 were26 people from 50 respondents. The respondents totally 29 people were largely male. Most respondents that had high hopes were 25 respondents.
Downloads
Download data is not yet available.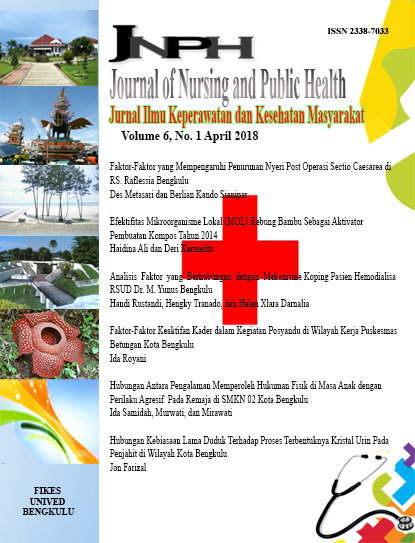 How to Cite
Rustandi, H., Tranado, H., & Darnalia, H. (2018). ANALISIS FAKTOR YANG BERHUBUNGAN DENGAN MEKANISME KOPING PASIEN HEMODIALISA RSUD DR. M. YUNUS BENGKULU. Journal of Nursing and Public Health, 6(1). https://doi.org/10.37676/jnph.v6i1.490
An author who publishes in the Journal of Nursing and Public Health agrees to the following terms:
Author retains the copyright and grants the journal the right of first publication of the work simultaneously licensed under the Creative Commons Attribution-ShareAlike 4.0 License that allows others to share the work with an acknowledgement of the work's authorship and initial publication in this journal
Submission of a manuscript implies that the submitted work has not been published before (except as part of a thesis or report, or abstract); that it is not under consideration for publication elsewhere; that its publication has been approved by all co-authors. If and when the manuscript is accepted for publication, the author(s) still hold the copyright and retain publishing rights without restrictions. For the new invention, authors are suggested to manage its patent before published. The license type is CC-BY-SA 4.0.
Journal of Nursing and Public Health is licensed under a Creative Commons Attribution-ShareAlike 4.0 International License.
You are free to:
Share — copy and redistribute the material in any medium or format
Adapt — remix, transform, and build upon the material
for any purpose, even commercially.
The licensor cannot revoke these freedoms as long as you follow the license terms.