HUBUNGAN PERILAKU HIGIENE IBU DAN KEJADIAN DIARE DENGAN KEJADIAN STUNTING PADA BALITA
NURUL KHAIRANI

PROGRAM STUDI KESEHATAN MASYARAKAT STIKES TRI MANDIRI SAKTI BENGKULU

SANTOSO UJANG EFFENDI

PROGRAM STUDI KESEHATAN MASYARAKAT STIKES TRI MANDIRI SAKTI BENGKULU

SURYANI SURYANI

PROGRAM STUDI KESEHATAN MASYARAKAT STIKES TRI MANDIRI SAKTI BENGKULU
Keywords:
Balita, Kejadian Diare, Kejadian Stunting, Perilaku Higiene Ibu
Abstract
Dampak stunting pada anak bersifat langsung dan jangka panjang yaitu peningkatan morbiditas dan mortalitas, gangguan perkembangan, kapasitas belajar, dan peningkatan risiko infeksi dan penyakit tidak menular. Tujuan penelitian ini adalah untuk mempelajari hubungan perilaku higiene ibu dan kejadian diare dengan kejadian stunting pada balita yang berkunjung ke Posyandu di di wilayah kerja Puskesmas Padang Serai Kota Bengkulu. Jenis penelitian adalah Survei Analitik dengan desain Case Control. Sampel kasus adalah seluruh ibu yang memiliki balita stunting yang berusia 12-59 bulan sebanyak 26 ibu. Sampel kontrol adalah  ibu yang memiliki balita tidak stunting yang berusia 12-59 bulan sebanyak 26 ibu. Teknik pengambilan untuk sampel kasus adalah Total Sampling, sedangkan untuk sampel kontrol adalah Purposive Sampling. Data dikumpulkan dengan menggunakan kuesioner dan pengukuran antropometri. Data dianalisis secara univariat dan bivariat. Analisis bivariat menggunakan uji statistik Chi-Square (χ2). Hasil penelitian menunjukkan bahwa 26 ibu (50,0%) memiliki balita yang mengalami kejadian stunting, 43 ibu (82,7%) memiliki perilaku higiene kurang baik, dan 39 ibu (75,0%) memiliki balita yang mengalami kejadian diare. Tidak ada hubungan yang signifikan antara perilaku higiene ibu (p=1,000, OR=1,310) dan kejadian diare (p=1,000, OR=0,814) dengan kejadian stunting. Diharapkan kepada petugas gizi Puskesmas untuk dapat memberikan edukasi kepada ibu balita tentang perilaku higiene yang baik dan pencegahan diare agar kejadian stunting dapat dicegah.
Downloads
Download data is not yet available.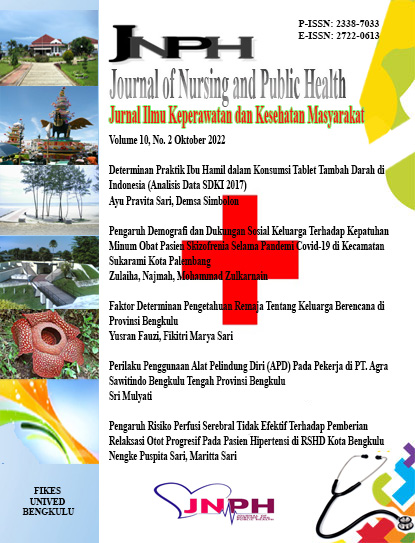 How to Cite
KHAIRANI, N., EFFENDI, S., & SURYANI, S. (2022). HUBUNGAN PERILAKU HIGIENE IBU DAN KEJADIAN DIARE DENGAN KEJADIAN STUNTING PADA BALITA. Journal of Nursing and Public Health, 10(2), 280-287. https://doi.org/10.37676/jnph.v10i2.3213
An author who publishes in the Journal of Nursing and Public Health agrees to the following terms:
Author retains the copyright and grants the journal the right of first publication of the work simultaneously licensed under the Creative Commons Attribution-ShareAlike 4.0 License that allows others to share the work with an acknowledgement of the work's authorship and initial publication in this journal
Submission of a manuscript implies that the submitted work has not been published before (except as part of a thesis or report, or abstract); that it is not under consideration for publication elsewhere; that its publication has been approved by all co-authors. If and when the manuscript is accepted for publication, the author(s) still hold the copyright and retain publishing rights without restrictions. For the new invention, authors are suggested to manage its patent before published. The license type is CC-BY-SA 4.0.
Journal of Nursing and Public Health is licensed under a Creative Commons Attribution-ShareAlike 4.0 International License.
You are free to:
Share — copy and redistribute the material in any medium or format
Adapt — remix, transform, and build upon the material
for any purpose, even commercially.
The licensor cannot revoke these freedoms as long as you follow the license terms.