ERGONOMIC RISK LEVEL AND MUSCULOSKELETAL COMPLAINTS DISORDERS (MSDS) IN GALLON SHUTTERS IN THE QUALITY AREA OF QUEEN AGUNG BENGKULU CITY
SRI MULYATI

BENGKULU HEALTH POLYTECHNIC MINISTRY OF HEALTH, DIII SANITATION STUDY PROGRAM DEPARTMENT OF ENVIRONMENTAL HEALTH

APLINA KARTIKA SARI

BENGKULU HEALTH POLYTECHNIC MINISTRY OF HEALTH, DIII SANITATION STUDY PROGRAM DEPARTMENT OF ENVIRONMENTAL HEALTH
Keywords:
Ergonomics, Musculosceletal Disorders (MSDs), Drinking water depot workers
Abstract
Ergonomics is a field of study that studies human interaction with elements in the system, so that various theories and methods will be produced to optimize the performance and performance of the overall system. While Musculoskeletal disorders (MSDs) are complaints felt by workers such as muscle pain, and cartilage pain. This study aims to determine the ergonomics and complaints of musculoskeletal disorders (MSDs). Based on an initial survey of 5 drinking water depot workers about whether they feel pain in the body when they work, it turns out there are complaints such as pain in some parts of their body such as back pain 3 people, neck 2 people, and others after they work. This research was a descriptive observational study, the sample in this study was 35 drinking water depot workers using total sampling. From the univariate results of 35 workers had a moderate level of ergonomic risk of 32 (91.4%), while complaints of Musculoskeletal disorders (MSDs) experienced by workers were more dominant while complaints of musculoskeletal disorders were 21 (60%). Workers are expected to pay attention to the ergonomics of work positions carried out when carrying out work activities that have a sufficiently long period of time, thereby reducing complaints of Musculoskeletal disorders experienced by workers.
Downloads
Download data is not yet available.
References
Arikunto, S. 2013. Research Procedure: A Practical Approach. Jakarta: Rineka Cipta.
Bambang Suhardi, 2008. Work System Design and Ergonomics Book. Jakarta: Directorate of Vocational High School Development.
Federation of European Ergonomics Societies (FEES). 2009. European Euronomics: Know Your Economy. Available From: http://www.ergonomics-fees.eu/node/71 [Accessed December 26, 2019].
Fuady Ahmad Rifqy. 2013. Factors Associated with Musculoskeletal Disorders (MSDs) in Shoe Craftsmen in the Small Industrial Village (PIK) of Milling District of Cakung. Essay. Syarif Hidayatullah State Islamic University. Jakarta.
Ginting, Rosnani, 2010. Product design. Yogyakarta: Graha knowledge.
Giri, CRA 2013. Ergonomic Level Analysis of Employment Aspects in Informal Sector Laundry Workers in Ciputat Sub-district east of South Tangerang City. Scription, State Islamic University Syarif Hidayatulla. Jakarta.
Hasrianti, Yulvi. 2016. Relationship of Work Posture with Musculoskeletal Complaints in Workers at Pt. Maruki Internasional Indonesia Makassar. Thesis. Hasanudi University. Makassar.
Hikmah, Rizqi N.dkk. 2015. Work Posture Before and After Safety Training About Material Handling Manuals for Drinking Water Depot Workers (Case Study in Sumbersari District, Jember). Scientific Articles of Student Research Results. Pp. 1-5
Helmi Zairin Noor. 2012. Textbook for Musculoskelatal Disorders. Jakarta. Salemba Medika.
ILO, 2013. The Prevention Of Occupational Deaseas [Online]. Available.
Nurhikmah. 2011. Factors Related to Musculoskeletal Disorders (MSDs) in Furniture Workers in Benda Subdistrict Tangerang City in 2011. Thesis. Syarif Hidayatullah State Islamic University. Jakarta.
Nurliah, Aah. 2012. Musculoskeletal Disorders (MSDS) Risk Analysis in Forlift Operators at PT. LLI. Thesis. Indonesian University. Depok.
Niosh. Ergonomic Guidelines for Manual Material Handling. www.NIOSH.com/pdf. Accessed February 10, 2020.
Osni Mutia, 2012. Overview of Ergonomic Risk Factors and Subjective Complaints to Musculoskeletal Disorders (MSDS) Disorders in the Informal Sector Tailors in the Home Industry Area Rw 6, Cipadu Village, Larangan District, Tangerang City. Essay. University of Indonesia. Depok.
Priastika, TA (2012). Ergonomic Risk Level Analysis on Manual Handling Activities at Pt Ceva Logistik Indonesia Site Michelin Pondok Unggu Bekasi. Essay. University of Indonesia. Depok.
Purba, PN et al. (2015). Complaints of Musculoskeletal Disorders (MSDS) on Sales Promotion Girl (Spg) Users of High Heels at Suzuya Medan Plaza in 2015. Thesis, University of North Sumatra. Field.
Retno, Wulandari(2017) Relationship between Occupational Factors and Individual Factors with Musculoskeletal Disorders (MSDS) Complaints in DAMIU Gallon Shuttle Workers in the Ulak Karang Padang Public Health Center in 2016. Diploma thesis, Andalas University.
Rijanto, B. (2011). Accident Prevention Guidelines in Industry. Jakarta: Media Discourse Partner.
Sarvia & Willy, 2019. Proposed Design of Alternative Material Handling to Reduce the Risk of Pain Complaints and Determination of Rest Time for Gallon Lifting Operators. Vol. 4, No. 1, March 2019 pp. 7-15
Setiawan, Muhammad Safri, et al. 2019. Assessment of Worker Posture for Gallon Lifting by REBA and Biomechanics Methods. Industrial Engineering Study Program, Faculty of Industrial Technology, Indonesian Islamic University.
Sritomo Wignjosoebroto, 2015. Ergonomics of Study of Motion and Time. Surabaya: For Wijaya.
Sukania, IW 2014. Ergonomic Analysis of Lifting Activities Load Case Study Lifting Water Gallons Over Dispensers. Scientific Work of a Tarumanegara University Lecturer.
Sulianta, Feri. 2010. IT Ergonomics. Jakarta: PT. Elex Media Komputindo.
Sugiyono 2012. Qualitative and R&D Quantitative Research Methods. Bandung: Alfabeta
Tarwaka, et al., 2016. Ergonomics for Safety, Occupational Health and Productivity. Surakarta: Uniba Press.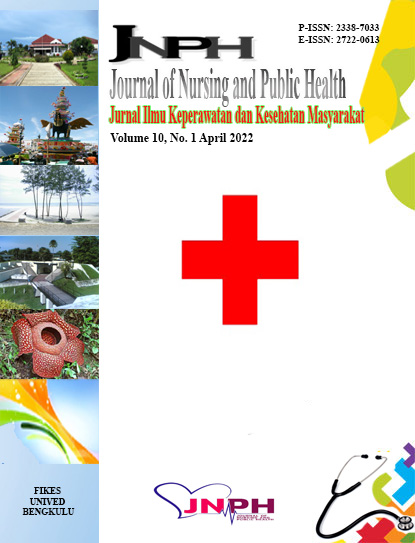 How to Cite
MULYATI, S., & SARI, A. (2022). ERGONOMIC RISK LEVEL AND MUSCULOSKELETAL COMPLAINTS DISORDERS (MSDS) IN GALLON SHUTTERS IN THE QUALITY AREA OF QUEEN AGUNG BENGKULU CITY. Journal of Nursing and Public Health, 10(1), 178-185. https://doi.org/10.37676/jnph.v10i1.2385
An author who publishes in the Journal of Nursing and Public Health agrees to the following terms:
Author retains the copyright and grants the journal the right of first publication of the work simultaneously licensed under the Creative Commons Attribution-ShareAlike 4.0 License that allows others to share the work with an acknowledgement of the work's authorship and initial publication in this journal
Submission of a manuscript implies that the submitted work has not been published before (except as part of a thesis or report, or abstract); that it is not under consideration for publication elsewhere; that its publication has been approved by all co-authors. If and when the manuscript is accepted for publication, the author(s) still hold the copyright and retain publishing rights without restrictions. For the new invention, authors are suggested to manage its patent before published. The license type is CC-BY-SA 4.0.
Journal of Nursing and Public Health is licensed under a Creative Commons Attribution-ShareAlike 4.0 International License.
You are free to:
Share — copy and redistribute the material in any medium or format
Adapt — remix, transform, and build upon the material
for any purpose, even commercially.
The licensor cannot revoke these freedoms as long as you follow the license terms.