PATIENT'S PERSPECTIVES IN IMPLEMENTATION OF HEALTH PROTOCOL PREVENTING THE TRANSMISSION OF COVID-19 IN THE HEALTH SERVICE ENVIRONMENT BASED ON THE QUALITY OF LIFE (QOL) CONCEPT
YAYAN KURNIAWAN

PROGRAM STUDI DIII KEPERAWATAN, STIKES SAPTA BAKTI, BENGKULU

SUTRI YANI

PROGRAM STUDI DIII KEPERAWATAN, STIKES SAPTA BAKTI, BENGKULU
Keywords:
Implementation of Health Protocol, COVID-19, Quality Of Life (QOL)
Abstract
Introduction: Currently, COVID-19 has become a global pandemic. The number of COVID-19 cases in Bengkulu Province in January reached 23.110 cases, while for regional cases, Bengkulu City occupies the highest position, namely 9.015 cases compared to 8 (eight) surrounding districts, which Among them, as many as 158 people died. Transmission of COVID-19 can occur airborne or through air contaminated with the coronavirus, then the virus enters through the nose, eyes, mouth, and other mucous membranes. Discipline in implementing health protocols in the community has reduced transmission. Patients' quality of life undergoing treatment in hospitals during the current COVID-19 pandemic often shows terrible symptoms. Nurses cannot be separated from their responsibilities as severing agents and preventing transmission in the family, community, or health care environment. Aspects of focus in this study's concept of Quality of Life (QOL) are biological health functions, psychological, spiritual, social, and family support. Metode: The design of this research is descriptive phenomenology with a qualitative study method. The total respondents in this study were 15 patients who were taken from 3 treatment rooms (inpatient)—sampling using the purposive sampling method. The criteria for respondents in this study were inpatients, patients with the good general condition, adult patients, and cooperative patients. The data that was explored from the respondents was an overview of the patient's perspective related to efforts to prevent COVID-19 by implementing health protocols in terms of the Quality Of Life (QOL) aspect obtained through in-depth interviews, namely an overview of (1) functions health biologically (physiological), (2) psychological, (3) spiritual, (4) social and (5) family support. Hasil: The results of the analysis obtained from in-depth interviews on the physiological aspect that the application of health protocols is effective in preventing transmission, on the psychological aspect the application of health protocols has an impact on feeling safe in patients, on the spiritual aspect the application of health protocols does not make the patient reduce the value of worship, on the social aspect the patient says that With the application of strict protocols, patients use alternative communication media without having to meet in person so that patients feel protected. Regarding family support, respondents said that the implementation of health protocols could also be adequately realized with full support from the family. Kesimpulan: Implementation related to strict health protocols can be well received and beneficial for the patient's quality of life.
Downloads
Download data is not yet available.
References
Akmal, Burhani. H. Pengentahuan Sikap dan Tindakan Umat Beragama Mengahadapi COVID-19. Badang Litbang dan Diklat Kemenag RI. 2020. https://simlitbangdiklat.kemenag.go.id/simlitbang/spdata/upload/dokumen-penelitian/1592454380Laporan_UmatVSCovid_.pdf.
Alyssa L, Goldenhart. Assiting Patients With Personal Hygiene. Statpearls Publishing. 2021. PMID: 33085302. https://www.ncbi.nlm.nih.gov/books/NBK563155/.
ANA. Clinical Information. ANA Interprise. 2022. https://www.nursingworld.org/ana-enterprise/.
Aristina H. Hubungan Dukungan Keluarga dan Strategi Penenganan Kecemasan pada Perawat yang Merawat Pasien Penderita COVID-19. J Keperawatan Sekolah Tinggi Ilmu Kesehatan William Booth. 2021;10(1)18-28. https://doi.org/10.47560/kep.v10i1.267.
Covid 19 Provinsi Bengkulu. Data Real Time Covid-19: Perkembangan Kasus Covid 19 Provinsi Bengkulu. 2022. https://covid19.bengkuluprov.go.id/Databengkulu.
Dac T. Quality Of Life. J Statpearls Publishing. 2021.
Ika. Efektivitas Masker Kain Cegah COVID-19 Paling Rendah. 2020. https://www.ugm.ac.id/id/newsPdf/19280-efektivitas-masker-kain-cegah-covid-19-paling-rendah.
Jhon T, Brooks. Maximizing Fit for Cloth and Medical Procedure Masks to Improve Performance and Reduce SARS-CoV-2 Transmission and Exposure. Centers for Disease Control and Prevention (CDC). 2021;70(7):254-257. https://www.cdc.gov/mmwr/volumes/70/wr/pdfs/mm7007e1-H.pdf.
Kemenkes. Keputusan Menteri Kesehatan Republik Indonesia Tentang Penyelenggaraan Rumah Sakit Darurat Pada Masa Pandemi Corona Virus Disease 2019. 2021
Kresna A, Ahyar J. Pengaruh Physical Distancing dan Social Distancing Terhadap Kesehatan Dalam Pendekatan Linguistik. J Syntax Transformation. 2020;1 (4)14-19. https://jurnal.syntaxtransformation.co.id/index.php/jst/article/view/42.
Nandasena H, Pathirathna M.L, Atapattu. Quality of Life of COVID 19 Patients After Discharge: Systematic Review. J Plos One. 2022; 17 (2): e0263941. https://doi.org/10.1371/journal.pone.0263941.
Sujianto U, Billy R. Family's Experience: Nursing Care for Colorectal Cancer Patients with Colostomy. J Nurse Media Journal of Nursing. 2020; 10(1)96-106. https://ejournal.undip.ac.id/index.php/medianers/article/view/28725/17171.
WHO. Handwashing an effective tool to prevent COVID-19, other diseases. WHO.Int. 2020
WHO. Coronavirus disease (COVID-19): Herd Immunity, lockdowns and COVID-19. 2020. https://www.who.int/news-room/questions-and-answers/item/herd-immunity-lockdowns-and-covid-19.
WHO. Coronavirus Disease (COVID-19): How is it transmitted. Geneva. 2021.
Wiranti, S. Ayun. Determinan Kepatuhan Masyarakat Kota Depok Terhadap Kebijakan Pembatasan Sosial Berskala Besar Dalam Pencegahan COVID-19. J Jurnal Kebijakan Kesehatan Indonesia: JKKI. 2020; 09 (03): 117-124
Yunus. N.R, Rezki A. Kebijakan Pemberlakuan Lock Down Sebagai Antisipasi Penyebaran Corona Virus: J Salam: Jurnal Sosial dan Budaya Syar-i. 2020; 07 (3). https://doi.org/10.15408/sjsbs.v7i3.1508.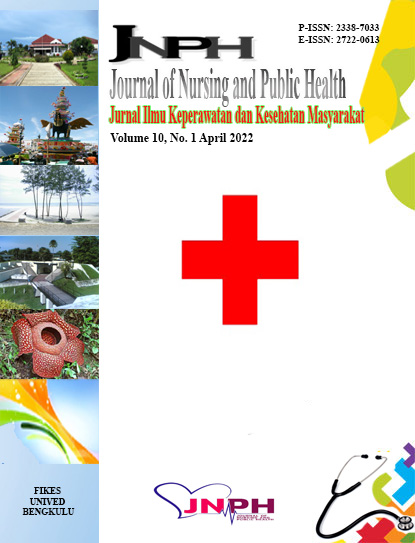 How to Cite
KURNIAWAN, Y., & YANI, S. (2022). PATIENT'S PERSPECTIVES IN IMPLEMENTATION OF HEALTH PROTOCOL PREVENTING THE TRANSMISSION OF COVID-19 IN THE HEALTH SERVICE ENVIRONMENT BASED ON THE QUALITY OF LIFE (QOL) CONCEPT. Journal of Nursing and Public Health, 10(1), 171-177. https://doi.org/10.37676/jnph.v10i1.2384
An author who publishes in the Journal of Nursing and Public Health agrees to the following terms:
Author retains the copyright and grants the journal the right of first publication of the work simultaneously licensed under the Creative Commons Attribution-ShareAlike 4.0 License that allows others to share the work with an acknowledgement of the work's authorship and initial publication in this journal
Submission of a manuscript implies that the submitted work has not been published before (except as part of a thesis or report, or abstract); that it is not under consideration for publication elsewhere; that its publication has been approved by all co-authors. If and when the manuscript is accepted for publication, the author(s) still hold the copyright and retain publishing rights without restrictions. For the new invention, authors are suggested to manage its patent before published. The license type is CC-BY-SA 4.0.
Journal of Nursing and Public Health is licensed under a Creative Commons Attribution-ShareAlike 4.0 International License.
You are free to:
Share — copy and redistribute the material in any medium or format
Adapt — remix, transform, and build upon the material
for any purpose, even commercially.
The licensor cannot revoke these freedoms as long as you follow the license terms.