PENGARUH PENDIDIKAN KESEHATAN  DALAM MELAKUKAN KEPATUHAN PROTOKOL KESEHATAN COVID-19 DI DESA PONDOK BATU KABUPATEN MUKOMUKO TAHUN 2020
IDA SAMIDAH

FIKes Unived Bengkulu

MURWATI MURWATI

FIKes Unived Bengkulu

SULASTRI SULASTRI

FIKes Unived Bengkulu
Keywords:
Kepatuhan, Covid-19
Abstract
Kejadian luar biasa oleh coronavirus bukanlah merupakan kejadian yang pertama kali. tahun 2002 Severe Acute Respiratory Syndrome (SARS) disebabkan oleh SARS coronavirus (SARS-CoV) dan penyakit Middle East Respiratory Syndrome (MERS-CoV) dengan total akumulatif kasus sekitar 10.000 (1000an kasus MERS dan 8000an kasus SARS). Mortalitas akibat SARS sekitar 10% sedangkan MERS lebih Tinggi yaitu sekitar 40%. Tujuan dari penelitian ini adalah mengetahui Pengaruh pendidikan kesehatan dalam melakukan kepatuhan protokol kesehatan covid-19 di desa pondok batu kabupaten muko-muko Tahun 2020" sampel dalam penelitian ini adalah berjumlah 20 orang dengan total sampling. Hasil penelitian menunjukkan bahwa sebagian besar (55%) dari tidak patuh dalam melakukan protokol kesehatan covid 19 sebelum dilakukan intervensi diberikan penyuluhan. Seluruh responden (100%) patuh dalam melakukan protokol kesehatan covid 19 setelah dilakukan intervensi  diberikan penyuluhan. Hasil analisis bivariat menggunakan setelah dilakukan uji T Test didapatkan nilai P = 0,000 yang lebih kecil dari alpha ( 0,05 ) berarti ada pengaruh pendidikan kesehatan dalam melakukan protocol kesehatan covid-19 di desa pondok batu kabupaten muko-muko. Diharapkan menambah pengetahuan yang bermanfaat bagi masyarakat tentang protocol kesehatan covid-19.
Downloads
Download data is not yet available.
References
Arshad Ali, S., Baloch, M., Ahmed, N., Arshad Ali, A., &Iqbal, A. (2020). The
out break of Coronavirus Disease 2019 (COVID-19)—An emerging global health threat. Journal of Infection andPublic Health, 13 (4), 644–646.
https://doi.org/10.1016/j.jiph.2020.02.0
John Hopkins University.Wulan coronavirus (2019-nCoV) Global cases (by john Hopkins CSSE).Cited Jan 28th 2020
Notoatmodjo, Soekidjo. (2010). Ilmu perilaku kesehatan. Jakarta: Rineka Cipta
Notoatmodjo.(2010). Metodologi Penelitian Kesehatan. Jakarta: PT. Rineka Cipta
Nursalam. (2017). Metodologi Penelitian Ilmu Keperawatan. Jakarta: Salemba medika
WHO. Novel Corona virus (2019-nCoV) Situation Report Januari 21,2020
WHO.Home care for patients with suspected novel coronavirus (nCoV) infection presenting with mild symptoms and management of contacts.
WHO.Updated WHO advice for intermationaltraffc in relation to the outbreak of the novel coronavirus 2019-nCoV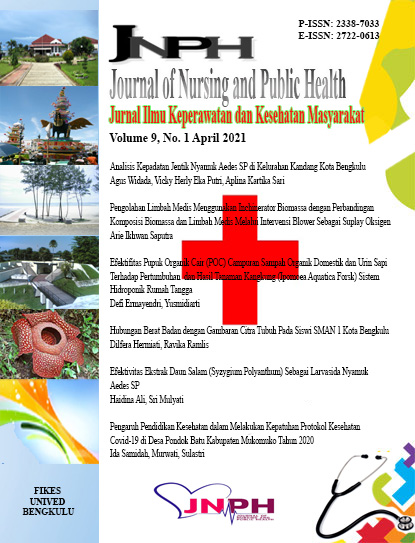 How to Cite
SAMIDAH, I., MURWATI, M., & SULASTRI, S. (2021). PENGARUH PENDIDIKAN KESEHATAN  DALAM MELAKUKAN KEPATUHAN PROTOKOL KESEHATAN COVID-19 DI DESA PONDOK BATU KABUPATEN MUKOMUKO TAHUN 2020. Journal of Nursing and Public Health, 9(1), 35-39. Retrieved from https://jurnal.unived.ac.id/index.php/jnph/article/view/1434
An author who publishes in the Journal of Nursing and Public Health agrees to the following terms:
Author retains the copyright and grants the journal the right of first publication of the work simultaneously licensed under the Creative Commons Attribution-ShareAlike 4.0 License that allows others to share the work with an acknowledgement of the work's authorship and initial publication in this journal
Submission of a manuscript implies that the submitted work has not been published before (except as part of a thesis or report, or abstract); that it is not under consideration for publication elsewhere; that its publication has been approved by all co-authors. If and when the manuscript is accepted for publication, the author(s) still hold the copyright and retain publishing rights without restrictions. For the new invention, authors are suggested to manage its patent before published. The license type is CC-BY-SA 4.0.
Journal of Nursing and Public Health is licensed under a Creative Commons Attribution-ShareAlike 4.0 International License.
You are free to:
Share — copy and redistribute the material in any medium or format
Adapt — remix, transform, and build upon the material
for any purpose, even commercially.
The licensor cannot revoke these freedoms as long as you follow the license terms.