HUBUNGAN BERAT BADAN DENGAN GAMBARAN CITRA TUBUH PADA SISWI SMAN 1 KOTA BENGKULU
DILFERA HERMIATI

FIKes Unived Bengkulu

RAVIKA RAMLIS

FIKes Unived Bengkulu
Keywords:
Citra Tubuh, Berat Badan
Abstract
Pada masa ini, remaja mulai mengalami berbagai perubahan penting salah satunya adalah perubahan fisik. Perubahan fisik yang terjadi membuat remaja menjadi lebih memperhatikan dirinya dan melakukan penilaian tentang penampilan fisiknya. Tujuan dalam penelitian ini adalah untuk melihat hubungan antara berat badan dengan gambaran citra tubuh pada siswi di SMAN 1 Kota Bengkulu.Teknik pengambilan sampel menggunakan metode total sampling dengan jumlah sampel 158 orang. Penelitian ini menggunakan desain penelitian cross sectional untuk melihat keterkaitan antara variable dependen dan independent. Hasil penelitian ini menunjukkan adanya hubungan yang significan antara berat badan dengan gambaran citra tubuh pada siswi di SMAN 1 Kota Bengkulu. Diharapkan dengan ditemukan hasil ini maka baik siswi yang memiliki berat badan tidak ideal harus tetap memiliki gambaran citra yang positif sehingga akan lebih menghargai diri sendiri dan percaya terhadap diri sendiri walaupun memilili keterbatasan namun harus menonjolkan.
Downloads
Download data is not yet available.
References
Anastasia, Melliana. 2006. Menjelajah Tubuh: Perempuan dan Mitos Kecantikan. Yogyakarta: LKis.
Andi Priyatna. (2009). Be A Smart Teenager! (For Boys & Girls). Jakarta: Gramedia
Bestiana, desi. (2012). Citra Tubuh dan Konsep Tubuh Ideal Mahasiswi FISIP Universitas Airlangga Surabaya. Jurnal Universitas Airlangga Surabaya. (1). 1. Hlm 1-11.
Feldman, R. S. (2012). Elements of psychology.San Francisco: Mc Graw Hill, Inc.
Gatti, E. et al. (2014). I Like My Body; Therefore, ILike Myself: How Body Image Influences Self-Esteem—A Cross-Sectional Study on Italian Adolescents. Europe's Journal of Psychology, 10(2), 301–317. doi:10.5964/ejop.v10i2.703. Department of Psychology Catholic University of Milan. Milan, Italy
Ridha, M. 2012. Hubungan Antara Body Image Dengan PenerimaanDiri Pada Mahasiswa Aceh di Yogyakarta. Fakultas Psikologi Universitas Ahmad Dahlan.Yogyakarta.
Sari, P. N. (2012). Hubungan Antara Body Image dan Self Esteem Pada Dewasa Awal Tuna Daksa. Jurnal Ilmiah Mahasiswa Fakultas Psikologi Universitas Surabaya, 1(1). Fakultas Psikologi Universitas Surabaya. Surabaya
Santrock (2007). Perkembangan Anak. Jilid 1 Edisi kesebelas.Jakarta : PT. Erlangga.
Sari,  R.I.  2012. Faktor-Faktor  yang  Berhubungan  dengan  Status  Gizi  Remaja Usia   12-15   Tahun   di   Indonesia   tahun   2007.   Skripsi. Fakultas Kesehatan Masyarakat Universitas Indonesia. Jakarta
Wong, et al. (2009).Wong Buku Ajar Keperawatan Pediatrik. (alih bahasa: AndryHartono, dkk). Jakarta. EGC.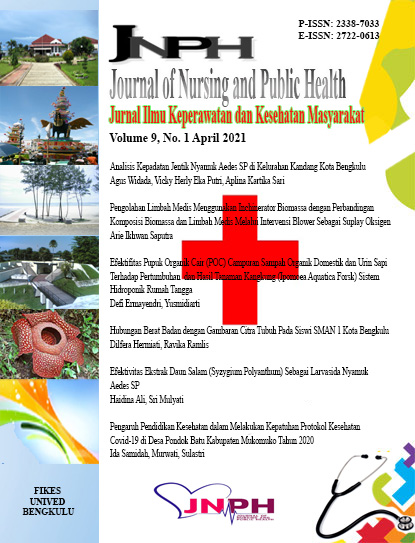 How to Cite
HERMIATI, D., & RAMLIS, R. (2021). HUBUNGAN BERAT BADAN DENGAN GAMBARAN CITRA TUBUH PADA SISWI SMAN 1 KOTA BENGKULU. Journal of Nursing and Public Health, 9(1), 22-26. https://doi.org/10.37676/jnph.v9i1.1432
An author who publishes in the Journal of Nursing and Public Health agrees to the following terms:
Author retains the copyright and grants the journal the right of first publication of the work simultaneously licensed under the Creative Commons Attribution-ShareAlike 4.0 License that allows others to share the work with an acknowledgement of the work's authorship and initial publication in this journal
Submission of a manuscript implies that the submitted work has not been published before (except as part of a thesis or report, or abstract); that it is not under consideration for publication elsewhere; that its publication has been approved by all co-authors. If and when the manuscript is accepted for publication, the author(s) still hold the copyright and retain publishing rights without restrictions. For the new invention, authors are suggested to manage its patent before published. The license type is CC-BY-SA 4.0.
Journal of Nursing and Public Health is licensed under a Creative Commons Attribution-ShareAlike 4.0 International License.
You are free to:
Share — copy and redistribute the material in any medium or format
Adapt — remix, transform, and build upon the material
for any purpose, even commercially.
The licensor cannot revoke these freedoms as long as you follow the license terms.