PENGOLAHAN LIMBAH MEDIS MENGGUNAKAN INCHINERATOR BIOMASSA DENGAN PERBANDINGAN KOMPOSISI BIOMASSA DAN LIMBAH MEDIS MELALUI INTERVENSI BLOWER SEBAGAI SUPLAY OKSIGEN
ARIE IKHWAN SAPUTRA

POLITEKNIK KESEHATAN KEMENTERIAN KESEHATAN BENGKULU
Keywords:
Insinerator, Biomassa, Wet Scruber, Gas SO2, Gas CO
Abstract
Pada penerapan pembakaran menggunakan incinerator (Insinerasi) permasalahan yang sering dijumpai ialah belum adanya penangan terhadap emisi udara berupa particulate matter (PM), SO2, CO, CO2, dan HC. Terbentuknya bahan tersebut dipengaruhi jenis komponen sampah, proses pembakaran yang tidak sempurna dan sistem pembakaran yang digunakan. Dalam penelitian ini dilakukan proses pengendalian gas buang dengan cara membakar gas buang dan selanjutnya dilanjutkan dengan Wet Scruber untuk menyerap partikel dan gas buang yang masih tersisa. Pada penelitian ini bertujuan untuk menganalisis jumlah timbulan debu jatuh, panas yang ditimbulkan dan gas buang yang dihasilkan. Berdasarkan hal tersebut diatas penelitian yang akan dilaksakan adalah dengan membuat prototype isinerator bio massa. Bahan bakar yang akan digunakan merupakan biomasa yang tersedia, murah dan mudah didapatkan disekitar kita. Pengendalian pencemaran udara pada incinerator ini menggunakan technology After Burner yang berlaku sebagai Second Chamber, sedangkan untuk pengendalian pencemaran udaranya menggunakan Technology Wet Scrubber dengan solvent air. Hasil Penelitian menunjukkan pencapaian suhu tertinggi didapat pada jenis biomasa tempurung kelapa yaitu didapatkan suhu puncak 705 oC. Efesiensi reduksi/penghancuran tertinggi didapatkan pada variable jenis biomassa tatal kayu/ serbuk gergaji dengan efesiensi penyisihan mencapai 98%. Sedangkan efesiensi pembakaran tertinggi didapatkan pada variable biomassa tempurung kelapa dengan nilai efesiensi mencapai 88,96%.
Downloads
Download data is not yet available.
References
Budiman, Arif. 2001. Modifikasi Desain dan Uji Untuk Kerja Alat Pembakar Sampah (incinerator) Tipe Batch. http://repository.ipb.ac.id/handle/123456 [Diakses Februari 2018]
Christian, Hans. 2008. Modifikasi Sistem Burner. http://lontar.ui.ac.id/file?file Digital/125414-R020854. Pendahuluan.pdf [Diakses Febuari 2018]
Kepala Badan Pengendalian Dampak Lingkungan. 1995. Persyaratan Teknis Pengolahan Limbah Bahan Berbahaya dan Beracun. http:mnlh.go.id /pdf/ind/IND-PUU-7-1995 Lampiran Kepka No.2003 Tahun 1995.pdf [diakses Febuari 2018]
Latief, A. Sutowo. Manfaat dan Dampak Penggunaan Insinerator Terhadap Lingkungan. http://www.polines.ac.id/teknis/upload/jurnal/jurnal_teknis_1336471916.pdf [diakses Febuari 2018]
Marosin, Riyanto dan Ahsonul. 2004. Karakteristik Emisi Gas Buang Insinerator Medis Di Rumah Sakit Jiwa Dadi Makassar Sulawesi Selatan. http://portalgaruda.org/download/article.php?article = 62195 &val=456112 [diakses Febuari 2018]
Ruslinda, Yenni. 2010. Transformasi Thermal. http://ilearn.unand.ac.id/ ../Teknik%20Pengolahan%20Sampah%204.pdf [diakses Febuari 2018]
Wuryani, Sri. 1995. Perpindahan Panas. Pusat Pengembangan Pendidikan Politeknik : Bandung.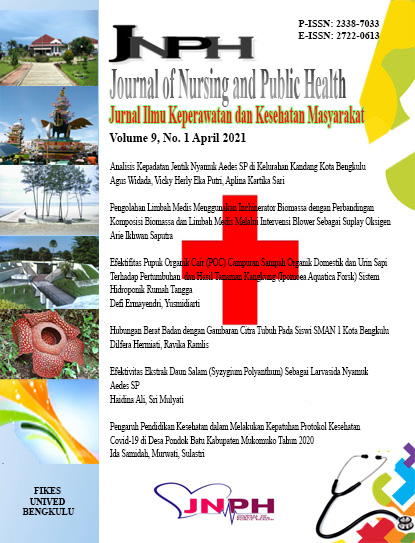 How to Cite
SAPUTRA, A. (2021). PENGOLAHAN LIMBAH MEDIS MENGGUNAKAN INCHINERATOR BIOMASSA DENGAN PERBANDINGAN KOMPOSISI BIOMASSA DAN LIMBAH MEDIS MELALUI INTERVENSI BLOWER SEBAGAI SUPLAY OKSIGEN. Journal of Nursing and Public Health, 9(1), 10-15. https://doi.org/10.37676/jnph.v9i1.1430
An author who publishes in the Journal of Nursing and Public Health agrees to the following terms:
Author retains the copyright and grants the journal the right of first publication of the work simultaneously licensed under the Creative Commons Attribution-ShareAlike 4.0 License that allows others to share the work with an acknowledgement of the work's authorship and initial publication in this journal
Submission of a manuscript implies that the submitted work has not been published before (except as part of a thesis or report, or abstract); that it is not under consideration for publication elsewhere; that its publication has been approved by all co-authors. If and when the manuscript is accepted for publication, the author(s) still hold the copyright and retain publishing rights without restrictions. For the new invention, authors are suggested to manage its patent before published. The license type is CC-BY-SA 4.0.
Journal of Nursing and Public Health is licensed under a Creative Commons Attribution-ShareAlike 4.0 International License.
You are free to:
Share — copy and redistribute the material in any medium or format
Adapt — remix, transform, and build upon the material
for any purpose, even commercially.
The licensor cannot revoke these freedoms as long as you follow the license terms.