EFEKTIVITAS MENTORING UJI KOMPETENSI TERHADAP KELULUSAN TRY OUT UJI KOMPTENSI MAHASISWA DIPLOMA TIGA KEPERAWATAN
INDARYANI INDARYANI

SEKOLAH TINGGI ILMU KESEHATAN SAPTA BAKTI BENGKULU

SISKA ISKANDAR

SEKOLAH TINGGI ILMU KESEHATAN SAPTA BAKTI BENGKULU
Keywords:
Mentoring, Try Out Uji Kompetensi
Abstract
Uji kompetensi adalah proses pengukuran pengetahuan, keterampilan dan perilaku peserta didik pada perguruan tinggi yang menyelenggarakan program studi keperawatan. Kelulusan uji kompetensi dapat dipengaruhi oleh beberapa faktor, salah satunya adalah keaktifan mengikuti mentoring yang diadakan oleh pihak pendidikan. Jenis penelitian ini adalah kuantitaif dengan rancangan penelitian quasi eksperiment. Sebanyak 30 responden terlibat dalam penelitian ini berasal dari mahasiswa tingkat III prgram studi DIII Keperawatan STIKes Sapta Bakti Bengkulu. Pengambilan sampel menggunakan metode total sampling. Data diperoleh melalui pre test dan post test Try Out Uji kompetensi. Data dianalisis secara statistik baik secara univariat untuk melihat distribusi frekuensi maupun bivariat dengan menggunakan Mc-Nemar test. Hasil analisis univariat menemukan sebanyak 19 org (63%) tidak kompeten, setelah mengikuti mentoring didapatkan 5 orang (16,7%) tidak kompeten. Hasil analisis bivariat menunjukkan p value = 0,001 (<0,005) berarti kegiatan mentoring uji kompetensi efektif meningkatkan kelulusan try out uji kompetensi mahasiswa keperawatan. Kegiatan mentoring soal-soal uji kompetensi dapat meningkatkan persentase kelulusan mahasiswa dalam pelaksanaan uji kompetensi sehingga perlu dijadikan salah satu strategi dalam meningkatkan kelulusan uji kompetensi.
Downloads
Download data is not yet available.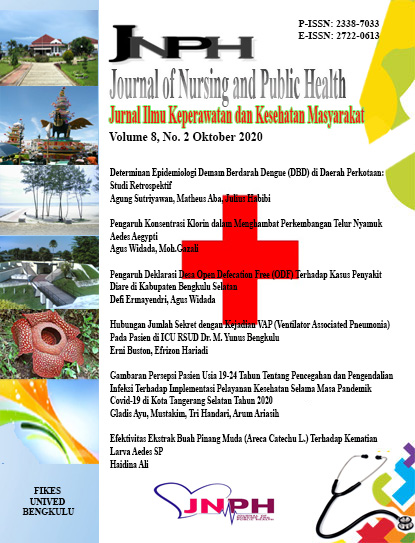 How to Cite
INDARYANI, I., & ISKANDAR, S. (2020). EFEKTIVITAS MENTORING UJI KOMPETENSI TERHADAP KELULUSAN TRY OUT UJI KOMPTENSI MAHASISWA DIPLOMA TIGA KEPERAWATAN. Journal of Nursing and Public Health, 8(2), 53-58. https://doi.org/10.37676/jnph.v8i2.1186
An author who publishes in the Journal of Nursing and Public Health agrees to the following terms:
Author retains the copyright and grants the journal the right of first publication of the work simultaneously licensed under the Creative Commons Attribution-ShareAlike 4.0 License that allows others to share the work with an acknowledgement of the work's authorship and initial publication in this journal
Submission of a manuscript implies that the submitted work has not been published before (except as part of a thesis or report, or abstract); that it is not under consideration for publication elsewhere; that its publication has been approved by all co-authors. If and when the manuscript is accepted for publication, the author(s) still hold the copyright and retain publishing rights without restrictions. For the new invention, authors are suggested to manage its patent before published. The license type is CC-BY-SA 4.0.
Journal of Nursing and Public Health is licensed under a Creative Commons Attribution-ShareAlike 4.0 International License.
You are free to:
Share — copy and redistribute the material in any medium or format
Adapt — remix, transform, and build upon the material
for any purpose, even commercially.
The licensor cannot revoke these freedoms as long as you follow the license terms.