PENGARUH LATIHAN FISIK TERHADAP PENURUNAN HIPERTENSI PADA LANSIA DI POSWINDU WILAYAH KERJA PUSKESMAS BINTUHAN KABUPATEN KAUR TAHUN 2019
FERY SURAHMAN SAPUTRA

TARMIZI DAUD
Keywords:
Latihan Fisik, Hipertensi
Abstract
Hipertensi atau tekanan darah tinggi merupakan salah satu contoh penyakit degeneratif. Penyakit darah tinggi atau hipertensi adalah suatu peningkatan abnormal tekanan darah dalam pembuluh arteri secara terus menerus lebih dari suatu periode. Berdasarkan data yang diperoleh dari Dinas Kesehatan Kabupaten Kaur tahun 2018 jumlah hipertensi sebanyak 315. 199 orang, untuk jumlah penderita hipertensi tertinggi di Puskesmas Bintuhan pada tahun 2018 yang berjumlah 671 orang, Puskesmas tanjung Kemuning sebanyak 553 orang dan Puskesmas Kinal sebanyak 408 orang. Jenis penelitian ini adalah penelitian analitik dengan rancangan penelitian Pre Experimental Design (The One Group Pre Tes-Post Test Design) yaitu suatu penelitian dilakukan dengan cara memberikan pengamatan awal terlebih dahulu sebelum diberikan intervensi, setelah itu diberikan intervensi, kemudian dilakukan pengamatan terakhir. Populasi dalam penelitian ini adalah seluruh penderita penyakit hipertensi pada Januari – Maret tahun 2019 berjumlah 102 orang. Jumlah sampel 14+1 =15 orang. Teknik pengambilan sampel yang digunakan dalam penelitian ini adalah dengan menggunakan teknik random sampling. Hasil penelitian ini ada rata-rata perbedaan penurunan hipertensi pada lansia sebelum dan setelah melakukan latihan fisik di Poswindu wilayah kerja Puskesmas Bintuhan Kabupaten Kaur Tahun 2019  yaitu sistole 11,44000 mmHg dan diastole 6,6600 mmHg dengan nilai P=0,000. Saran kepada pihak Puskesmas diharapkan dapat lebih meningkatkan untuk mengajak para lansia melakukan senam setiap hari jumat, melakukan jalan santai dan aktivitas lainnya yang mampu membantu menyehatkan dan memberikan kebugaran tubuh.
Downloads
Download data is not yet available.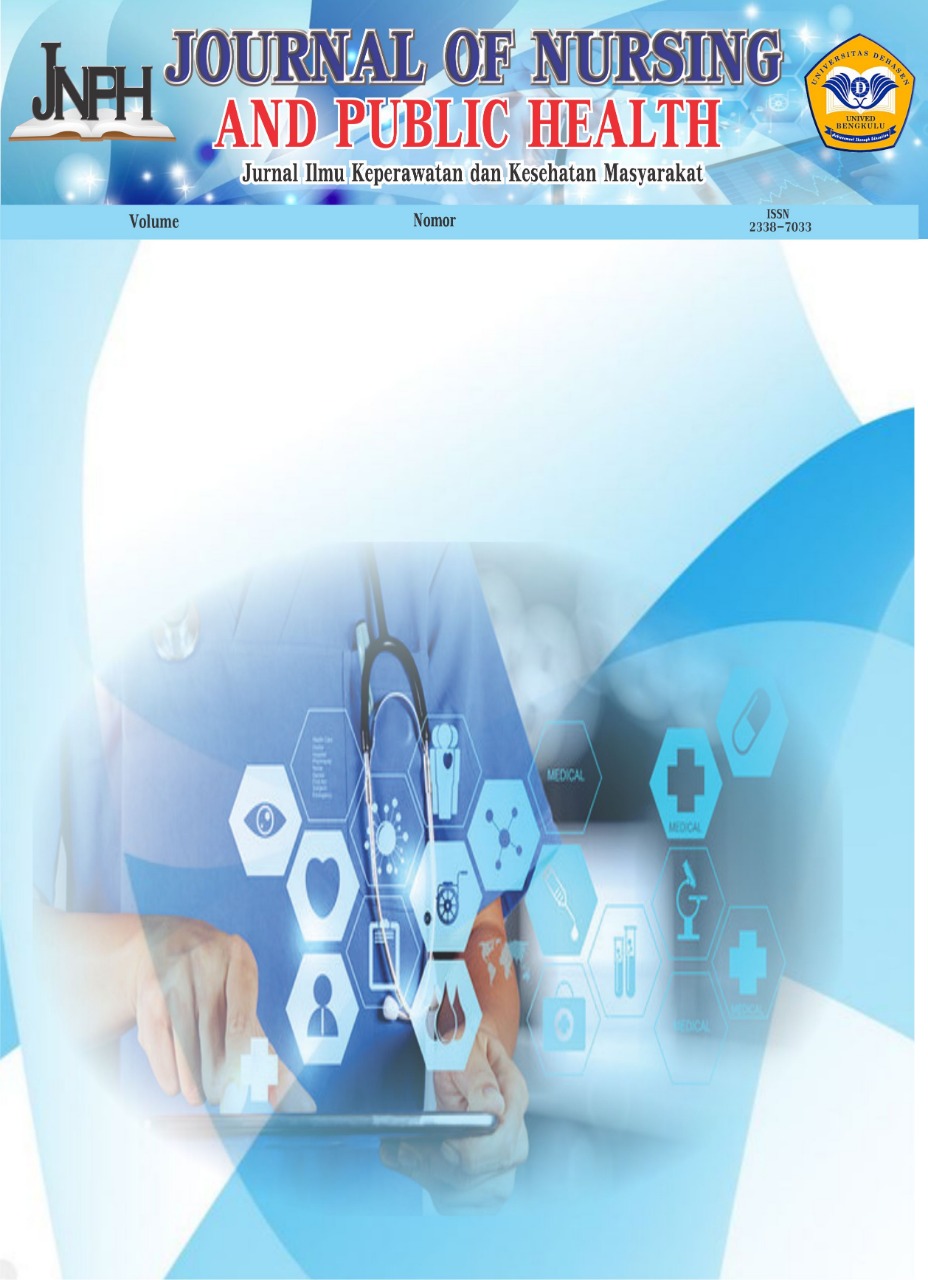 How to Cite
SAPUTRA, F., & DAUD, T. (2020). PENGARUH LATIHAN FISIK TERHADAP PENURUNAN HIPERTENSI PADA LANSIA DI POSWINDU WILAYAH KERJA PUSKESMAS BINTUHAN KABUPATEN KAUR TAHUN 2019. Journal of Nursing and Public Health, 8(1), 29-36. Retrieved from https://jurnal.unived.ac.id/index.php/jnph/article/view/1010
Copyright (c) 2020 FERY SURAHMAN SAPUTRA, TARMIZI DAUD
This work is licensed under a Creative Commons Attribution-ShareAlike 4.0 International License.
An author who publishes in the Journal of Nursing and Public Health agrees to the following terms:
Author retains the copyright and grants the journal the right of first publication of the work simultaneously licensed under the Creative Commons Attribution-ShareAlike 4.0 License that allows others to share the work with an acknowledgement of the work's authorship and initial publication in this journal
Submission of a manuscript implies that the submitted work has not been published before (except as part of a thesis or report, or abstract); that it is not under consideration for publication elsewhere; that its publication has been approved by all co-authors. If and when the manuscript is accepted for publication, the author(s) still hold the copyright and retain publishing rights without restrictions. For the new invention, authors are suggested to manage its patent before published. The license type is CC-BY-SA 4.0.
Journal of Nursing and Public Health is licensed under a Creative Commons Attribution-ShareAlike 4.0 International License.
You are free to:
Share — copy and redistribute the material in any medium or format
Adapt — remix, transform, and build upon the material
for any purpose, even commercially.
The licensor cannot revoke these freedoms as long as you follow the license terms.