Design and Implementation of Intrusion Detection System (IDS) for Wireless Local Area Network (WLAN) Security at SMKN 5 Bengkulu City
Pohaja Syahrul Fat

Program Studi Informatika, Fakultas Ilmu Komputer, Universitas Dehasen Bengkulu

Khairil Khairil

Universitas Dehasen Bengkulu

Eko Prasetyo Rohmawan

Universitas Dehasen Bengkulu
Keywords:
Wireless, IDS (Intrusi Detection System), Snort, Bot Telegram, Sekuensial Linier
Abstract
The network at SMK Negeri 5 Bengkulu City at this time often has complaints such as a decrease in internet network performance which in turn affects all computers connected to the network. Intrusion Detection System (IDS) whose job is to monitor networks and suspicious activities in a network system. The research method that the authors use is a linear sequential process model. The life cycle of implementing a network system is defined in a number of phases, namely: Problem Identification and Formulation, Literature Study, Testing, Implementation, System Design, System Requirements Analysis. The author uses Snort, Telegram Bot on Ubuntu based IDS sensor engine. The results of this thesis research conclude that the applied IDS system can function to detect intruders or intruders on the IDS sensor machine, which is displayed in the form of notifications to telegrams.
Downloads
Download data is not yet available.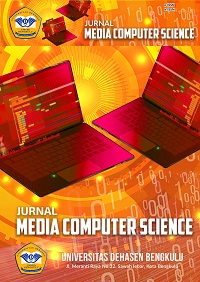 How to Cite
Fat, P. S., Khairil, K., & Rohmawan, E. P. (2023). Design and Implementation of Intrusion Detection System (IDS) for Wireless Local Area Network (WLAN) Security at SMKN 5 Bengkulu City. Jurnal Media Computer Science, 2(1), 1–8. https://doi.org/10.37676/jmcs.v2i1.3339
Copyright (c) 2023 Pohaja Syahrul Fat, Khairil Khairil, Eko Prasetyo Rohmawan
This work is licensed under a Creative Commons Attribution-ShareAlike 4.0 International License.