PEMANFAATAN GOOGLE MAPS API PADA SISTEM INFORMASI GEOGRAFIS DIREKTORI PERGURUAN TINGGI DI KOTA BENGKULU
Rena Ariyanti

Khairil Khairil

Indra Kanedi
Abstract
Geographic Information System (GIS) that technology is an invaluable tool and is essential to store, manipulate, analyze and display back natural conditions with the help of data and spatial attributes. Bengkulu city is a student city in the province of Bengkulu, there are many universities both public and private sector are spread across the city, but not everyone knows about college lay in Bengkulu city, especially the location or the location of the college. The purpose of this research is to create a geographic information system directory of colleges in the city of Bengkulu that can be used by the institution and the community to support the development of education in the city of Bengkulu. Research conducted at the University Dehasen which began in January to February 2015. In this research, data collection is done by using the method of observation, interviews, and literature. From the results of this study indicate that the presence of a geographic information system directory of colleges in the city of Bengkulu, can provide significant benefits for students and new students determines the location and profile of universities in the city of Bengkulu.
Keyword:  System, Information, Geographic, Google, Maps
Downloads
Download data is not yet available.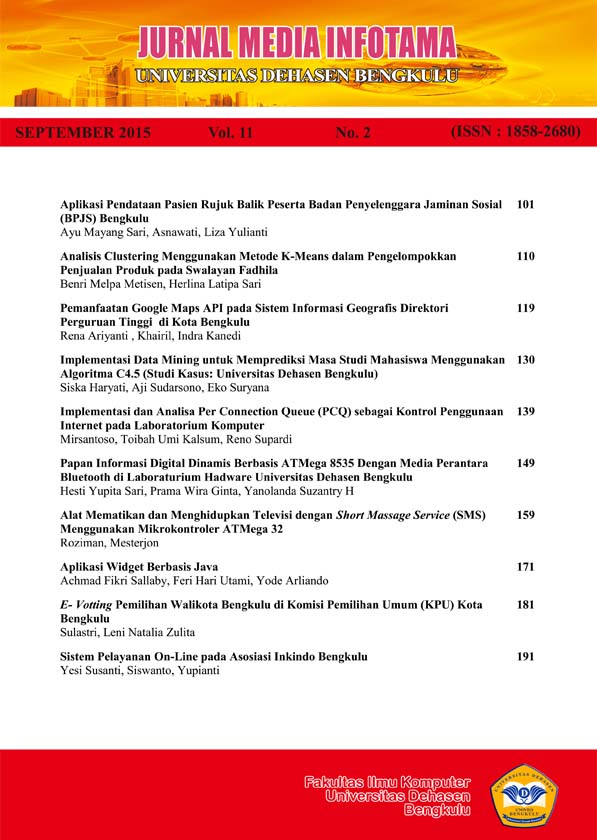 How to Cite
Ariyanti, R., Khairil, K., & Kanedi, I. (2016). PEMANFAATAN GOOGLE MAPS API PADA SISTEM INFORMASI GEOGRAFIS DIREKTORI PERGURUAN TINGGI DI KOTA BENGKULU. JURNAL MEDIA INFOTAMA, 11(2). https://doi.org/10.37676/jmi.v11i2.259
An author who publishes in Jurnal Media Infotama agrees to the following terms:The author holds the copyright and grants the journal the right of first publication of the work simultaneously licensed under the Creative Commons Attribution-Share Alike 4.0 License which allows others to share the work with acknowledgment of the work's authorship and initial publication in this journal.Submission of a manuscript implies that the submitted work has not been previously published (except as part of a thesis or report, or abstract); that it is not being considered for publication elsewhere; that its publication has been approved by all co-authors. If and when a manuscript is accepted for publication, the author retains the copyright and retains the publishing rights without limitation.
For new inventions, authors are advised to administer the patent before publication. The license type is CC-BY-SA 4.0.
MEDIA INFORMATION REVIEW: Journal of the Faculty of Computer Science is licensed under a Creative Commons Attribution-ShareAlike 4.0 International License.You are free to:Share
— copy and redistribute material in any medium or formatAdapt
— remix, modify and develop materialfor any purpose, even commercial.
The licensor cannot revoke this freedom as long as you follow the license terms