Sistem Pendukung Keputusan dalam Pemilihan Juara Umum pada SMP Negeri 3 Kota Bengkulu
Indra Kanedi

Program Studi Sistem Inormasi Fakultas Ilmu Komputer Universitas Dehasen Bengkulu
Abstract
Sebagai sebuah lembaga pendidikan formal tingkat lanjutan pertama, SMP Negeri 03 Kota mencoba menerapkan semua aktifitas yang ada dengan berbasis komputer baik dalam hal penyusunan jadwal mata pelajaran, pembuatan laporan maupun aktifitas lain yang memerlukan keberadaan komputer sebagai alat bantu. Untuk dapat menjembatani permasalahan yang dihadapi SMP Negeri -3 Kota Bengkulu dalam menentukan juara umum peringkat kelas setiap kenaikan kelas tersebut adalah dengan membangun sebuah program yang dibangun dengan menggunakan bahasa pemrograman.   Sedangkan metode yang digunakan pada konsep pengambilan keputusan tersebut adalah dengan metode Simple Additive Weighting (SAW), Sistem pendukung keputusan (SPK) adalah suatu sistem informasi berbasis komputer yang menghasilkan berbagai alternatif keputusan untuk membantu manajemen dalam menangani berbagai permasalahan yang terstruktur ataupun tidak terstruktur dengan menggunakan data dan model.   Manfaat dari sistem pendukung keputusan adalah pengambilan keputusan yang tepat, sesuai dengan jenis keputusan yang diperlukan, membuat peramalan, membandingkan alternatif tindakan, membuat analisis dampak, serta membuat model.  Metode SAW dapat memecahkan masalah kompleks, dimana kriteria yang diambil cukup banyak, struktur masalah yang belum jelas, ketidakpastian persepsi pembuat keputusan serta ketidakpastian tersedianya data statistik yang akurat.Dari hasil penelitian dengan menggunakan program Sistem Pendukung Keputusan Dalam Pemilihan Juara Umum Pada Smp Negeri 3 Kota Bengkulu didapatkan hasil bahwa dengan program tersebut sangat membantu pihak sekolah dalam melakukan pemilihan juara umum pada SMP tersebut.  Dimana proses yang dilakukan sangat cepat dan praktis dan obyektif karena perhitungannya dilakukan di dalam program.
Kata Kunci: Visual Basic, Sistem Pendukung Keputusan, SAW
Downloads
Download data is not yet available.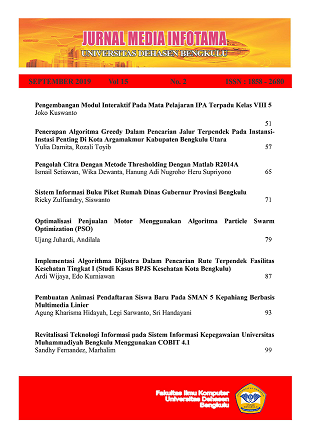 How to Cite
Kanedi, I. (2018). Sistem Pendukung Keputusan dalam Pemilihan Juara Umum pada SMP Negeri 3 Kota Bengkulu. JURNAL MEDIA INFOTAMA, 14(2). https://doi.org/10.37676/jmi.v14i2.663
An author who publishes in Jurnal Media Infotama agrees to the following terms:The author holds the copyright and grants the journal the right of first publication of the work simultaneously licensed under the Creative Commons Attribution-Share Alike 4.0 License which allows others to share the work with acknowledgment of the work's authorship and initial publication in this journal.Submission of a manuscript implies that the submitted work has not been previously published (except as part of a thesis or report, or abstract); that it is not being considered for publication elsewhere; that its publication has been approved by all co-authors. If and when a manuscript is accepted for publication, the author retains the copyright and retains the publishing rights without limitation.
For new inventions, authors are advised to administer the patent before publication. The license type is CC-BY-SA 4.0.
MEDIA INFORMATION REVIEW: Journal of the Faculty of Computer Science is licensed under a Creative Commons Attribution-ShareAlike 4.0 International License.You are free to:Share
— copy and redistribute material in any medium or formatAdapt
— remix, modify and develop materialfor any purpose, even commercial.
The licensor cannot revoke this freedom as long as you follow the license terms