Implementasi Mail Server Berbasis Squirrelmail Dengan Exchange Server Menggunakan Teknologi Virtualisasi di SMK Negeri 1 Pendalian IV Koto
Basorudin Basorudin

Program Studi Teknik Informatika, Fakultas Ilmu Komputer Universitas Pasir Pengaraian
Abstract
Teknologi virtualisasi server merupakan penggunaan bersama satu mesin fisikal oleh beberapa sistem operasi server. Perancangan dan implementasi mail server ini dibangun dengan menggunakan Debian.5 sebagai base operating system server. Perancangan dan implementasi mail server ini dibangun dengan menggunakan dns server, web server dan mail server/squirrelmail, di konfigurasi menggunakan bantuan aplikasi virtualbox sebagai server. DNS (Domain Name System) adalah sebuah sistem yang menyimpan informasi tentang nama host maupun nama domain dalam bentuk basis data tersebar (distributed database) di dalam jaringan komputer, misalkan Internet. Aplikasi yang digunakan untuk menangani penghantaran pesan mail adalah mail server. Mail server ini senantiasa menerima pesan dari e-mail client yang digunakan user, atau mungkin dari server e-mail lainnya. Web mail berfungsi untuk mengirim dan melihat pesan email melalui web browser. Konfigurasi squirrelmail dilakukan dengan menjalankan skrip conf.pl : $/var/www/wemail/config/ conf.pl. Layanan Exchange Server antara lain : Directory Service, Simple Mail Transfer Protocol (SMTP), Post Office Protocol ( POP3 ), IMAP (Internet Message Access Protocol), Complementary Services, System Attendant. Untuk Proses Pengiriman Mail Server dapat dilihat pada nomor 5.2.
Kata Kunci: Squirrelmail, Exchange Server, DNS Server, Web Server, Mail Server.
Downloads
Download data is not yet available.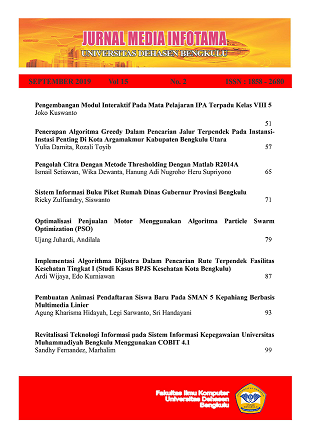 How to Cite
Basorudin, B. (2018). Implementasi Mail Server Berbasis Squirrelmail Dengan Exchange Server Menggunakan Teknologi Virtualisasi di SMK Negeri 1 Pendalian IV Koto. JURNAL MEDIA INFOTAMA, 14(2). https://doi.org/10.37676/jmi.v14i2.651
An author who publishes in Jurnal Media Infotama agrees to the following terms:The author holds the copyright and grants the journal the right of first publication of the work simultaneously licensed under the Creative Commons Attribution-Share Alike 4.0 License which allows others to share the work with acknowledgment of the work's authorship and initial publication in this journal.Submission of a manuscript implies that the submitted work has not been previously published (except as part of a thesis or report, or abstract); that it is not being considered for publication elsewhere; that its publication has been approved by all co-authors. If and when a manuscript is accepted for publication, the author retains the copyright and retains the publishing rights without limitation.
For new inventions, authors are advised to administer the patent before publication. The license type is CC-BY-SA 4.0.
MEDIA INFORMATION REVIEW: Journal of the Faculty of Computer Science is licensed under a Creative Commons Attribution-ShareAlike 4.0 International License.You are free to:Share
— copy and redistribute material in any medium or formatAdapt
— remix, modify and develop materialfor any purpose, even commercial.
The licensor cannot revoke this freedom as long as you follow the license terms