Media Pembelajaran Berbasis Android Pada Mata Pelajaran Sistem Operasi Jaringan Kelas XI
Joko Kuswanto

Dosen Tetap Prodi Teknologi Pendidikan Universitas Baturaja

Ferri Radiansah
Abstract
Penggunaan media pembelajaran merupakan bagian yang tidak bisa dipisahkan dan sudah merupakan suatu integrasi terhadap metode belajar yang dipakai. Salah satu contoh media pembelajaran yang bisa dikongkritkan dengan memanfaatkan perkembangan teknologi di bidang pendidikan adalah media pembelajaran berbasis android. Penelitian ini bertujuan untuk mengembangkan media pembelajaran berbasis android pada mata pelajaran Sistem Operasi Jaringan kelas XI. Metode penelitian yang digunakan adalah penelitian pengembangan dengan tahapan perancangan, produksi, evaluasi, dan menganalisis data dengan persentase. Hasil penelitian ini menunjukkan bahwa media pembelajaran berbasis android yang dikembangkan pada mata pelajaran Sistem Operasi Jaringan kelas XI sudah layak untuk digunakan dalam pembelajaran oleh guru dan siswa. Berdasarkan beberapa tahapan uji coba, media pembelajaran dikategorikan valid dengan tingkat kelayakan sebesar 82% dengan kriteria baik. Penelitian ini diharapkan dapat menjadi media pembelajaran pada mata pelajaran Sistem Operasi Jaringan Kelas XI dan dapat bermanfaat bagi guru, siswa, dan peneliti lanjutan.
 Kata Kunci:           Andorid, Media Pembelajaran, Pengembangan, Sistem Operasi Jaringan
Downloads
Download data is not yet available.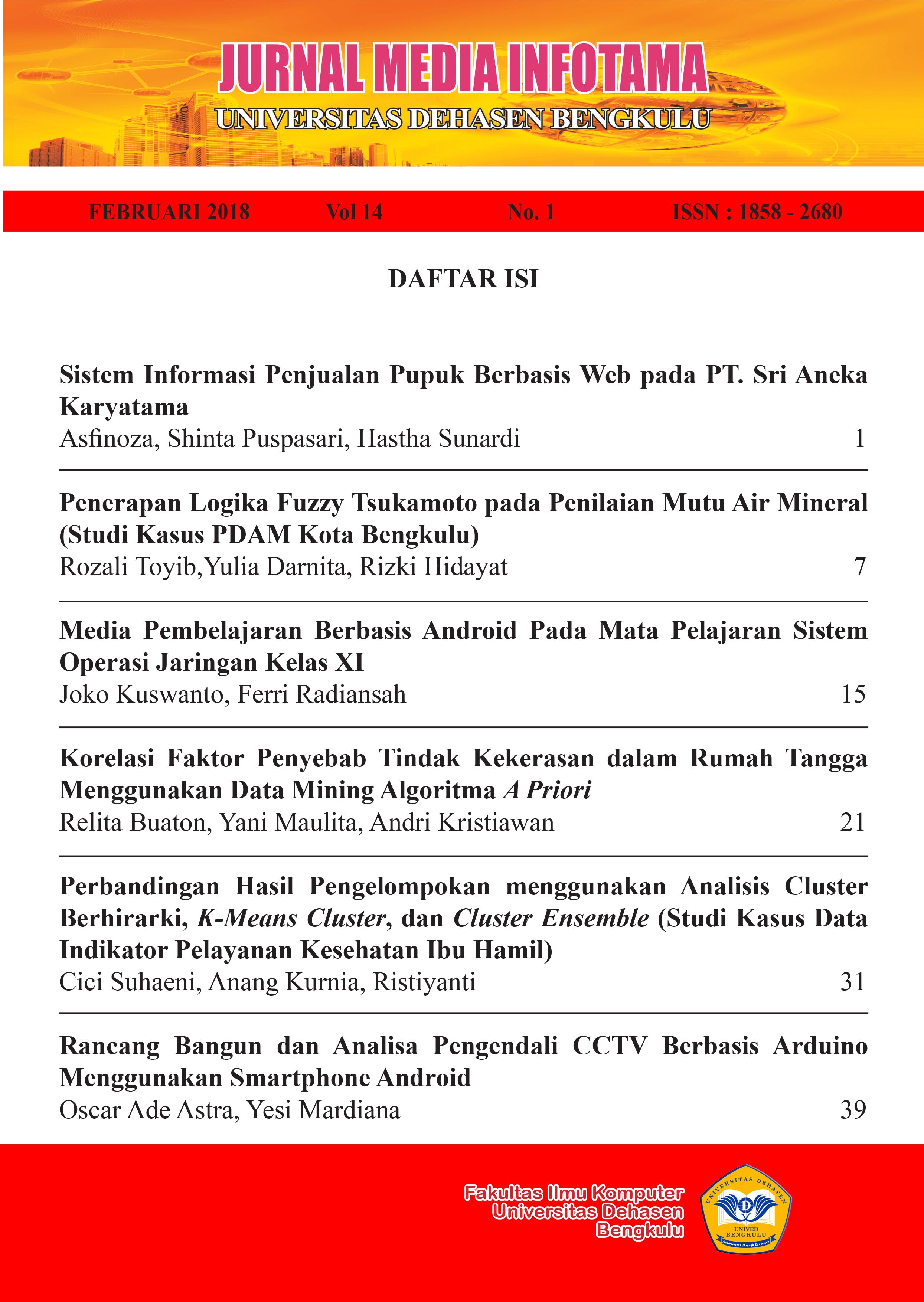 How to Cite
Kuswanto, J., & Radiansah, F. (2018). Media Pembelajaran Berbasis Android Pada Mata Pelajaran Sistem Operasi Jaringan Kelas XI. JURNAL MEDIA INFOTAMA, 14(1). https://doi.org/10.37676/jmi.v14i1.467
An author who publishes in Jurnal Media Infotama agrees to the following terms:The author holds the copyright and grants the journal the right of first publication of the work simultaneously licensed under the Creative Commons Attribution-Share Alike 4.0 License which allows others to share the work with acknowledgment of the work's authorship and initial publication in this journal.Submission of a manuscript implies that the submitted work has not been previously published (except as part of a thesis or report, or abstract); that it is not being considered for publication elsewhere; that its publication has been approved by all co-authors. If and when a manuscript is accepted for publication, the author retains the copyright and retains the publishing rights without limitation.
For new inventions, authors are advised to administer the patent before publication. The license type is CC-BY-SA 4.0.
MEDIA INFORMATION REVIEW: Journal of the Faculty of Computer Science is licensed under a Creative Commons Attribution-ShareAlike 4.0 International License.You are free to:Share
— copy and redistribute material in any medium or formatAdapt
— remix, modify and develop materialfor any purpose, even commercial.
The licensor cannot revoke this freedom as long as you follow the license terms