Penerapan Logika Fuzzy Tsukamoto pada Penilaian Mutu Air Mineral (Studi Kasus PDAM Kota Bengkulu)
Rozali Toyib

Universitas Muhammadiyah Bengkulu

Yulia Darnita

Universitas Muhammadiyah Bengkulu

Rizki Hidayat

Universitas Muhammadiyah Bengkulu
Abstract
Persoalan air minum khususnya air miniral tidak bisa dilepas dari penyedia air itu sendiri dan sumber air baku yang digunakan, Perusahan Air Minum PDAM) kota Bengkulu sebagai salah satu penyuplai air untuk masyarakat kota Bengkulu dimana sumber air bakunya berasal dari sungai dimana di hilir sungai tersebut banyak aktivitas masyarakat dan pertambangan, tentu  hal ini akan mempengaruhi mutu air itu sendiri Sistem makan melakukan perhitungan menggunakan metode Fuzzy Tsukamoto berikutnya merupakan langkah-langkah perhitungan yang dilakukan oleh sistem:Langkah pertama metode Fuzzy Tsukamoto adalah fuzzyfikasi /menghitung derajat keanggotaan masing-masing variable. Setelah Pembentukan variable dan himpunan fuzzyfikasi selanjtunya dibentuk aturan besesuaian dengan mengambil data berdasarkan pengalaman keputusan dari pembuatan keputuasan dan aturan keputusan diperoleh dari kombinasi dari masing himpunan fuzzy. Setelah dilakukan 7 (tujuh)  kali percobaan dari jam 01.00 sampai jam 24.00 dengan tingkat pH berkisar 35.7 sampai 48.5, sisa chlor 0, DHL berkisar 208 sampai 226.3, TDS berkisar 104 sampai 117.5,mutu air antara 7.126 sampai 7.904 keterangan mutu air baik dengan ketentuan Kualitas mutu air yang baik berdasarkan NTU yang memiliki nilai minimal 0 dan nilai maksimal 5, dari hasil pengujian sistem diperoleh jawaban sangat menarik  47 %, menarik 45 %, dan tidak menarik 8%, faktor Utama penentuan mutu air adalah sumber air baku itu sendiri, semakin sedikit pencemaran di hilirnya maka semakin bagus mutu air yang dihasilkan.
 Kata kunci: fuzzy, tsukamoto, air, mineral.
Downloads
Download data is not yet available.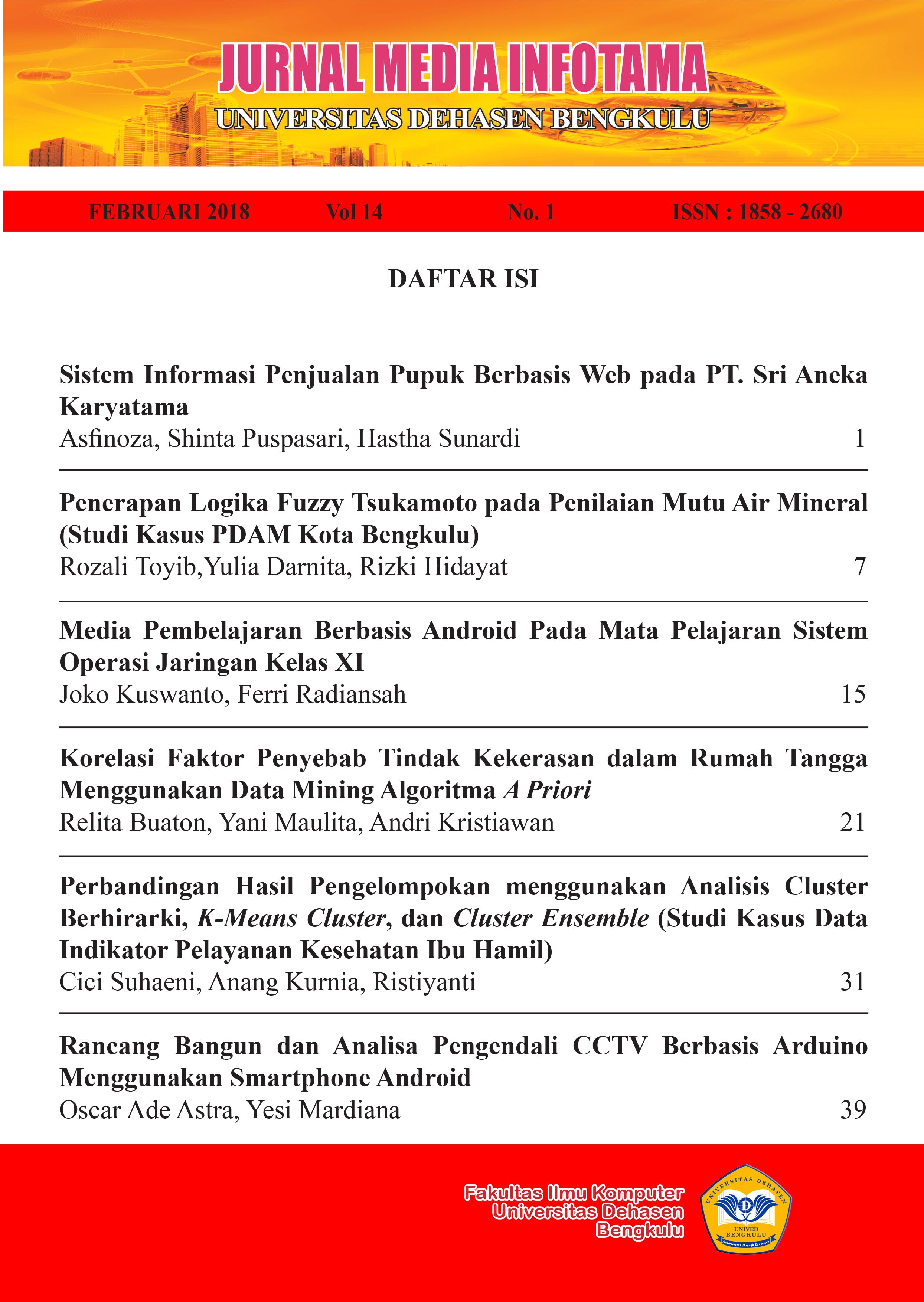 How to Cite
Toyib, R., Darnita, Y., & Hidayat, R. (2018). Penerapan Logika Fuzzy Tsukamoto pada Penilaian Mutu Air Mineral (Studi Kasus PDAM Kota Bengkulu). JURNAL MEDIA INFOTAMA, 14(1). https://doi.org/10.37676/jmi.v14i1.466
An author who publishes in Jurnal Media Infotama agrees to the following terms:The author holds the copyright and grants the journal the right of first publication of the work simultaneously licensed under the Creative Commons Attribution-Share Alike 4.0 License which allows others to share the work with acknowledgment of the work's authorship and initial publication in this journal.Submission of a manuscript implies that the submitted work has not been previously published (except as part of a thesis or report, or abstract); that it is not being considered for publication elsewhere; that its publication has been approved by all co-authors. If and when a manuscript is accepted for publication, the author retains the copyright and retains the publishing rights without limitation.
For new inventions, authors are advised to administer the patent before publication. The license type is CC-BY-SA 4.0.
MEDIA INFORMATION REVIEW: Journal of the Faculty of Computer Science is licensed under a Creative Commons Attribution-ShareAlike 4.0 International License.You are free to:Share
— copy and redistribute material in any medium or formatAdapt
— remix, modify and develop materialfor any purpose, even commercial.
The licensor cannot revoke this freedom as long as you follow the license terms