Analisa Performansi Protokol TCP, UDP dan SCTP Pada Lalu Lintas Multimedia
Yesi Mardiana

Julidian Sahputra
Abstract
This study aims to analyze Performance of TCP, UDP and SCTP Protocol on Multimedia Traffic. The TCP (Transmission Control Protocol) protocol, UDP (User Datagram Protocol) and SCTP (Stream Control Transmission Protocol) reside on the same layer in the OSI-Layer at the Transport layer that controls the flow of data, data packets and so on. This research uses windows operating system and Softperfect Network Protocol Analyzer software. Where network analysis software has a complete feature such as can filter almost all the protocol on the OSI-Layer, has a report of easy to read results and so forth. From the test results conducted for three days by analyzing the online and offline way obtained SCTP protocol results both for Multimedia activities but can not be used simultaneously with other activities (such as video conversations). for everyday activities should use TCP and UDP protocol because it tends to be stable.
Keyword : TCP, UDP, SCTP
Downloads
Download data is not yet available.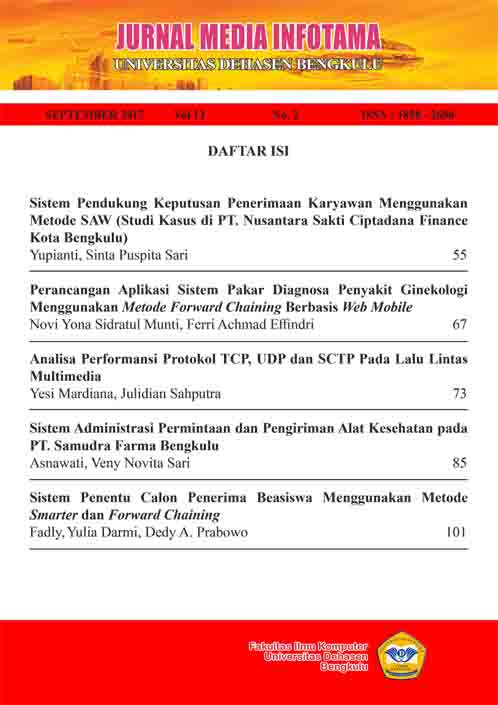 How to Cite
Mardiana, Y., & Sahputra, J. (2017). Analisa Performansi Protokol TCP, UDP dan SCTP Pada Lalu Lintas Multimedia. JURNAL MEDIA INFOTAMA, 13(2). https://doi.org/10.37676/jmi.v13i2.455
An author who publishes in Jurnal Media Infotama agrees to the following terms:The author holds the copyright and grants the journal the right of first publication of the work simultaneously licensed under the Creative Commons Attribution-Share Alike 4.0 License which allows others to share the work with acknowledgment of the work's authorship and initial publication in this journal.Submission of a manuscript implies that the submitted work has not been previously published (except as part of a thesis or report, or abstract); that it is not being considered for publication elsewhere; that its publication has been approved by all co-authors. If and when a manuscript is accepted for publication, the author retains the copyright and retains the publishing rights without limitation.
For new inventions, authors are advised to administer the patent before publication. The license type is CC-BY-SA 4.0.
MEDIA INFORMATION REVIEW: Journal of the Faculty of Computer Science is licensed under a Creative Commons Attribution-ShareAlike 4.0 International License.You are free to:Share
— copy and redistribute material in any medium or formatAdapt
— remix, modify and develop materialfor any purpose, even commercial.
The licensor cannot revoke this freedom as long as you follow the license terms