SISTEM PAKAR KERUSAKAN HANDPHONE NOKIA 5130 XPRESSMUSIC DENGAN METODE FORWARD CHAINING
Jusuf Wahyudi

Juju Jumadi
Abstract
Handphone dulu merupakan barang mewah, hanya sebagian orang saja yang dapat memilikinya, namun sekarang handphone sudah menjadi suatu kebutuhan dan harga yang cukup terjangkau dapat dimiliki oleh semua orang. Fungsi telepon sekarang bervariasi tidak hanya untuk menelepon atau mengirim pesan saja. Dengan adanya penelitian yang berjudul Sistem Pakar Kerusakan Ponsel Nokia 5130 XpressMusic ini, penulis berharap dapat menjadi referensi atau bermanfaat bagi para pembaca dan dapat membantu masyarakat dalam mengenali gejala-gejala kerusakan ponsel akibat kerusakan dan ditemukannya untuk dapat mengetahui solusi jitu untuk bisa memperbaikinya.
Kata kunci: Sistem Pakar, Kerusakan Handphone Nokia 5130 XpressMusic
Downloads
Download data is not yet available.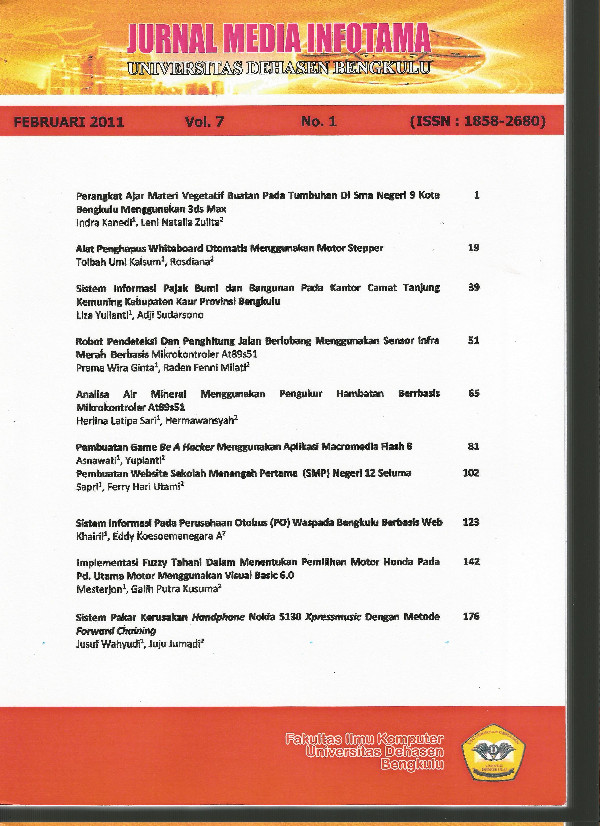 How to Cite
Wahyudi, J., & Jumadi, J. (2015). SISTEM PAKAR KERUSAKAN HANDPHONE NOKIA 5130 XPRESSMUSIC DENGAN METODE FORWARD CHAINING. JURNAL MEDIA INFOTAMA, 7(1). https://doi.org/10.37676/jmi.v7i1.44
An author who publishes in Jurnal Media Infotama agrees to the following terms:The author holds the copyright and grants the journal the right of first publication of the work simultaneously licensed under the Creative Commons Attribution-Share Alike 4.0 License which allows others to share the work with acknowledgment of the work's authorship and initial publication in this journal.Submission of a manuscript implies that the submitted work has not been previously published (except as part of a thesis or report, or abstract); that it is not being considered for publication elsewhere; that its publication has been approved by all co-authors. If and when a manuscript is accepted for publication, the author retains the copyright and retains the publishing rights without limitation.
For new inventions, authors are advised to administer the patent before publication. The license type is CC-BY-SA 4.0.
MEDIA INFORMATION REVIEW: Journal of the Faculty of Computer Science is licensed under a Creative Commons Attribution-ShareAlike 4.0 International License.You are free to:Share
— copy and redistribute material in any medium or formatAdapt
— remix, modify and develop materialfor any purpose, even commercial.
The licensor cannot revoke this freedom as long as you follow the license terms