Aplikasi Penilaian Sekolah Adiwiyata Pada Badan Lingkungan Hidup (BLH) Menggunakan Bahasa Pemrograman Basic dan Database MySQL
Prahasti Prahasti

Universitas Dehasen Bengkulu

Indra Kanedi

Nofi Qurniati

Mirnawati Mirnawati
Keywords:
Aplikasi, Sekolah Adiwiyata, Basic, MySQL
Abstract
Tujuan  penelitian  ini  adalah  menghasilkan  aplikasi penilaian sekolah  adiwiyata  pada Badan  lingkungan  Hidup  (BLH)  Kota  Bengkulu.  Tujuan  adanya  program  sekolah  adiwiyata  adalah  menciptakan  kondisi  sekolah  yang  bersih  dimana  sekolah  menjadi  tempat  pembelajaran  dan  penyadaran  bagi  siswa,  guru,  tenaga  kependidikan  maupun  stokeholder  lainnya  untuk  dapat  bertanggung  jawab  dalam  penyelamatan lingkungan  sekolahnya.  Metode yang digunakan dalam  pembuatan  aplikasi  ini  adalah  metode  waterfall.  Sementara  itu  proses  penginputan  data  yang  dilakukan  terdiri  data  sekolah,  data  petugas  dan  data  penilaian.  Laporan  yang  ditampilkan berupa  laporan data sekolah,  laporan  petugas  serta  laporan  hasil  penilaian  sekolah  adiwiyata.  Hasil  penelitian  adalah  terbuatnya  suatu  aplikasi  yang  dapat  digunakan  untuk  membantu  pihak  Dinas Lingkungan  Hidup  (DLH)  Kota  Bengkulu  dalam menghasilkan  penilaian  sekolah  penerima adiwiyata  yang  objektif  berdasarkan  hasil  penilaian  tim  adiwiyata  berdasarkan  komponen-komponen  penilaian  sesuai  dengan  peraturan  yang  berlaku.
Downloads
Download data is not yet available.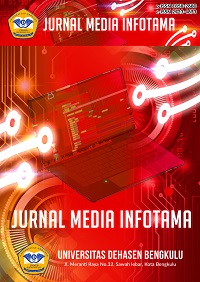 How to Cite
Prahasti, P., Kanedi, I., Qurniati, N., & Mirnawati, M. (2022). Aplikasi Penilaian Sekolah Adiwiyata Pada Badan Lingkungan Hidup (BLH) Menggunakan Bahasa Pemrograman Basic dan Database MySQL. JURNAL MEDIA INFOTAMA, 18(2), 374-381. https://doi.org/10.37676/jmi.v18i2.2943
Copyright (c) 2022 Prahasti Prahasti; Indra Kanedi, Nofi Qurniati, Mirnawati Mirnawati
This work is licensed under a Creative Commons Attribution-ShareAlike 4.0 International License.
An author who publishes in Jurnal Media Infotama agrees to the following terms:The author holds the copyright and grants the journal the right of first publication of the work simultaneously licensed under the Creative Commons Attribution-Share Alike 4.0 License which allows others to share the work with acknowledgment of the work's authorship and initial publication in this journal.Submission of a manuscript implies that the submitted work has not been previously published (except as part of a thesis or report, or abstract); that it is not being considered for publication elsewhere; that its publication has been approved by all co-authors. If and when a manuscript is accepted for publication, the author retains the copyright and retains the publishing rights without limitation.
For new inventions, authors are advised to administer the patent before publication. The license type is CC-BY-SA 4.0.
MEDIA INFORMATION REVIEW: Journal of the Faculty of Computer Science is licensed under a Creative Commons Attribution-ShareAlike 4.0 International License.You are free to:Share
— copy and redistribute material in any medium or formatAdapt
— remix, modify and develop materialfor any purpose, even commercial.
The licensor cannot revoke this freedom as long as you follow the license terms