Support Vector Machine Method for Recognizing Patterns in Signatures
Sastya Hendri Wibowo

Univeristas Muhammadiyah Bengkulu

Rozali Toyib

Univeristas Muhammadiyah Bengkulu
Keywords:
Application, Signature, SVM, Pattern
Abstract
Penggunaan tanda tangan saat ini banyak digunakan untuk memverifikasi keabsahan berbagai transaksi keuangan. Lembar cek, kartu kredit dan berbagai dokumen lainnya menggunakan tanda tangan untuk mengidentifikasi keabsahan seseorang. Teknologi identifikasi untuk pengenalan pola tanda tangan termasuk dalam biometrik yang menggunakan karakteristik perilaku alami manusia. Rumusan masalah dalam penelitian ini adalah bagaimana merancang aplikasi pengenalan pola tanda tangan menggunakan metode Support Vector Machine. Tujuan yang ingin dicapai adalah membangun sistem yang dapat mendeteksi jenis pemalsuan tanda tangan berdasarkan metode Support Vector Machine. Memberikan kemudahan dalam mengenali pola tanda tangan seseorang sehingga dapat diketahui informasi tentang pemilik tanda tangan tersebut. Metode yang digunakan dalam penelitian ini adalah rapid application development (RAD) yang terdiri dari analisis deteksi pemalsuan tanda tangan, perancangan sistem, implementasi dan pengujian sistem. Hasil penelitian sistem. Aplikasi pendeteksi jenis pemalsuan tanda tangan berdasarkan metode Support Vector Machine merupakan hasil pengolahan Matlab pada pengolahan citra dan jaringan saraf tiruan biasanya disimpan dalam ekstensi *.mat karena variabel pengolahan citra dan jaringan saraf tiruan bersifat numerik.
Downloads
Download data is not yet available.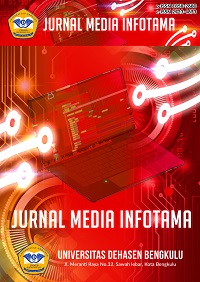 How to Cite
Wibowo, S., & Toyib, R. (2022). Support Vector Machine Method for Recognizing Patterns in Signatures. JURNAL MEDIA INFOTAMA, 18(2), 323-327. https://doi.org/10.37676/jmi.v18i2.2879
Copyright (c) 2022 Sastya Hendri Wibowo; Rozali Toyib
This work is licensed under a Creative Commons Attribution-ShareAlike 4.0 International License.
An author who publishes in Jurnal Media Infotama agrees to the following terms:The author holds the copyright and grants the journal the right of first publication of the work simultaneously licensed under the Creative Commons Attribution-Share Alike 4.0 License which allows others to share the work with acknowledgment of the work's authorship and initial publication in this journal.Submission of a manuscript implies that the submitted work has not been previously published (except as part of a thesis or report, or abstract); that it is not being considered for publication elsewhere; that its publication has been approved by all co-authors. If and when a manuscript is accepted for publication, the author retains the copyright and retains the publishing rights without limitation.
For new inventions, authors are advised to administer the patent before publication. The license type is CC-BY-SA 4.0.
MEDIA INFORMATION REVIEW: Journal of the Faculty of Computer Science is licensed under a Creative Commons Attribution-ShareAlike 4.0 International License.You are free to:Share
— copy and redistribute material in any medium or formatAdapt
— remix, modify and develop materialfor any purpose, even commercial.
The licensor cannot revoke this freedom as long as you follow the license terms