Teknologi Radio Frequency Identification (RFID) sebagai tools system pembuka pintu outomatis pada smart house
Mohammad Yusup

Universitas Pembangunan Panca Budi
Keywords:
RFID, Smart House, Outomatic
Abstract
Kemajuan teknologi memberikan banyak manfaat dan dampak positif dalam penggunaan peralatan elektronik Terkadang untuk membuka dan menutup pintu rumah pernah mengalami kesulitan dan Pintu merupakan bagian penting dalam rumah. Semakin berkembangnya teknologi menggantikan pintu manual ini menjadi sistem otomatis. dalam hal sistem keamanan pintu otomatis Perlu juga diperhatikan. Penelitian ini merumuskan permasalahan bagaimana sistem pintu otomatis dan keamanan pintu dengan menggunakan RFID. Penelitian dan pengembangan adalah metodologi penelitian yang digunakan. Aplikasi Arduino membuat sistem keamanan dengan menggunakan Radio Frequency Identification (RFID) sebagai gelombang radio frekuensi pembawa data yang akan diterima oleh receiver untuk mengkonfigurasi Pintu Otomatis ini. dan jika pengguna tidak memiliki kunci rumah/kartu RFID, pengguna dapat menggunakan keypad membran sebagai pengganti kartu RFID. Hasil dari penelitian ini adalah prototipe kerja pintu otomatis yang menggunakan RFID. Jarak terjauh yang dapat dideteksi oleh sensor RFID antara kartu dan pembaca adalah 5 cm. 2 hingga 3 detik setelah kartu ID dimasukkan ke reader yang dapat mendeteksi kartu. Jika ID dan password valid maka mekanisme solenoid pada pintu otomatis ini akan berfungsi, dan servo akan menggerakkan pintu tersebut.
Downloads
Download data is not yet available.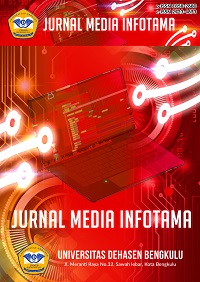 How to Cite
Yusup, M. (2022). Teknologi Radio Frequency Identification (RFID) sebagai tools system pembuka pintu outomatis pada smart house. JURNAL MEDIA INFOTAMA, 18(2), 367-373. https://doi.org/10.37676/jmi.v18i2.2756
Copyright (c) 2022 Mohammad Yusup
This work is licensed under a Creative Commons Attribution-ShareAlike 4.0 International License.
An author who publishes in Jurnal Media Infotama agrees to the following terms:The author holds the copyright and grants the journal the right of first publication of the work simultaneously licensed under the Creative Commons Attribution-Share Alike 4.0 License which allows others to share the work with acknowledgment of the work's authorship and initial publication in this journal.Submission of a manuscript implies that the submitted work has not been previously published (except as part of a thesis or report, or abstract); that it is not being considered for publication elsewhere; that its publication has been approved by all co-authors. If and when a manuscript is accepted for publication, the author retains the copyright and retains the publishing rights without limitation.
For new inventions, authors are advised to administer the patent before publication. The license type is CC-BY-SA 4.0.
MEDIA INFORMATION REVIEW: Journal of the Faculty of Computer Science is licensed under a Creative Commons Attribution-ShareAlike 4.0 International License.You are free to:Share
— copy and redistribute material in any medium or formatAdapt
— remix, modify and develop materialfor any purpose, even commercial.
The licensor cannot revoke this freedom as long as you follow the license terms