IMPLEMENTASI SISTEM PEMETAAN LOKASI STOK DARAH BERBASIS ANDROID MENGGUNAKAN METODE LOCATION BASED SERVICE DI BENGKULU
Mali Jaswan

Universitas Dehasen Bengkulu

Liza Yulianti

sapri sapri
Keywords:
stok darah, PMI, android, aplikasi
Abstract
ABSTRAC Blood donation is the process of voluntarily giving blood for the purpose and purpose of blood transfusion for other people in need. The process of delivering information related to blood stock, the public must always visit PMI, so it is inefficient and less effective. Many want to stock up blood to help others, but because of the lack of information, people don't know how to find out the location of existing blood stocks. The result of this research is a blood stock application that is able to provide blood bag stock data, as well as blood stock information. This makes it easier for users to find information about the method, place, and requirements for blood stock so that it is hoped that the public (users) who need blood supply information can access accurate and reliable information that has been presented by the PMI or UTD concerned.
Keywords: blood stock, PMI, android, application
Downloads
Download data is not yet available.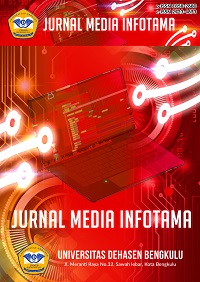 How to Cite
Jaswan, M., Yulianti, L., & sapri, sapri. (2022). IMPLEMENTASI SISTEM PEMETAAN LOKASI STOK DARAH BERBASIS ANDROID MENGGUNAKAN METODE LOCATION BASED SERVICE DI BENGKULU. JURNAL MEDIA INFOTAMA, 18(2), 273-278. https://doi.org/10.37676/jmi.v18i2.2731
Copyright (c) 2022 Mali Jaswan; Liza Yulianti, sapri sapri
This work is licensed under a Creative Commons Attribution-ShareAlike 4.0 International License.
An author who publishes in Jurnal Media Infotama agrees to the following terms:The author holds the copyright and grants the journal the right of first publication of the work simultaneously licensed under the Creative Commons Attribution-Share Alike 4.0 License which allows others to share the work with acknowledgment of the work's authorship and initial publication in this journal.Submission of a manuscript implies that the submitted work has not been previously published (except as part of a thesis or report, or abstract); that it is not being considered for publication elsewhere; that its publication has been approved by all co-authors. If and when a manuscript is accepted for publication, the author retains the copyright and retains the publishing rights without limitation.
For new inventions, authors are advised to administer the patent before publication. The license type is CC-BY-SA 4.0.
MEDIA INFORMATION REVIEW: Journal of the Faculty of Computer Science is licensed under a Creative Commons Attribution-ShareAlike 4.0 International License.You are free to:Share
— copy and redistribute material in any medium or formatAdapt
— remix, modify and develop materialfor any purpose, even commercial.
The licensor cannot revoke this freedom as long as you follow the license terms