Aplikasi Absensi Kantor Camat Muara Sahung Kabupaten Kaur Provinsi Bengkulu Menggunakan QR Code dan Algoritma Squential Search Pencarian Data Pegawai
yuliadarnita yuliadarnita

universitas muhammadiyah bengkulu

Muhammad Miadsyah

Program Studi Informatika, Fakultas Teknik, Universitas Muhammadiyah Bengkulu

Rozali Toyib

Program Studi Informatika, Fakultas Teknik, Universitas Muhammadiyah Bengkulu
Keywords:
pegawai, absensi, QR Code, algoritma sequential search
Abstract
Dalam kesehariannya para pegawai di kantor kecamatan masih banyak yang sering datang terlambat, oleh karena itu pimpinan dikantor camat Muara Sahung menginginkan para pegawainya hadir tepat waktu, Sehingga dibutuhkan suatu fasilitas atau sarana untuk membantu melaksanakan pengolahan data yang tepat yang disebut dengan sistem absensi berbasis Web dengan menerapkan QR Code dan pengelolahan data pegawai dengan algoritma sequential search . pembuatan absensi dengan QR Code untuk meningkatkan kinerja pegawai dan penilaian instansi dari pimpinan pusat agar kantor kecamatan di Muara Sahung dinilai baik dan memudahkan dalam pencarian data pegawai. Hasil pengujian Menghasilkan sistem absensi berbasis web dengan menerapkan QR Qode sebagai media absensi pegawai kantor camat Muare Sahung, Pencarian data menggunakan algoritma sequential search baik dan waktu pencarian rata-rata 1 detik
Downloads
Download data is not yet available.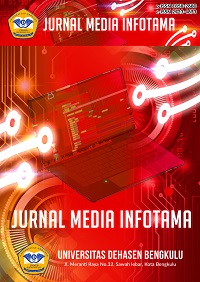 How to Cite
yuliadarnita, yuliadarnita, Miadsyah, M., & Toyib, R. (2022). Aplikasi Absensi Kantor Camat Muara Sahung Kabupaten Kaur Provinsi Bengkulu Menggunakan QR Code dan Algoritma Squential Search Pencarian Data Pegawai. JURNAL MEDIA INFOTAMA, 18(2), 247-252. https://doi.org/10.37676/jmi.v18i2.2707
Copyright (c) 2022 yuliadarnita yuliadarnita, Muhammad Miadsyah, Rozali Toyib
This work is licensed under a Creative Commons Attribution-ShareAlike 4.0 International License.
An author who publishes in Jurnal Media Infotama agrees to the following terms:The author holds the copyright and grants the journal the right of first publication of the work simultaneously licensed under the Creative Commons Attribution-Share Alike 4.0 License which allows others to share the work with acknowledgment of the work's authorship and initial publication in this journal.Submission of a manuscript implies that the submitted work has not been previously published (except as part of a thesis or report, or abstract); that it is not being considered for publication elsewhere; that its publication has been approved by all co-authors. If and when a manuscript is accepted for publication, the author retains the copyright and retains the publishing rights without limitation.
For new inventions, authors are advised to administer the patent before publication. The license type is CC-BY-SA 4.0.
MEDIA INFORMATION REVIEW: Journal of the Faculty of Computer Science is licensed under a Creative Commons Attribution-ShareAlike 4.0 International License.You are free to:Share
— copy and redistribute material in any medium or formatAdapt
— remix, modify and develop materialfor any purpose, even commercial.
The licensor cannot revoke this freedom as long as you follow the license terms