IMPLEMENTASI DAN ANALISA PER CONNECTION QUEUE (PCQ) SEBAGAI KONTROL PENGGUNAAN INTERNET PADA LABORATORIUM KOMPUTER
Mirsantoso Mirsantoso

Toibah Umi Kalsum

Reno Supardi
Abstract
This aims to implement control and manage internet bandwidth usage in computer networks. Distribution of bandwidth evenly on all hosts (computers) connected to a computer network. Reducing excessive bandwidth usage when using media downloader hosts like Internet Download Manager (IDM). This study uses an experimental research. In this research, experimentation and implementation of the performance of the method per connection queue with queue (PCQ). The results of further experiments are documented for analysis to produce appropriate recommendations for bandwidth management with per connection queue (PCQ) untun control the use of the Internet in the laboratory. From the results of this analysis will come to the conclusion about the benefits and functions in more detail than the method using the per connection queue queue (PCQ) in controlling the use of the Internet on a computer network in a computer lab. The results of this study indicate that that the bandwidth management with per connection queue (PCQ) to control internet usage is very significant changes. By utilizing this method of data traffic internet usage can be set according to the amount of bandwidth available on the network. In addition to control Internet usage, this method is also useful to limit the traffic rate is downloaded when a client using a download manager like IDM. By applying this method, between one client and another client will not get excessive bandwidth, so the use of the internet will be more stable and controllable.
Keywords : bandwidth management, Per Connection Queue (PCQ), network.
Downloads
Download data is not yet available.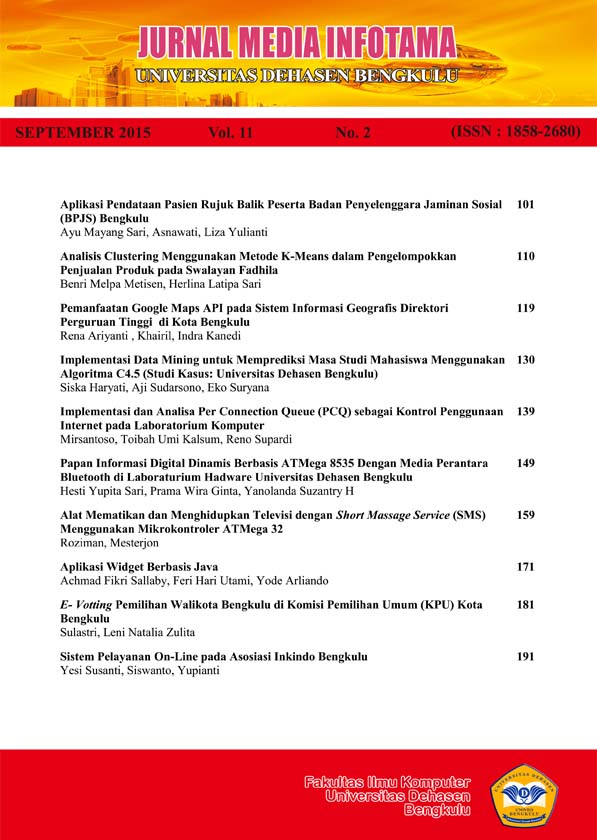 How to Cite
Mirsantoso, M., Kalsum, T., & Supardi, R. (2014). IMPLEMENTASI DAN ANALISA PER CONNECTION QUEUE (PCQ) SEBAGAI KONTROL PENGGUNAAN INTERNET PADA LABORATORIUM KOMPUTER. JURNAL MEDIA INFOTAMA, 11(2). https://doi.org/10.37676/jmi.v11i2.261
An author who publishes in Jurnal Media Infotama agrees to the following terms:The author holds the copyright and grants the journal the right of first publication of the work simultaneously licensed under the Creative Commons Attribution-Share Alike 4.0 License which allows others to share the work with acknowledgment of the work's authorship and initial publication in this journal.Submission of a manuscript implies that the submitted work has not been previously published (except as part of a thesis or report, or abstract); that it is not being considered for publication elsewhere; that its publication has been approved by all co-authors. If and when a manuscript is accepted for publication, the author retains the copyright and retains the publishing rights without limitation.
For new inventions, authors are advised to administer the patent before publication. The license type is CC-BY-SA 4.0.
MEDIA INFORMATION REVIEW: Journal of the Faculty of Computer Science is licensed under a Creative Commons Attribution-ShareAlike 4.0 International License.You are free to:Share
— copy and redistribute material in any medium or formatAdapt
— remix, modify and develop materialfor any purpose, even commercial.
The licensor cannot revoke this freedom as long as you follow the license terms