ANALISIS CLUSTERING MENGGUNAKAN METODE K-MEANS DALAM PENGELOMPOKKAN PENJUALAN PRODUK PADA SWALAYAN FADHILA
Benri Melpa Metisen

Herlina Latipa Sari
Abstract
This report describes the software application Tanagra in data mining. Tanagra is a data mining software that can be used to access some of the existing methods of data mining. This application uses the input dataset. In implementing this algorithm testing data used is the data item in the supermarket Fadhilla Bengkulu. In this application, use the application clustering using K -means algorithm. Of data processed by the data sample taken in Supermarkets Fadhilla Bengkulu, it produces two types of data sets. Ie low sales data and high sales data. So with the grouping of data is the self- Fadhilla can determine the type of goods sold and selling. So that goods in the warehouse does not accumulate.
Keyword : K-Means, Clustering, Data Mining.
Downloads
Download data is not yet available.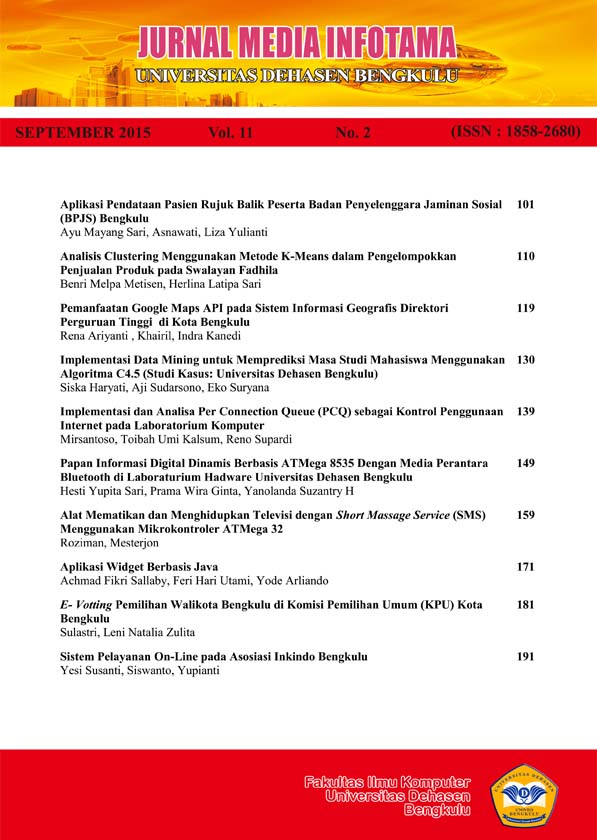 How to Cite
Metisen, B., & Sari, H. (2015). ANALISIS CLUSTERING MENGGUNAKAN METODE K-MEANS DALAM PENGELOMPOKKAN PENJUALAN PRODUK PADA SWALAYAN FADHILA. JURNAL MEDIA INFOTAMA, 11(2). https://doi.org/10.37676/jmi.v11i2.258
An author who publishes in Jurnal Media Infotama agrees to the following terms:The author holds the copyright and grants the journal the right of first publication of the work simultaneously licensed under the Creative Commons Attribution-Share Alike 4.0 License which allows others to share the work with acknowledgment of the work's authorship and initial publication in this journal.Submission of a manuscript implies that the submitted work has not been previously published (except as part of a thesis or report, or abstract); that it is not being considered for publication elsewhere; that its publication has been approved by all co-authors. If and when a manuscript is accepted for publication, the author retains the copyright and retains the publishing rights without limitation.
For new inventions, authors are advised to administer the patent before publication. The license type is CC-BY-SA 4.0.
MEDIA INFORMATION REVIEW: Journal of the Faculty of Computer Science is licensed under a Creative Commons Attribution-ShareAlike 4.0 International License.You are free to:Share
— copy and redistribute material in any medium or formatAdapt
— remix, modify and develop materialfor any purpose, even commercial.
The licensor cannot revoke this freedom as long as you follow the license terms