IMPLEMENTASI METODE SELECTION SORT UNTUK MENENTUKAN NILAI PRESTASI SISWA KELAS 3 DAN KELAS 4 SD NEGERI 107 SELUMA
Benardo Benardo

Mesterjon Mesterjon

Leni Natalia Zulita
Abstract
The purpose of this research is done is to make a determination of the value of the application achievement of students in grade 3 and grade 4 Elementary School 107 Seluma using Selection Sort. Where the research was conducted in 107 Seluma Elementary School.  Elementary School 107 Seluma a land grant from the community that was built in 1982. 107 Seluma Elementary School already use computers in doing office work, both internal and external to process words in Microsoft Word and create a table list values in Microsoft Excel. The process dilakukanpun still using manual systems, because the value of charging students a way to write numbers on a blank column on the sheet contained a list of values. It is difficult for the Elementary School 107 Seluma in determining student achievement in each class, because it takes a long time to add up all the values and calculate the average value of the students one by one using a calculator. Selection sort method used is descending, with a sort of greatest value to the smallest value of the results of student assessment. Will be found to rank students according to the values found for each subject. In this system, an assessment based on grade and half of the subjects that are in class and the semester will appear along with the value that he found. Application of the method of selection of students scoring system using Visual Basic.Net 2010 with a database in SQL Server 2008R2. The output generated from this assessment system, in the form of assessment reports that have been sorted in value based on the largest value to the smallest value.
Keywords: Method of Selection Sort, Value Student Achievement
Downloads
Download data is not yet available.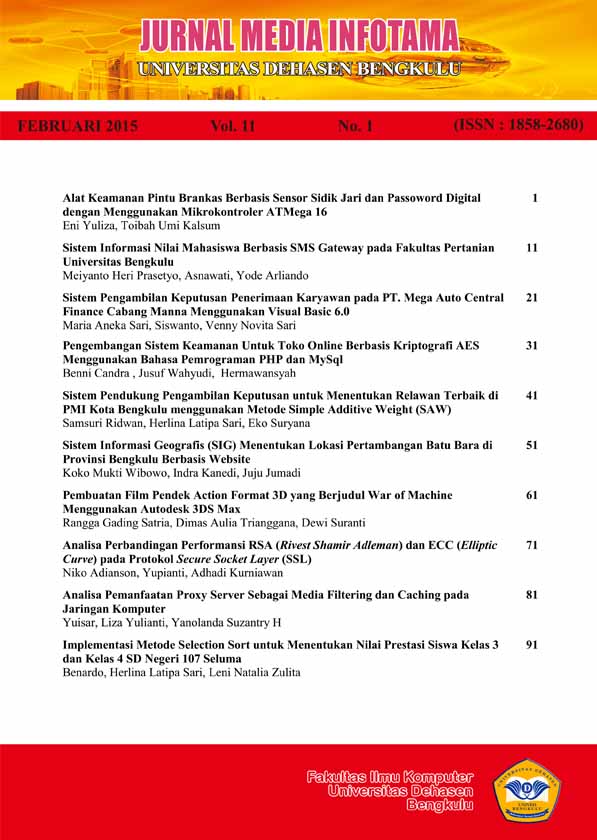 How to Cite
Benardo, B., Mesterjon, M., & Zulita, L. (2015). IMPLEMENTASI METODE SELECTION SORT UNTUK MENENTUKAN NILAI PRESTASI SISWA KELAS 3 DAN KELAS 4 SD NEGERI 107 SELUMA. JURNAL MEDIA INFOTAMA, 11(1). https://doi.org/10.37676/jmi.v11i1.256
An author who publishes in Jurnal Media Infotama agrees to the following terms:The author holds the copyright and grants the journal the right of first publication of the work simultaneously licensed under the Creative Commons Attribution-Share Alike 4.0 License which allows others to share the work with acknowledgment of the work's authorship and initial publication in this journal.Submission of a manuscript implies that the submitted work has not been previously published (except as part of a thesis or report, or abstract); that it is not being considered for publication elsewhere; that its publication has been approved by all co-authors. If and when a manuscript is accepted for publication, the author retains the copyright and retains the publishing rights without limitation.
For new inventions, authors are advised to administer the patent before publication. The license type is CC-BY-SA 4.0.
MEDIA INFORMATION REVIEW: Journal of the Faculty of Computer Science is licensed under a Creative Commons Attribution-ShareAlike 4.0 International License.You are free to:Share
— copy and redistribute material in any medium or formatAdapt
— remix, modify and develop materialfor any purpose, even commercial.
The licensor cannot revoke this freedom as long as you follow the license terms