ALAT KEAMANAN PINTU BRANKAS BERBASIS SENSOR SIDIK JARI DAN PASSOWORD DIGITAL DENGAN MENGGUNAKAN MIKROKONTROLER ATMEGA 16
Eni Yuliza

Toibah Umi Kalsum
Abstract
Doors safety deposit box still use conventional security. Where the safety deposit box door is opened by turning around and use the code, which in a sense it is not efficient. Therefore, the necessary measures to facilitate the safety deposit box door security. The purpose of this research is to create a security system safety deposit box door using fingerprint sensor R305 series. Other major equipment includes a microcontroller ATMega 16 and Visual Basic 6.0. The results showed that the Safe Door Security Tools can be monitored using applications created with Visual Basic 6.0 in accordance with the instructions given. The test results showed that the response to the command of instrument of the application is running normally. The success of the test results instrument is 100%.
Keyword: Mikrokontroler AVR ATMEGA16, Visual Ianguage Pemrograman Basic 6.0, Appliance Security Door, Brankas Sensor Fingerprint and Digital Password
Downloads
Download data is not yet available.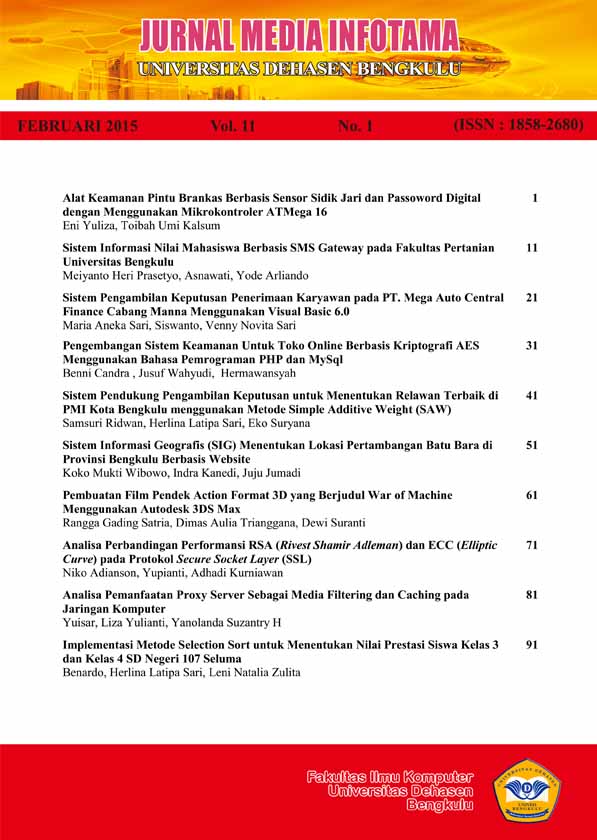 How to Cite
Yuliza, E., & Kalsum, T. (2016). ALAT KEAMANAN PINTU BRANKAS BERBASIS SENSOR SIDIK JARI DAN PASSOWORD DIGITAL DENGAN MENGGUNAKAN MIKROKONTROLER ATMEGA 16. JURNAL MEDIA INFOTAMA, 11(1). https://doi.org/10.37676/jmi.v11i1.247
An author who publishes in Jurnal Media Infotama agrees to the following terms:The author holds the copyright and grants the journal the right of first publication of the work simultaneously licensed under the Creative Commons Attribution-Share Alike 4.0 License which allows others to share the work with acknowledgment of the work's authorship and initial publication in this journal.Submission of a manuscript implies that the submitted work has not been previously published (except as part of a thesis or report, or abstract); that it is not being considered for publication elsewhere; that its publication has been approved by all co-authors. If and when a manuscript is accepted for publication, the author retains the copyright and retains the publishing rights without limitation.
For new inventions, authors are advised to administer the patent before publication. The license type is CC-BY-SA 4.0.
MEDIA INFORMATION REVIEW: Journal of the Faculty of Computer Science is licensed under a Creative Commons Attribution-ShareAlike 4.0 International License.You are free to:Share
— copy and redistribute material in any medium or formatAdapt
— remix, modify and develop materialfor any purpose, even commercial.
The licensor cannot revoke this freedom as long as you follow the license terms