A Sistem Rekomendasi Pemilihan Lensa Kacamata Menggunakan Metode Weighting Product (WP) Pada Toko Optik Berkah
Ari Haryanto

Universitas Muhammadiyah Bengkulu

Harry Witriyono
Keywords:
Recommendations, Eyeglass Lenses, Weigthed, Product Method
Abstract
Toko Optik Berkah is an optical shop that sells a variety of glasses and eyeglass lenses. In the process of selling their products, Blessing Optics Stores often have difficulty choosing lenses that suit the needs and desires of consumers, because of the large variety of types, materials, brands and prices of these lenses. This makes consumers only depend on the selection chosen by the Blessing Optics Shop. This also results in the length of time it takes for sellers to match consumer desires. The right solution to solve this problem is to create a recommendation system using the method of a decision support system, in this study the system to be used serves to facilitate consumers in purchasing eyeglass lenses. In this study, the Weigthing Product (WP) method was used. The use of the WP method is deemed appropriate to be used in this study. This method is useful for determining which lenses have the best quality, brand, type and price of the others. Seeing these problems, making the author to submit this research as a final project to create a recommendation system for choosing eyeglass lens products at the Blessing Optics Shop using the Weighted Product Method so as to solve these problems.
Downloads
Download data is not yet available.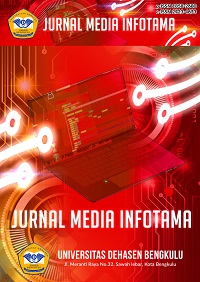 How to Cite
Haryanto, A., & Witriyono, H. (2022). A Sistem Rekomendasi Pemilihan Lensa Kacamata Menggunakan Metode Weighting Product (WP) Pada Toko Optik Berkah. JURNAL MEDIA INFOTAMA, 18(1), 15 - 22. https://doi.org/10.37676/jmi.v18i1.2131
Copyright (c) 2022 Ari Haryanto; Harry Witriyono
This work is licensed under a Creative Commons Attribution-ShareAlike 4.0 International License.
An author who publishes in Jurnal Media Infotama agrees to the following terms:The author holds the copyright and grants the journal the right of first publication of the work simultaneously licensed under the Creative Commons Attribution-Share Alike 4.0 License which allows others to share the work with acknowledgment of the work's authorship and initial publication in this journal.Submission of a manuscript implies that the submitted work has not been previously published (except as part of a thesis or report, or abstract); that it is not being considered for publication elsewhere; that its publication has been approved by all co-authors. If and when a manuscript is accepted for publication, the author retains the copyright and retains the publishing rights without limitation.
For new inventions, authors are advised to administer the patent before publication. The license type is CC-BY-SA 4.0.
MEDIA INFORMATION REVIEW: Journal of the Faculty of Computer Science is licensed under a Creative Commons Attribution-ShareAlike 4.0 International License.You are free to:Share
— copy and redistribute material in any medium or formatAdapt
— remix, modify and develop materialfor any purpose, even commercial.
The licensor cannot revoke this freedom as long as you follow the license terms