Pemanfaatan Framework Laravel Dan Framework Bootstrap Pada Pembangunan Aplikasi Penjualan Hijab Berbasis Web
Desma Alpina

Universitas Muhammadiyah Bengkulu

Harry Witriyono
Keywords:
Hijab, E-Commerce, Laravel, Bootstrap
Abstract
Persaingan antar toko menjadi sengit karena telah menerapkan penjualan offline dan online. Penjualan online sudah dijadikan salah satu media transaksi dimana pembeli tidak harus bertemu dengan penjual untuk melihat produk dan melakukan pembelian. Maraknya trend hijrah saat ini berdampak langsung dengan peningkatan penjualan hijab dikalangan anak muda. Ditambah dengan budaya hijab Indonesia yang sangat beragam membuat banyak tipe, model dan desain hijab cantik yang mana tidak hanya digunakan untuk menutup aurat tetapi menjadi salah satu item fashion saat ini. Salah satu framework yang membantu dalam pembangunan aplikasi penjualan adalah laravel. Laravel merupakan sebuah kerangka kerja pemrograman yang berbasis open source yang dipakai oleh banyak developer dari seluruh dunia. Laravel juga menjadi salah satu framework yang dapat membantu developper untuk memaksimalkan penggunaan PHP didalam proses pengembangan website. Selain itu, Laravel juga memiliki beberapa fitur unggulan, seperti template engine, routing, dan modularity. Framework laravel memiliki kelebihan dalam struktur file dan koding dari pada php native biasa. Framework laravel memiliki fungsi migrate sehingga lebih mudah untuk pengelolaan databasenya. Framwork laravel memiliki templating engine yang dapat membantu membangun tampilkan front end lebih efisien dengan fungsi blade yang telah disediakan oleh laravel. Framwork bootstrap dengan css nya membuat tampilan aplikasi menjadi lebih bagus dan rapi. Aplikasi yang penulis bangun belum sempurna sehingga masih banyak kekurangannya, baik dari segi tampilan maupun fasilitas yang lebih user friendly. Selain itu, aplikasi ini juga memiliki kekurangan di bagian pembayaran yang masih manual karena keterbatasan ilmu pengetahuan penulis sehingga belum bisa membuat fungsi pembayaran yang terintegrasi dengan virtual money seperti gopay, dana ataupun ovo.
Keywords: Hijab, E-Commerce, Laravel, Bootstrap
Downloads
Download data is not yet available.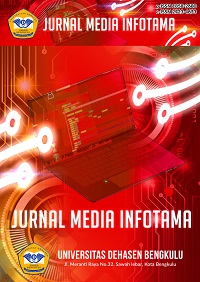 How to Cite
Alpina, D., & Witriyono, H. (2022). Pemanfaatan Framework Laravel Dan Framework Bootstrap Pada Pembangunan Aplikasi Penjualan Hijab Berbasis Web. JURNAL MEDIA INFOTAMA, 18(1), 36 - 42. https://doi.org/10.37676/jmi.v18i1.1836
Copyright (c) 2022 Desma Alpina; Harry Witriyono
This work is licensed under a Creative Commons Attribution-ShareAlike 4.0 International License.
An author who publishes in Jurnal Media Infotama agrees to the following terms:The author holds the copyright and grants the journal the right of first publication of the work simultaneously licensed under the Creative Commons Attribution-Share Alike 4.0 License which allows others to share the work with acknowledgment of the work's authorship and initial publication in this journal.Submission of a manuscript implies that the submitted work has not been previously published (except as part of a thesis or report, or abstract); that it is not being considered for publication elsewhere; that its publication has been approved by all co-authors. If and when a manuscript is accepted for publication, the author retains the copyright and retains the publishing rights without limitation.
For new inventions, authors are advised to administer the patent before publication. The license type is CC-BY-SA 4.0.
MEDIA INFORMATION REVIEW: Journal of the Faculty of Computer Science is licensed under a Creative Commons Attribution-ShareAlike 4.0 International License.You are free to:Share
— copy and redistribute material in any medium or formatAdapt
— remix, modify and develop materialfor any purpose, even commercial.
The licensor cannot revoke this freedom as long as you follow the license terms