Penerapan Fungsi Metode Rolling Hash Pada Algoritma Winnowing Untuk Mendeteksi Kemiripan Teks Abstrak Berbasis Web
Yovi Apridiansyah

Universitas Muhammadiyah Bengkulu

Ardi Wijaya

Universitas Muhammadiyah Bengkulu

Ari Purjiawan

Universitas Muhammadiyah Bengkulu
Keywords:
Plagiarisme, Winnowing, Rolling Hash, Fingerprinting
Abstract
Plagiarisme merupakan pengambilan karangan atau pendapat orang lain dan menjadikannya seolah-olah karangan atau pendapat sendiri, misalnya menerbitkan karya tulis orang lain atas nama dirinya sendiri. Dalam hal mengantisipasi pendapat karangan orang lain yaitu dibutuhkan cara dalam menganalisis suatu dokumen, salah satunya yaitu dengan menerapkan fungsi metode rolling hash pada algoritma winnowing karena metode winnowing ini algoritma yang digunakan untuk melakukan proses pengecekkan kesamaan kata (document fingerprinting) untuk mengidentifikasi plagiarisme atau penjiplakan. Dengan menerapkan fungsi metode rolling hash pada algoritma winnowing dapat menghasilkan perbandingan persentase plagiat atau kemiripan suatu dokumen atau teks abstrak. Dari Percobaan membandingkan teks abstrak dalam salah satu jurnal mendapatkan nilai persentase 50,06% dengan menggunakan persamaan Jaccard Coeficient.
Downloads
Download data is not yet available.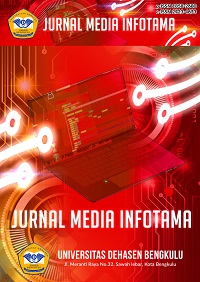 How to Cite
Apridiansyah, Y., Wijaya, A., & Purjiawan, A. (2022). Penerapan Fungsi Metode Rolling Hash Pada Algoritma Winnowing Untuk Mendeteksi Kemiripan Teks Abstrak Berbasis Web. JURNAL MEDIA INFOTAMA, 18(1), 128 - 133. https://doi.org/10.37676/jmi.v18i1.1695
Copyright (c) 2022 Yovi Apridiansyah, Ardi Wijaya
This work is licensed under a Creative Commons Attribution-ShareAlike 4.0 International License.
An author who publishes in Jurnal Media Infotama agrees to the following terms:The author holds the copyright and grants the journal the right of first publication of the work simultaneously licensed under the Creative Commons Attribution-Share Alike 4.0 License which allows others to share the work with acknowledgment of the work's authorship and initial publication in this journal.Submission of a manuscript implies that the submitted work has not been previously published (except as part of a thesis or report, or abstract); that it is not being considered for publication elsewhere; that its publication has been approved by all co-authors. If and when a manuscript is accepted for publication, the author retains the copyright and retains the publishing rights without limitation.
For new inventions, authors are advised to administer the patent before publication. The license type is CC-BY-SA 4.0.
MEDIA INFORMATION REVIEW: Journal of the Faculty of Computer Science is licensed under a Creative Commons Attribution-ShareAlike 4.0 International License.You are free to:Share
— copy and redistribute material in any medium or formatAdapt
— remix, modify and develop materialfor any purpose, even commercial.
The licensor cannot revoke this freedom as long as you follow the license terms