Implementasi Profile Matching Dalam Penjurusan Mahasiswa Baru Di Perguruan Tinggi (Studi Kasus Universitas Muhammadiyah Bengkulu)
Ego Prabowo

Universitas Muhammadiyah Bengkulu

M.Husni Rifqo

Universitas Muhammadiyah Bengkulu
Keywords:
Aplikasi, Profile, Matching, Mahasiswa
Abstract
Dalam memilih suatu jurusan di perguruan tinggi merupakan suatu hal yang sangat penting karena jurusan yang dipilih menentukkan masa depan, namun dengan banyaknya pilihan jurusan pada setiap perguruan tinggi menjadikan memilih jurusan itu tidak mudah. Sedangkan permasalahan relasional muncul ketika mahasiswa menarik diri dari lingkungannya karena merasa tidak nyaman dengan situasi perkuliahan. Salah jurusan juga berdampak pada munculnya rasa kecewa dan menyesal. Metode profile matching merupakan teknik pengambilan keputusan dengan cara memperkirakan terdapat adanya tingkat variabel prediktor yang diharapkan dan dipenuhi objek penelitiannya. Maka dirumuskan permasalahan yaitu belum adanya penerapan algoritma profile matching dalam penjurusan mahasiswa baru di Universitas Muhammadiyah Bengkulu. Dapat Memberikan alternatif bagi Universitas Muhammadiyah Bengkulu dapat melakukan pencatatan data calon mahasiswa berdasarkan fakultas dan program studi yang dipilih menggunakan software berbasis website sebagai server, sedangkan android bagi calon mahasiswa baru jika di akses secara online. Sehingga data dapat digunakan secara cepat dan efisien. Diharapkan aplikasi ini selalu up to date sehingga aplikasi ini mengikuti perkembangan teknologi informasi berbasis android menggunakan framework flutter
Downloads
Download data is not yet available.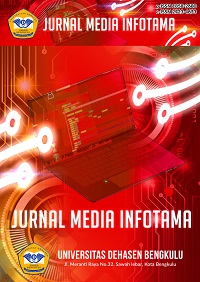 How to Cite
Prabowo, E., & Rifqo, M. (2022). Implementasi Profile Matching Dalam Penjurusan Mahasiswa Baru Di Perguruan Tinggi (Studi Kasus Universitas Muhammadiyah Bengkulu). JURNAL MEDIA INFOTAMA, 18(1), 28 - 35. https://doi.org/10.37676/jmi.v18i1.1676
Copyright (c) 2022 Ego Prabowo, M.Husni Rifqo
This work is licensed under a Creative Commons Attribution-ShareAlike 4.0 International License.
An author who publishes in Jurnal Media Infotama agrees to the following terms:The author holds the copyright and grants the journal the right of first publication of the work simultaneously licensed under the Creative Commons Attribution-Share Alike 4.0 License which allows others to share the work with acknowledgment of the work's authorship and initial publication in this journal.Submission of a manuscript implies that the submitted work has not been previously published (except as part of a thesis or report, or abstract); that it is not being considered for publication elsewhere; that its publication has been approved by all co-authors. If and when a manuscript is accepted for publication, the author retains the copyright and retains the publishing rights without limitation.
For new inventions, authors are advised to administer the patent before publication. The license type is CC-BY-SA 4.0.
MEDIA INFORMATION REVIEW: Journal of the Faculty of Computer Science is licensed under a Creative Commons Attribution-ShareAlike 4.0 International License.You are free to:Share
— copy and redistribute material in any medium or formatAdapt
— remix, modify and develop materialfor any purpose, even commercial.
The licensor cannot revoke this freedom as long as you follow the license terms