A SISTEM INFORMASI INVENTARIS BERBASIS ANDROID MENGGUNAKAN METODE CLIENT SERVER
Fraz Aditian

Agung Kharisma Hidayah
Abstract
Intisari - Perkembangan teknologi dan informasi memiliki banyak dampak positif di berbagai bidang kehidupan. Inventarisasi barang merupakan pencatatan data yang berhubungan dengan barang atau aset dalam organisasi tersebut. Umumnya kegiatan dalam inventarisasi barang adalah pencatatan pengadaan barang, penempatan, mutasi dan pemeliharaan. Proses inventarisasi barang yang dilakukan oleh desa permu Kabupaten Kepahiang masih menggunakan pencatatan manual pada  buku  inventaris.  Dari  permasalahan  diatas  dibutuhkan  sebuah sistem  informasi inventaris  barang  berbasis  android  dengan menggunakan sistem client server.  Sistem informasi yang akan dibuat menggunakan bahasa pemrograman java dengan MySQL sebagai databasenya. Maka rumusan masalahnya pada belum adanya sistem informasi inventaris berbasis android dengan metode client server. Tujuan dari penelitian ini untuk  dapat memberikan informasi inventaris barang berbasis   android   dengan   metode   client   server   pada   desa   permu Kabupaten Kepahiang. Diharapkan aplikasi ini selalu up to date sehingga aplikasi   ini   mengikuti   perkembangan   teknologi   informasi   geografis berbasis android flutter
Kata Kunci : Android, Informasi, Inventaris, Sistem
Downloads
Download data is not yet available.
References
DAFTAR PUSTAKA

[1] Aripurnamayana, M. (2011).Game Edukasi Matematika Untuk Sekolah Dasar. Jurnal Informatika
Mulawarman Vol. 10 No.2 September 2012 , 6.
[2] Astuti, W. (2017). Analisis String Matching Pada Judul Skripsi dengan algoritma Knuth Morris Prat.
ILKOM Jurnal Ilmiah Volume 9 Nomor 2Agustus 2017 ISSN cetak 2087-1716 , 6
[3] Dinata, Rozzi Kesuma. (2018). Implementasi algoritma Multiplicative Congruential random Number
generator pada try-Out SMP (Sekolah Menengah Pertama) Berbasis client Server. TECHSI: Vol. 10, No. 1,
April 2018
[4] Hermawan. Y. (2017) Perancangan Aplikasi Client-Server Untuk Sistem Informasi Inventori Studi Kasus di
Toko Bangunan Santoso. Jurnal Infra Universitas Kristen Petra
[5] Kasman. (2016). Sistem pakar gizi berbasis android. portal garuda universitas sriwijaya , 6.

[6] Maryuliana, (2016). Sistem Informasi Angket Pengukuran Skala Kebutuhan Materi Pembelajaran
Tambahan Sebagai Pendukung Pengambilan Keputusan Di Sekolah Menengah Atas Menggunakan
Skala Likert. Jurnal Transistor Elektro dan Informatika (TRANSISTOR EI) Vol. 1, No. 2, Oktober 2016.
[7] M. Wegmuller, J. P. von derWeid, P. Oberson, and N.measurements with coherent OFDR," in Proc.
ECOC'00, 2000, paper 11.3.4, p. 109.
[8] Pressman. (2015). Konsep dasar perancangan sistem berbasis orientasi objek. Yogyakarta: Andi Offset.
[10] Salmadian. D. (2016).Pengertian Bulu Tangkis: Sejarah, Peraturan, Teknik Dasar & Ukuran Lapangan
[11] Singkoh, R.T.(2016). Perancangan Game FPS (First Person Shooter) Police Personal Training. E-Journal
Teknik Elektro dan Komputer Vol.5 No.1 Januari – Maret 2016, ISSN : 2301 - 8402 , 8.
[12] Saefi, H. (2012). Rancang Bangun Aplikasi Pembelajaran Hadis Untuk Perangkat Mobile Berbasis
Android. JURNAL INFORMATIKA Vol. 8, No. 2, Juli 2012 , 14.
[13] Vitianingsih, V. A. (2016).Game Edukasi Sebagai Media Pembelajaran Pendidikan Anak Usia Dini.
Jurnal INFORM Vol. 1, No. 1, (2016) ISSN:2502-3470 , 8.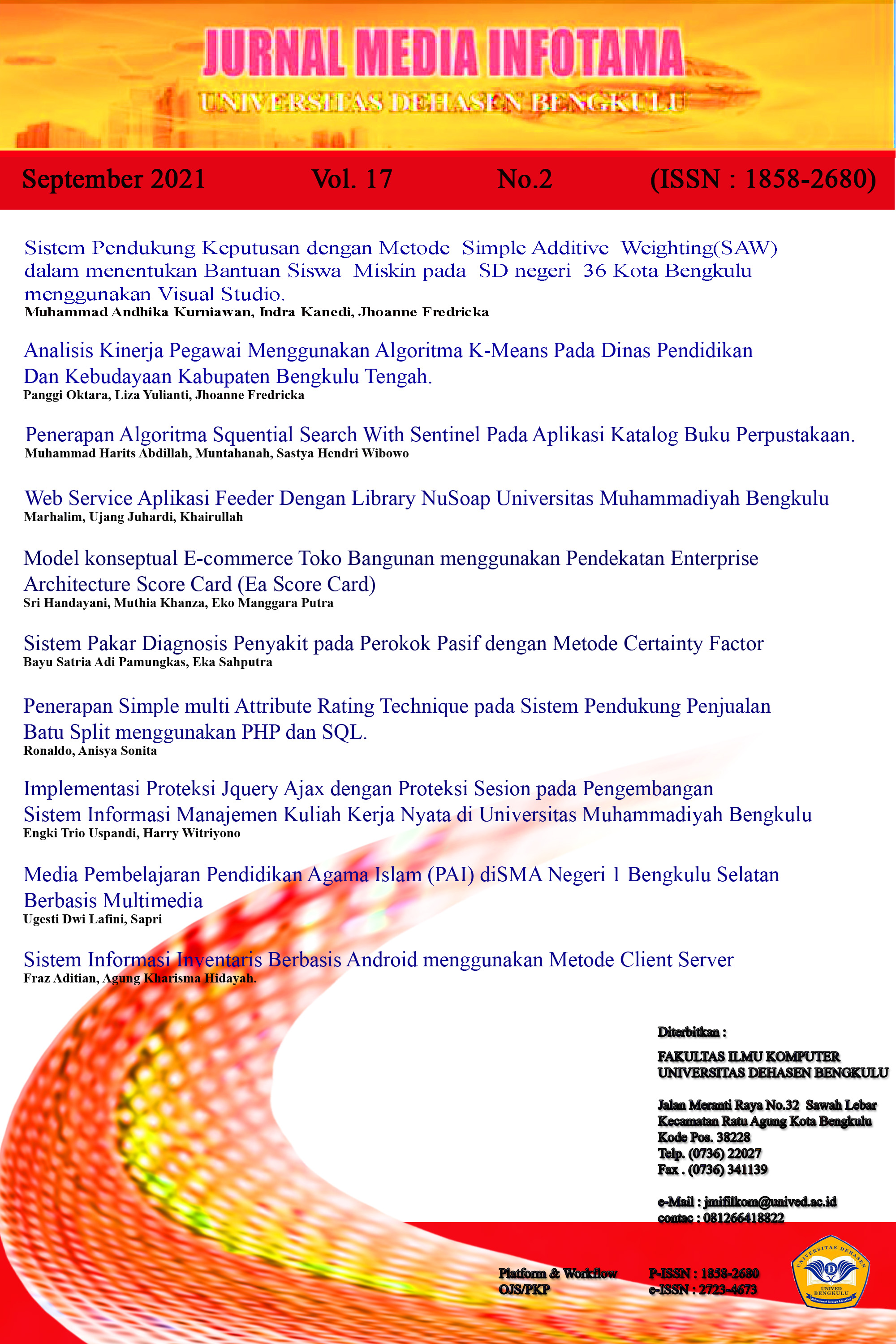 How to Cite
Aditian, F., & Hidayah, A. (2021). A SISTEM INFORMASI INVENTARIS BERBASIS ANDROID MENGGUNAKAN METODE CLIENT SERVER. JURNAL MEDIA INFOTAMA, 17(2). https://doi.org/10.37676/jmi.v17i2.1647
Copyright (c) 2021 Fraz Aditian; Agung Kharisma Hidayah
This work is licensed under a Creative Commons Attribution-ShareAlike 4.0 International License.
An author who publishes in the Jurnal Media Infotama agrees to the following terms:
Author retains the copyright and grants the journal the right of first publication of the work simultaneously licensed under the Creative Commons Attribution-ShareAlike 4.0 License that allows others to share the work with an acknowledgement of the work's authorship and initial publication in this journal
Submission of a manuscript implies that the submitted work has not been published before (except as part of a thesis or report, or abstract); that it is not under consideration for publication elsewhere; that its publication has been approved by all co-authors. If and when the manuscript is accepted for publication, the author(s) still hold the copyright and retain publishing rights without restrictions. For the new invention, authors are suggested to manage its patent before published. The license type is CC-BY-SA 4.0.
EKOMBIS REVIEW: Jurnal Ilmiah Ekonomi dan Bisnis is licensed under a Creative Commons Attribution-ShareAlike 4.0 International License.
You are free to:
Share — copy and redistribute the material in any medium or format
Adapt — remix, transform, and build upon the material
for any purpose, even commercially.
The licensor cannot revoke these freedoms as long as you follow the license terms.