A MEDIA PEMBELAJARAN PENDIDIKAN AGAMA ISLAM (PAI) DI SMA NEGERI 1 BENGKULU SELATAN BERBASIS MULTIMEDIA
Ugesti Dwi Lafini

Sapri Sapri
Abstract
Intisari_Salah satu kemajuan Ieknologi Informasi di bidang pendidikan saat ini adalah media pembelajaran. Semakin banyak kemudahan teknologi yang ditawarkan maka semakin membawa kemajuan dalam ilmu pengetahuan dan teknologi yang semakin canggih.
                Media pembelajaran ini disusun di awal semester 2 pertemuan 1 sampe ke 7 untuk dipergunakan selama satu semester kelas XI. Metode Pengumpulan datanya digunakan dalam penyusunan media pembelajaran ini yaitu observasi, wawancara dan pustaka. Media yang ditampilkan khususnya membahas tentang Perawatan Jenazah Muslim (Memandikan Jenazah, Mengkafani Jenazah, Mensholatkan Jenazah, Menguburkan Jenazah ).Dari hasil penganalisaan dan pembahasan yang ada dapat disimpulkan bahwa untuk Media Pembelajaran Pendidikan Agama Islam di SMA Negeri 1 Bengkulu Selatan Menggunakan Macromedia Flash 8 sangat menarik.
 Kata Kunci : Media Pembelajaran, Macromedia Flash 8
Downloads
Download data is not yet available.
References
DAFTAR PUSTAKA

[1] Daryanto, 2003. Belajar Komputer Animasi Macromedia Flash, Juni 2003, Bandung : Yrama Widya
[2] Gapra, 2009. Animasi, 2 Mei 2013, http:// blog.akprind.ac.id
[3] Janiansyah, 2009. Pengertian Multimedia, 2 Mei 2013,
[4] Supriyanto, Aji, 2005. Pengantar Teknologi Informasi, Semarang :Salemba Infotek
[5] Syamsuri.2007.Pendidikan Agama Islam untuk Kelas XI .Jakarta :Erlangga
[6] Wijaya, Didik dan Hutasoit, Ahmad Parulian, 2003, Tip dan Trik Macromedia Flash Mx dengan Action Script. PT. Elexmedia Komputindo, Jakarta.
[7] http://janiansyah.wordpress.com , Diakses pada tanggal 15 Desember 2013
[8]http://bambumoeda.wordpress.com/2012/06/11/pengertian-islam, diakses pada tanggal 15 Desember 2013
[9]http://t-multimedia-risqidiah.blogspot.com, Diakses tanggal 15 Desember 2013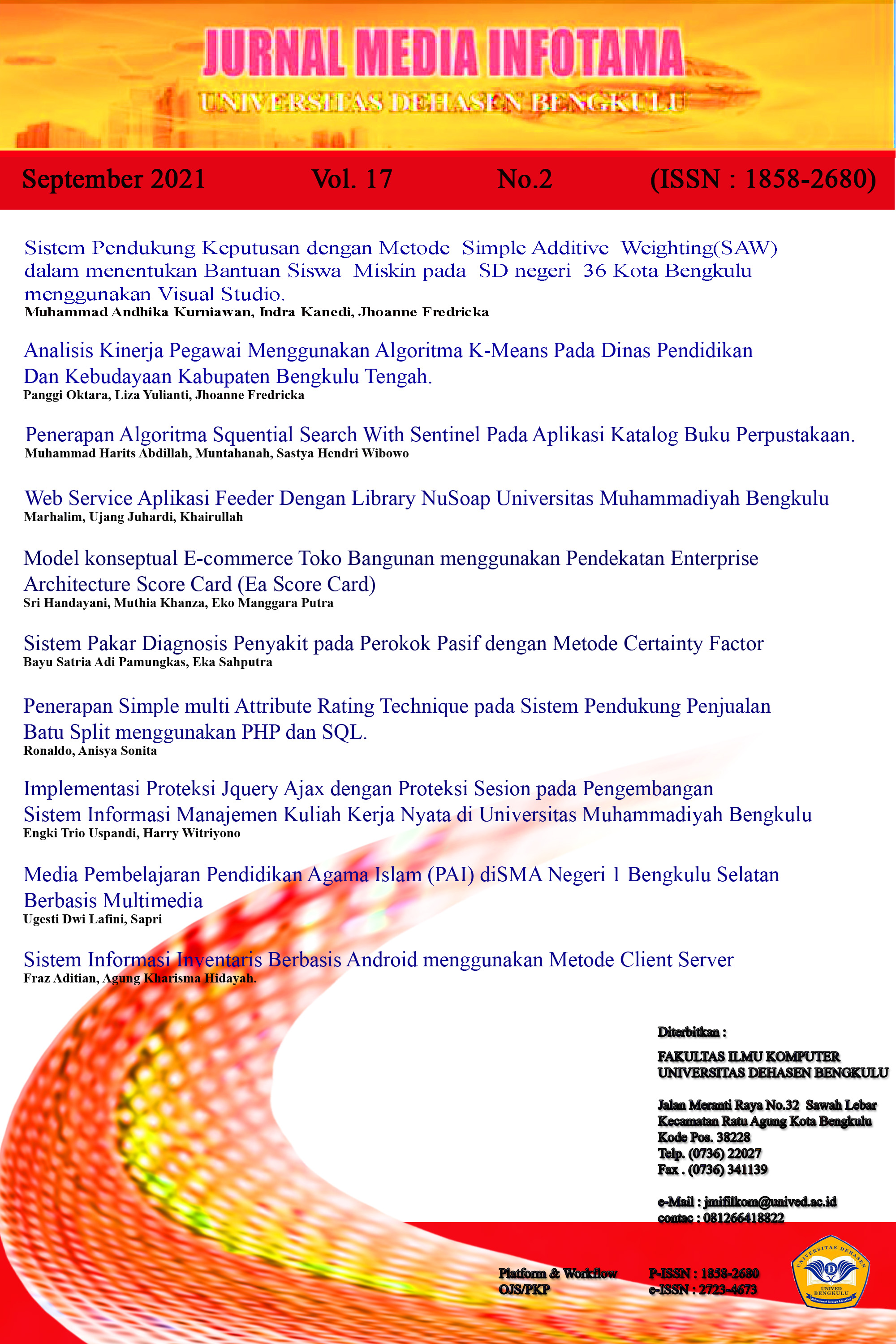 How to Cite
Lafini, U., & Sapri, S. (2021). A MEDIA PEMBELAJARAN PENDIDIKAN AGAMA ISLAM (PAI) DI SMA NEGERI 1 BENGKULU SELATAN BERBASIS MULTIMEDIA. JURNAL MEDIA INFOTAMA, 17(2). https://doi.org/10.37676/jmi.v17i2.1646
Copyright (c) 2021 Ugesti Dwi Lafini; Sapri Sapri
This work is licensed under a Creative Commons Attribution-ShareAlike 4.0 International License.
An author who publishes in the Jurnal Media Infotama agrees to the following terms:
Author retains the copyright and grants the journal the right of first publication of the work simultaneously licensed under the Creative Commons Attribution-ShareAlike 4.0 License that allows others to share the work with an acknowledgement of the work's authorship and initial publication in this journal
Submission of a manuscript implies that the submitted work has not been published before (except as part of a thesis or report, or abstract); that it is not under consideration for publication elsewhere; that its publication has been approved by all co-authors. If and when the manuscript is accepted for publication, the author(s) still hold the copyright and retain publishing rights without restrictions. For the new invention, authors are suggested to manage its patent before published. The license type is CC-BY-SA 4.0.
EKOMBIS REVIEW: Jurnal Ilmiah Ekonomi dan Bisnis is licensed under a Creative Commons Attribution-ShareAlike 4.0 International License.
You are free to:
Share — copy and redistribute the material in any medium or format
Adapt — remix, transform, and build upon the material
for any purpose, even commercially.
The licensor cannot revoke these freedoms as long as you follow the license terms.