A SISTEM PAKAR DIAGNOSIS PENYAKIT PADA PEROKOK PASIF DENGAN METODE CERTAINTY FACTOR
Bayu Satria Adipamungkas

Eka Sahputra
Abstract
Intisari —.The adverse effects of cigarette smoke generally vary, depending on the age and condition of people who become passive smokers, including the impact of cigarette smoke on adults and the impact of cigarette smoke on pregnant women. If the impact of cigarette smoke on adults often inhale cigarette smoke, it can increase the risk of developing lung cancer by 20-30%. An expert system is a system that uses human knowledge where the knowledge is entered into a computer and then used to solve problems that usually require human expertise or expertise. How to make an expert system application for disease diagnosis in passive smokers with the certainty factor method. Can apply the certainty factor method rule pattern on the application of an expert system for diagnosis of disease in passive smokers. It is hoped that the development of this application can be a reference not only for passive smoking so that it is useful for the development of information technology.
 Keywords : Application, Algorithm, Certainty Factor, System, Expert
Downloads
Download data is not yet available.
References
DAFTAR PUSTAKA

[1] Alfianto, T. (2018). Aplikasi Diagnosa Dini Penyakit Tuberculosis Dengan Menggunakan Metode Certainty Factor. Aiti, 7.
[2] Jogiyanto, 2005, Sistem Teknologi Informasi, Yogyakarta. Andi Offset. 644 Halaman
[3] Ladjamudin. (2005). Pengenalan Relational Database Dalam Aplikasi Website. Jurnal Ilmiah Semesta Teknik Vol. 18, No. 1, 76-82, Mei 2007 , 8.
[4] Latumakulita, L. (2011). Sistem Pakar Pendiagnosa Penyakit Ginjal. Jurnal Ilmiah Sains Vol. 11 No. 1, 8.
[5] Paryanti, E.P. (2018). Pengaruh Merokok Pada Perokok Aktif Dan Perokok Pasif Terhadap Kadar Trigliserida. Jurnal STIKes Surya Mitra Husada
[6] Puspitasari, T. (2016). Implementasi Metode Dempster-Shafer Dalam Sistem Pakar Diagnosa Anak Tunagrahita Berbasis Web. Jurnal Rekursif, Vol. 4 No.1 , 13.
[7] Rizaldi, M. (2020). 1. Perancangan Aplikasi Sistem Pakar Untuk Mengidentifikasi Penyakit Akibat Penggunaan Vape (Rokok Eketrik) Berbasis Web Menggunakan Metode Certainty Factor. Wahana Informasi, 6.
[8] Sari, R. K. (2019). Perbedaan Pengetahuan Perokok Aktif Dan Perokok Pasif Tentang Bahaya Rokok. Jurnal Ilmiah Permas, 10.
[9] Sarwindah, I. (2016). Implementasi Metode String Matching Untuk Aplikasi Pengarsipan Dokumen (Studi Kasus : SMPN 3 Sumber Kab. Cirebon). JURNAL DIGIT ISSN : 2088-589, 12.
[10] Setiawan, A. (2015). Panduan Lengkap Adobe Dreamweaver. Yogyakarta: Andi Offset.
[11] Yasmiati. (2017) Sistem Pakar Diagnosis Penyakit Pada Perokok Dengan Metode Forward Chaining Berbasis Web. Jurnal Fakultas Universitas Muhammadiyah Surakarta.
Yuhandri, R. H. (2018). 1. Pembuatan Absensi Berbasis Android Menggunakan Metode Waterfall Untuk Program Studi Pendidikan Teknologi Informasi IPI Garut. GUNAHUMAS Jurnal Kehumasan , 12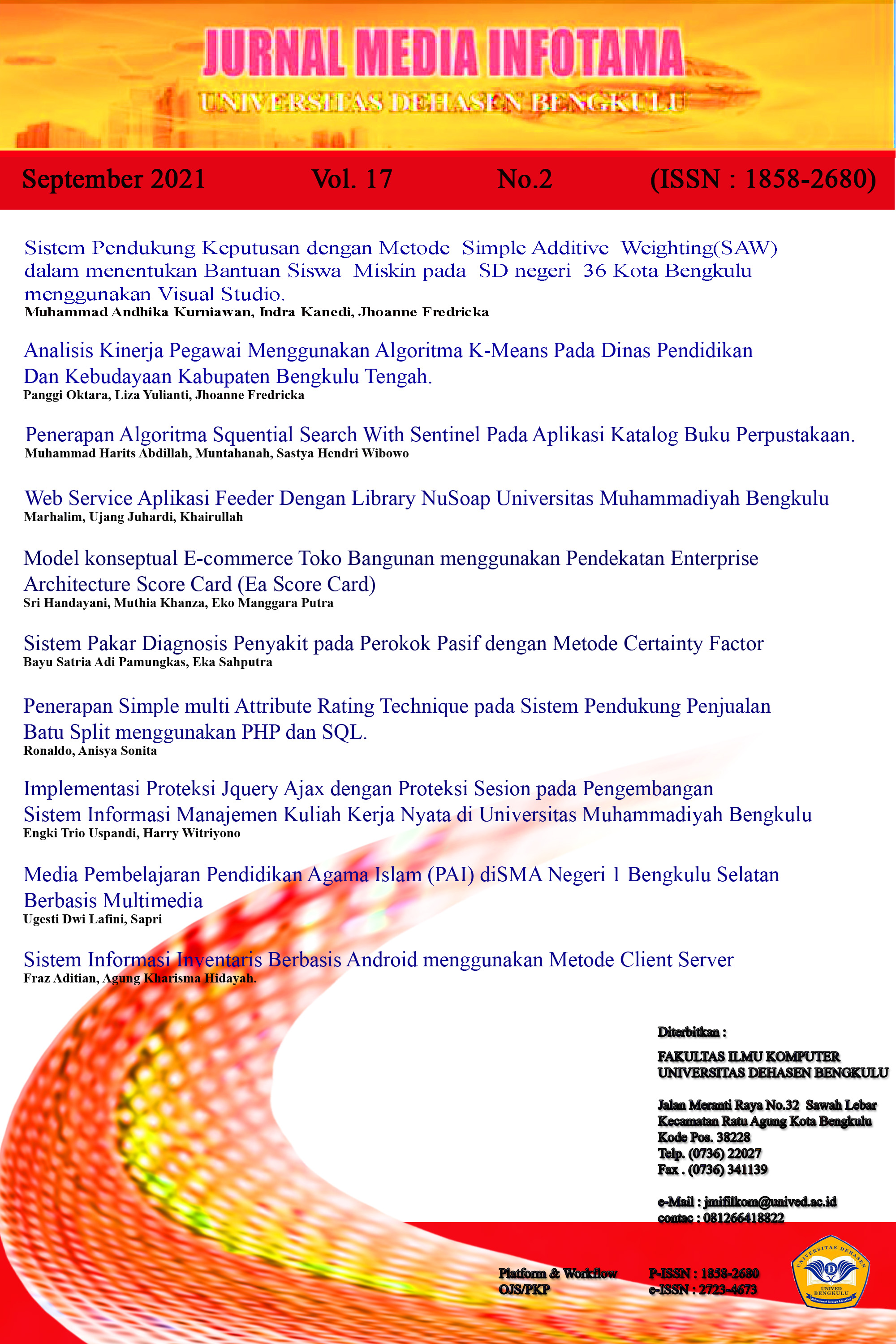 How to Cite
Adipamungkas, B., & Sahputra, E. (2021). A SISTEM PAKAR DIAGNOSIS PENYAKIT PADA PEROKOK PASIF DENGAN METODE CERTAINTY FACTOR. JURNAL MEDIA INFOTAMA, 17(2). https://doi.org/10.37676/jmi.v17i2.1643
Copyright (c) 2021 Bayu Satria Adipamungkas; Eka Sahputra
This work is licensed under a Creative Commons Attribution-ShareAlike 4.0 International License.
An author who publishes in the Jurnal Media Infotama agrees to the following terms:
Author retains the copyright and grants the journal the right of first publication of the work simultaneously licensed under the Creative Commons Attribution-ShareAlike 4.0 License that allows others to share the work with an acknowledgement of the work's authorship and initial publication in this journal
Submission of a manuscript implies that the submitted work has not been published before (except as part of a thesis or report, or abstract); that it is not under consideration for publication elsewhere; that its publication has been approved by all co-authors. If and when the manuscript is accepted for publication, the author(s) still hold the copyright and retain publishing rights without restrictions. For the new invention, authors are suggested to manage its patent before published. The license type is CC-BY-SA 4.0.
EKOMBIS REVIEW: Jurnal Ilmiah Ekonomi dan Bisnis is licensed under a Creative Commons Attribution-ShareAlike 4.0 International License.
You are free to:
Share — copy and redistribute the material in any medium or format
Adapt — remix, transform, and build upon the material
for any purpose, even commercially.
The licensor cannot revoke these freedoms as long as you follow the license terms.