A MODEL KONSEPTUAL E-COMMERCE TOKO BANGUNAN MENGGUNAKAN PENDEKATAN ENTERPRISE ARCHITECTURE SCORE CARD (EA SCORE CARD)
Sri Handayani

Muthia Khanza

Eko Manggara Putra
Abstract
Intisari— Sistem e-commerce ini merubah prilaku dari konsumen dari belanja secara oofline maka diperlukan Ketersediaan data yang terformat baik, dalam satu sumber data yang terkelola dengan baik juga merupakan tujuan dari pengembangan organisasi. untuk mewujudkan hal tersebut diperlukan pemilihan strategi dan perencanaan yang akurat dalam mengembangkan Enterprise Architecture (EA) perlu diadopsi atau dikembangkan sendiri suatu EA framework untuk arsitektur enterprise.Arsitektur enterprise perlu menyesuaikan diri dan mengikuti perkembangan informasi dan teknologi yang berkembang saat sekarang, sebagai pendukung kelancaran bisnis, Pengorganisasian secara logic untuk proses bisnis utama dan kemampuan teknologi Informasi (TI) yang mencerminkan kebutuhan integrasi dan standarisasi model operasi. Enterprise Architecture atau arsitektur enterprise adalah deskripsi dari misi Stakeholder dalam hal ini adalah pimpinan organisasi yang didalamnya termasuk informasi, fungsionalitas/ kegunaan, lokasi organisasi dan parameter kinerja. Arsitektur enterprise. Penelitian dengan menggunakan perhitungan EA Score Card kepada user diperoleh Hasil sebagai berikut:  bagian direktur dengan presentase 54%, Bagian Gudang 1-3 berkisar 73-76% serta pada bagian Outlet 1-3 dengan rata-rata 75-84%, karena Jika hasil pengujian kematangan arsitektur secara keseluruhan yang dicapai > 50% maka arsitektur dinyatakan "Layak", Mendapatkan fitur yang efisian, tujuan ini tercapai dengan mendapatkan fitur-fitur yang sesuai dengan user terlibat yaitu, Direktur, Gudang dan Outlet.
Kata Kunci: e-commerce, Enterprise Architecture, teknologi Informasi, EA Score Card
Downloads
Download data is not yet available.
References
DAFTAR PUSTAKA

[1] F. Anggriawan and L. P. Hasugian, "PLATFORM BUILD-ME : Mempertemukan Stakeholder Bangunan Dengan Konsumen BUILD-ME PLATFORM : Meeting The Building Stakeholders With The Consumers," pp. 28–36, 2017.
[2] B. S. Muhammad Multazam, Irving Vitra Paputungan, "Perancangan user interface dan User experience pada placeplus menggunakan pendekatan user centered design," Informatics Dep. Univ. Islam Indones., vol. 1, no. 2, 2020.
[3] H. J. Kristina, "Model Konseptual Untuk Mengukur Adaptabilitas Bank Sampah Di Indonesia," J@Ti Undip J. Tek. Ind., vol. 9, no. 1, 2014, doi: 10.12777/jati.9.1.19-28.
[4] D. Edi and S. Betshani, "Analisis Data dengan Menggunakan ERD dan Model Konseptual Data Warehouse," J. Inform., vol. 5, no. 1, pp. 71–85, 2012.
[5] F. MAGALINE, B. N. MAHAMUDU, and E. HO, "Sistem Informasi « sistem informasi," Sist. Inf., p. 2019, 2019.
[6] R. Toyib and Y. Darnita, "Pengamanan Data Teks Dengan Menggunakan Algoritma Zero-Knowledge Proof," J. Media Infotama, vol. 16, no. 1, pp. 16–23, 2020.
[7] D. Tarigan and U. M. Buana, "Sistem Informasi Akuntansi Aplikasi Konsep Basis Data Relasional pada Sistem Produksi , Pengupahan dan Sumber Daya Manusia Desi Ramadani Br Tarigan," no. July, pp. 0–26, 2020.
[8] E. Sugiarto, "Kontrak Kuliah Pengantar Basis Data Konsep Dasar Basis Data."
[9] M. M. Purba, "DATA WAREHOUSE PENJUALAN PT XYZ," pp. 45–54.
[10] D. K. N. Methodology and G. Wijaya, "Perancangan Data Warehouse Nilai Mahasiswa dengan Kimball Nine-Step Methodology," J. Inform. UBSI, vol. 4, no. 1, pp. 1–11, 2017.
[11] A. Dahlan, E. Utami, and E. T. Luthfi, "Perancangan Data Warehouse Perpustakaan Perguruan Tinggi XYZ Menggunakan Metode Snowflake Schema," J. Teknol. Inf., vol. 8, no. November, pp. 1907–2430, 2013.
[12] B. Yusuf Bakhtiar, A. Bima Murti Wijaya, and H. Dwi Cahyono, "Pengembangan Sistem Analisis Akademis Menggunakan Olap Dan Data Clustering Studi Kasus : Akademik Universitas Sebelas Maret Surakarta," J. Teknol. Inf. ITSmart, vol. 4, no. 1, p. 01, 2016, doi: 10.20961/its.v4i1.1748.
[13] M. Mujiyana and I. Elissa, "Analisis Faktor-Faktor Yang Mempengaruhi Keputusan Pembelian Via Internet Pada Toko Online," J@Ti Undip J. Tek. Ind., vol. 8, no. 3, pp. 143–152, 2013, doi: 10.12777/jati.8.3.143-152.
[14] D. A. Rivai and B. E. Purnama, "Pembangunan Sistem Informasi Pengolahan Data Nilai Siswa Berbasis Web Pada Sekolah Menengah Kejuruan (SMK) Miftahul Huda Ngadirojo," Indones. J. Netw. Secur., vol. 3, no. 2, pp. 2302–5700, 2015.
[15] A. Aco and A. H. Endang, "Analisis Bisnis E-Commerce pada Mahasiswa Universitas Islam Negeri Alauddin Makassar," J. Tek. Inform., vol. 2, pp. 1–13, 2017.
[16] L. D. Ummah, "Rancang Bangun E-Commerce Pada Toko Kerudung Nuri Collection Berbasis Customer Relationship Management," Nuansa Inform., vol. 12, no. 2, pp. 10–17, 2018, doi: 10.25134/nuansa.v12i2.1350.
[17] W. Fitri and P. Nugroho, "Peningkatan Daya Saing Bisnis ' Batik Kahuripan ,'" Semin. Ris. Unggulan Nas. Inform. dan Komput. FTI UNSA, vol. 2, no. 1, pp. 25–32, 2013.
[18] W. N. W. dan Komariah, "PERANCANGAN SISTEM PENJUALAN DAN PEMBELIAN Studi Kasus: Toko Bangunan Barokah Sumber Jaya."
[19] A. A. Caraka, H. Haryanto, D. P. Kusumaningrum, S. Astuti, F. I. Komputer, and U. D. Nuswantoro, "Logika Fuzzy Menggunakan Metode Tsukamoto Untuk Prediksi Perilaku Konsumen Di Toko Bangunan," Techno.COM, vol. 14, no. 4, pp. 255–265, 2015.
[20] D. A. Jakaria and Y. B. Sentosa, "Sistem Informasi Penjualan Barang Pada Toko Bangunan Sribayu Berbasis Web," Ranc. Bangun Sist. Inf. Pengolah. Bank Sampah Puspasari Kec. Purbaratu Kota Tasikmalaya, vol. 02, no. 01, pp. 181–190, 2018.
[21] M. Utami, K. Kusrini, and M. R. Arief, "Arsitektur Aplikasi Mobile Commerce Untuk Micro Enterprise," Pseudocode, vol. 4, no. 2, pp. 168–179, 2017, doi: 10.33369/pseudocode.4.2.168-179.
[22] E. T. Hudha, Yans Safarid; Utami, Ema; Luthfi, "Perancangan Enterprise Arsitektur Sistem Informasi Billing PT. Time Excelindo Menggunakan TOGAF ADM," vol. 5, no. 1, pp. 40–48, 2018.
[23] K. Ridlan Ahmad, "Prototipe aplikasi manajemen sparepart atm menggunakan framework zachman pada logistik asp," Bangkit Indones., vol. VIII, no. 01, pp. 9–18, 2019.
[24] M. Iqbal, G. I. Marthasari, and I. Nuryasin, "Penerapan Metode UCD (User Centered Design) pada Perancangan aplikasi Darurat Berbasis Android," J. Repos., vol. 2, no. 2, p. 201, 2020, doi: 10.22219/repositor.v2i2.221.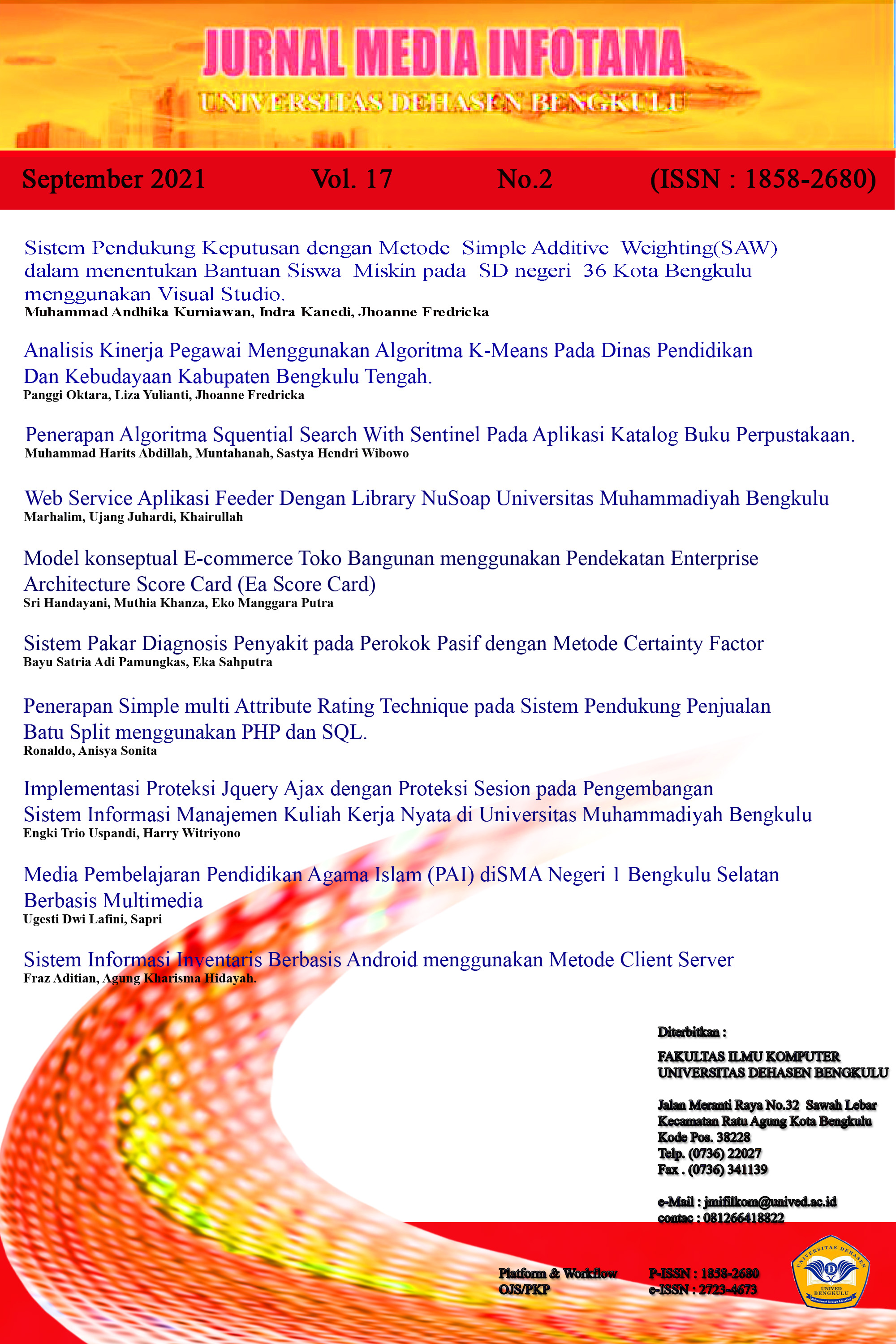 How to Cite
Handayani, S., Khanza, M., & Putra, E. (2021). A MODEL KONSEPTUAL E-COMMERCE TOKO BANGUNAN MENGGUNAKAN PENDEKATAN ENTERPRISE ARCHITECTURE SCORE CARD (EA SCORE CARD). JURNAL MEDIA INFOTAMA, 17(2). https://doi.org/10.37676/jmi.v17i2.1642
Copyright (c) 2021 Sri Handayani; Muthia Khanza, Eko Manggara Putra
This work is licensed under a Creative Commons Attribution-ShareAlike 4.0 International License.
An author who publishes in the Jurnal Media Infotama agrees to the following terms:
Author retains the copyright and grants the journal the right of first publication of the work simultaneously licensed under the Creative Commons Attribution-ShareAlike 4.0 License that allows others to share the work with an acknowledgement of the work's authorship and initial publication in this journal
Submission of a manuscript implies that the submitted work has not been published before (except as part of a thesis or report, or abstract); that it is not under consideration for publication elsewhere; that its publication has been approved by all co-authors. If and when the manuscript is accepted for publication, the author(s) still hold the copyright and retain publishing rights without restrictions. For the new invention, authors are suggested to manage its patent before published. The license type is CC-BY-SA 4.0.
EKOMBIS REVIEW: Jurnal Ilmiah Ekonomi dan Bisnis is licensed under a Creative Commons Attribution-ShareAlike 4.0 International License.
You are free to:
Share — copy and redistribute the material in any medium or format
Adapt — remix, transform, and build upon the material
for any purpose, even commercially.
The licensor cannot revoke these freedoms as long as you follow the license terms.