A WEB SERVICE APLIKASI FEEDER DENGAN LIBRARY NUSOAP UNIVERSITAS MUHAMMADIYAH BENGKULU
Marhalim Marhalim

Ujang Juhardi

Khairullah Khairullah
Abstract
Intisari—Penelitian yang dilakukan di Universitas Muhammadiyah Bengkulu yaitu mengembangkan web service  dengan library nusoap yang dapat melakukan Interoperabilitas ke aplikasi feeder untuk integrasi data laporan akademik. Dengan dikembangkannya web service dapat mempermudah pelaporan akademik dan dapat mempermudah pengembangan sistem informasi akademik yang ada. Web service  yang telah dikembangkan oleh peneliti saat ini dapat melaukan beberapa hal yaitu web service login ke feeder,  list table yang ada di feeder, view masing-masing table dengan request GetRecordSet, view GetDictionary, GetRecord, import data mahasiswa baru dan krs dengan request InsertRecordSet serta Update Nilai mahasiswa dengan request UpdateRecordSet.
Kata Kunci: Web service, NuSoap, Interoperabilitas, integrasi.
Downloads
Download data is not yet available.
References
DAFTAR PUSTAKA
Christanto, A. T. S. and Kurniawati, R. (2016) 'Penerapan Service Oriented Architecture Menggunakan Web Service Pada Aplikasi Perpustakaan Berbasis Android', Jurnal Buana Informatika, 7(1), pp. 75–82. doi: 10.24002/jbi.v7i1.486.

http://pddikti-admin.kemdikbud.go.id/static/media/USER-GUIDE-WEB-SERVICE-VERSI-2.2-[29-06-2020].42b30595.pdf. diakses pada jam 23:56 tanggal 29 april 2021.

N. Allokendek, F., Soetikno, J. and Ashari, A. (2013) 'Integrasi Database DISDUKCAPIL dan Database KPU Kabupaten Maros Memanfaatkan Web Services', IJCCS (Indonesian Journal of Computing and Cybernetics Systems), 7(1), p. 1. doi: 10.22146/ijccs.3047.

Putra, M. G. L. and Putera, M. I. A. (2019) 'Analisis Perbandingan Metode Soap Dan Rest Yang Digunakan Pada Framework Flask Untuk Membangun Web Service', SCAN - Jurnal Teknologi Informasi dan Komunikasi, 14(2), pp. 1–7. doi: 10.33005/scan.v14i2.1480.

Puustjärvi, J. and Puustjärvi, L. (2010) 'Application Integration and Semantic Integration in Electronic Prescription Systems', International Journal of Computer Science Issues, 7(3), pp. 1–8.

Ratulangi, U. S. et al. (2014) 'Rancang Bangun Web Service Perpustakaan Universitas Sam Ratulangi', Jurnal Teknik Elektro dan Komputer, 3(3), pp. 38–50. doi: 10.35793/jtek.3.3.2014.5332.

Rosyid, H. et al. (2017) 'Sistem Informasi Eksekutif Menggunakan Teknologi Web Service ( Studi Kasus Koperasi Warga Semen Gresik )', Seminar Nasional Inovasi Teknologi UNP KEDIRI, pp. 385–390.

Samuel, S. J. and Sasipraba, D. T. (2010) 'Trends and Issues in Integrating Enterprises and other associated systems using Web Services', International Journal of Computer Applications, 1(12), pp. 18–21. doi: 10.5120/268-428.

Wicaksono, D. S. and Hakim, F. N. (2011) 'Media Pembelajaran Fisika Interaktif Bahasan Kapasitor Berbasis Flash Dan Xml', Journal Speed – Sentra Penelitian Engineering dan Edukasi –, 3(2), pp. 2088–154. Available at: http://www.ijns.org/journal/index.php/speed/article/viewFile/928/915.

Wijanarko, A. (2013) 'Integrasi Aplikasi Perpustakaan Untuk Berbagi Informasi Penelitian Perguruan Tinggi Berbasis Web Service', pp. 7–12. Available at: http://e-journal.uajy.ac.id/395.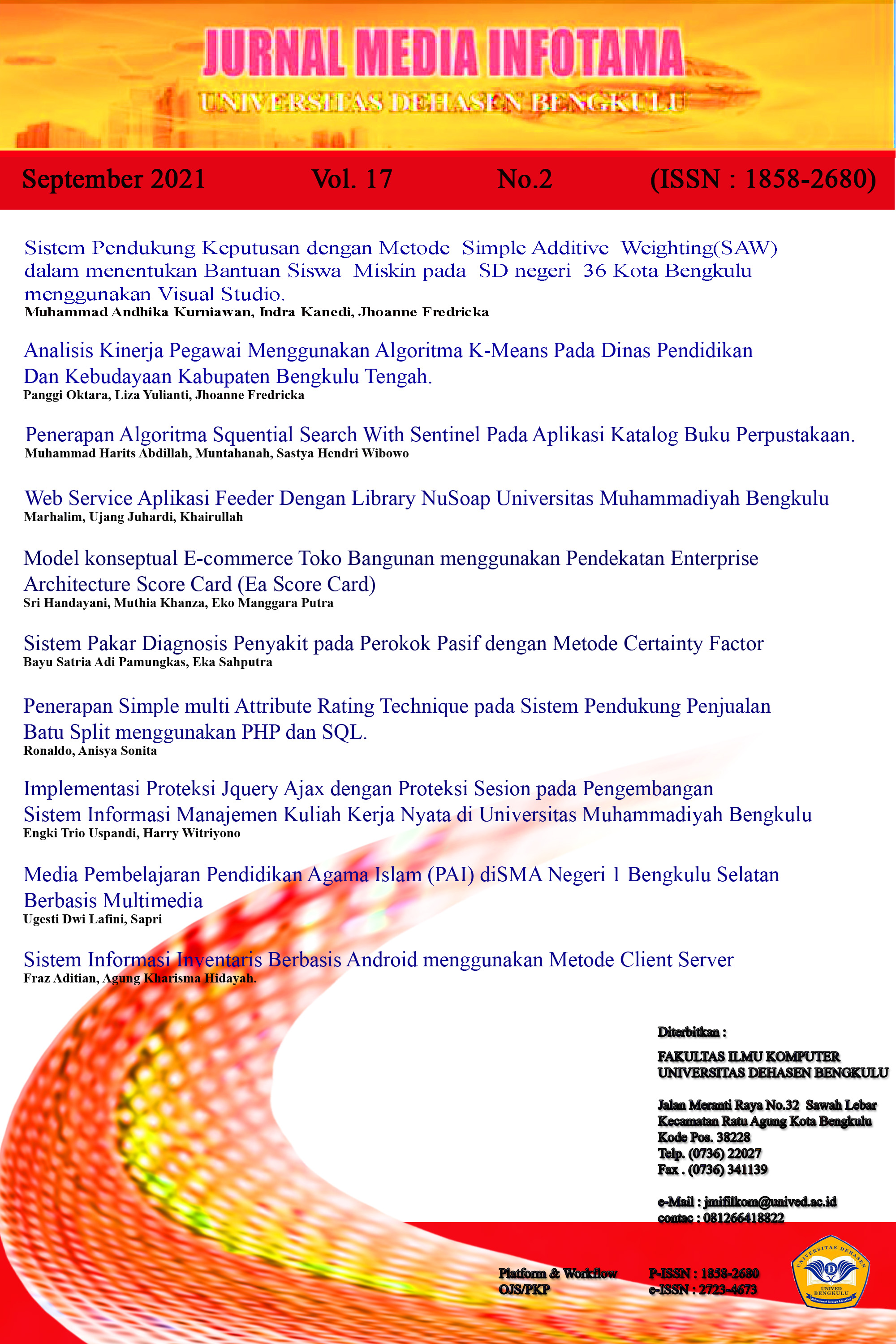 How to Cite
Marhalim, M., Juhardi, U., & Khairullah, K. (2021). A WEB SERVICE APLIKASI FEEDER DENGAN LIBRARY NUSOAP UNIVERSITAS MUHAMMADIYAH BENGKULU. JURNAL MEDIA INFOTAMA, 17(2). https://doi.org/10.37676/jmi.v17i2.1641
Copyright (c) 2021 Marhalim Marhalim; Ujang Juhardi, Khairullah Khairullah
This work is licensed under a Creative Commons Attribution-ShareAlike 4.0 International License.
An author who publishes in the Jurnal Media Infotama agrees to the following terms:
Author retains the copyright and grants the journal the right of first publication of the work simultaneously licensed under the Creative Commons Attribution-ShareAlike 4.0 License that allows others to share the work with an acknowledgement of the work's authorship and initial publication in this journal
Submission of a manuscript implies that the submitted work has not been published before (except as part of a thesis or report, or abstract); that it is not under consideration for publication elsewhere; that its publication has been approved by all co-authors. If and when the manuscript is accepted for publication, the author(s) still hold the copyright and retain publishing rights without restrictions. For the new invention, authors are suggested to manage its patent before published. The license type is CC-BY-SA 4.0.
EKOMBIS REVIEW: Jurnal Ilmiah Ekonomi dan Bisnis is licensed under a Creative Commons Attribution-ShareAlike 4.0 International License.
You are free to:
Share — copy and redistribute the material in any medium or format
Adapt — remix, transform, and build upon the material
for any purpose, even commercially.
The licensor cannot revoke these freedoms as long as you follow the license terms.