A PENERAPAN ALGORITMA SQUENTIAL SEARCH WITH SENTINEL PADA APLIKASI KATALOG BUKU PERPUSTAKAAN
Muhammad Harits Abdillah

Muntahanah Muntahanah

Sastya Hendri Wibowo
Abstract
Intisari­_Perpustakaan merupakan salah satu fasilitas yang disediakan suatu Lembaga atau instansi seperti sekolah, perguruan tinggi, atau pun daerah. Perpustakaan berfungsi sebagai tempat menyimpan berbagai koleksi buku, pendidikan, penelitian, kultura, informatif dan juga tempat rekreasi. Proses pencarian buku diperpustakaan memerlukan waktu yang tidak sedikit tergantung dari besarnya perpustakaan dan banyaknya buku yang ada. Terkadang buku yang dicari tersebut tidak dimiliki oleh perpustakaan sehingga pengunjung akan menghabiskan banyak waktu hanya untuk mencari buku tersebut. Untuk itu dibutuhkan bantuan teknologi yang bisa membantu dalam proses pencarian buku didalam perpustakaan. Perkembangan teknologi saat ini samakin cepat karena menyesuaikan dengan kebutuhan manusia. Teknologi dapat membantu manusia menyelesaikan masalah dengan cepat dan mudah sehingga dapat menghemat waktu dan tenaga. Salah satunya adalah dengan mencatat semua katalog buku didalam perpustakaan. Proses pencarian buku menjadi lebih mudah karena bisa dilakukan melalui sistem dengan mencocokan string pada judul buku, penulis dan penerbit. Salah satu metode yang cocok digunakan untuk melakukan pencarian pada katolog buku adalah squential search with sentinel. Sequential search with sentinel (pencarian beruntun) adalah proses membandingkan setiap elemen array satu persatu secara beruntun yang dimulai dari elemen pertama hingga elemen yang dicari ditemukan atau hingga elemen terakhir dari array. Sequential search dapat dilakukan terhadapa elemen array yang belum terurut atau terhadap elemen array yang terurut.
Kata Kunci: Katalog, Buku, Perpustakaan, Squential, sentinel
Downloads
Download data is not yet available.
References
DAFTAR PUSTAKA
[1] Firman, A., Wowor, H. F., Najoan, X., Teknik, J., Fakultas, E., & Unsrat, T. (2016). SistemInformasi Perpustakaan Online BerbasisWeb. E-Journal Teknik Elektro Dan Komputer, 5(2), 1–8.
[2] Prabowo, Thoriq Tri. (2013). Mengenal Perpustakaan Digital. FIHRIS Volume VIII Nomor 1 Januari-Juni 2013). UIN Sunan Kalijaga Yogyakarta
[3] Prasetyo, B., Pattiasina, T. J., & Soetarmono, A. N. (2015). Perancangan dan Pembuatan Sistem Informasi Gudang (Studi Kasus: PT. PLN (Persero) Area Surabaya Barat). Teknika, 4(1), 12-16.
[4] Santoso, F. (2019). Analisa Pencarian Data*. Doc pada Komputer Menerapkan Metode Sequensial With Sentinel. Jurnal Sistem Komputer dan Informatika (JSON), 1(1), 26-30.
[5] Santoso, S., & Nurmalina, R. (2017). Perencanaan dan Pengembangan Aplikasi Absensi Mahasiswa Menggunakan Smart Card Guna Pengembangan Kampus Cerdas. Jurnal Integrasi, 9(1), 84-91.
[6] Sonita, A., & Sari, M. (2018). Implementasi algoritma sequential searching untuk pencarian nomor surat pada sistem arsip elektronik. Pseudocode, 5(1), 1-9.
[7] Suryana, Dayat. (2012). teknologi informasi dan komunikasi mengenal komputer. bandung
[8] Waruwu, F. T., & Hondro, R. K. (2019, September). Penerapan Algoritma Horspool pada Aplikasi Katalog Buku Perpustakaan. In Prosiding Seminar Nasional Riset Information Science (SENARIS) (Vol. 1, pp. 881-885).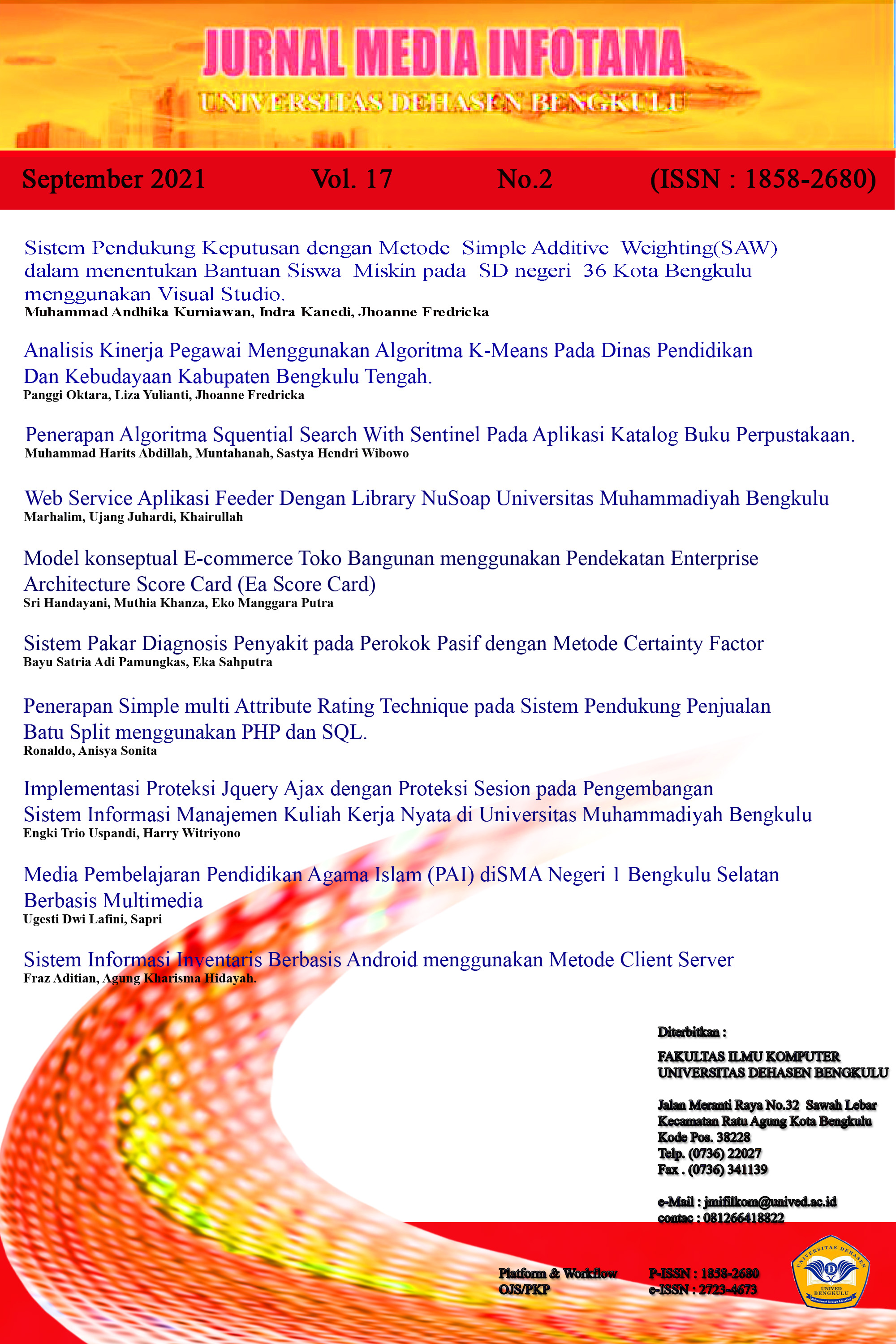 How to Cite
Abdillah, M., Muntahanah, M., & Wibowo, S. (2021). A PENERAPAN ALGORITMA SQUENTIAL SEARCH WITH SENTINEL PADA APLIKASI KATALOG BUKU PERPUSTAKAAN. JURNAL MEDIA INFOTAMA, 17(2). https://doi.org/10.37676/jmi.v17i2.1640
Copyright (c) 2021 Muhammad Harits Abdillah; Muntahanah Muntahanah, Sastya Hendri Wibowo
This work is licensed under a Creative Commons Attribution-ShareAlike 4.0 International License.
An author who publishes in the Jurnal Media Infotama agrees to the following terms:
Author retains the copyright and grants the journal the right of first publication of the work simultaneously licensed under the Creative Commons Attribution-ShareAlike 4.0 License that allows others to share the work with an acknowledgement of the work's authorship and initial publication in this journal
Submission of a manuscript implies that the submitted work has not been published before (except as part of a thesis or report, or abstract); that it is not under consideration for publication elsewhere; that its publication has been approved by all co-authors. If and when the manuscript is accepted for publication, the author(s) still hold the copyright and retain publishing rights without restrictions. For the new invention, authors are suggested to manage its patent before published. The license type is CC-BY-SA 4.0.
EKOMBIS REVIEW: Jurnal Ilmiah Ekonomi dan Bisnis is licensed under a Creative Commons Attribution-ShareAlike 4.0 International License.
You are free to:
Share — copy and redistribute the material in any medium or format
Adapt — remix, transform, and build upon the material
for any purpose, even commercially.
The licensor cannot revoke these freedoms as long as you follow the license terms.