PEMBUATAN E-COMMERCE PADA RAJA KOMPUTER MENGGUNAKAN BAHASA PEMROGRAMAN PHP DAN DATABASE MYSQL
Reza Hermiati

Asnawati Asnawati

Indra Kanedi
Abstract
Toko Raja Komputer Bengkulu merupakan Toko komputer yang menyediakan laptop, komputer dan accesoris komputer. Toko Raja Komputer Bengkulu masih menerapkan prosedur belanja manual atau pelanggan harus langsung datang ke toko tersebut. Serta sistem manual seperti pencatatan data-data dan transaksi penjualannya. Untuk menyelesaikan masalah di atas, meningkatkan penjualan dan menjangkau pangsa pasar yang lebih luas Toko Raja Komputer Bengkulu menggunakan teknologi dalam strategi pemasaran dan penjualannya dengan mengimplementasikan E-Commerce. Untuk pemodelan datanya menggunakan metode terstruktur yaitu Entity Relationship Diagram (ERD) untuk menggambarkan model data dan Data Flow Diagram (DFD) untuk menggambarkan model fungsional. Aplikasi E-commrce ini dapat membantu pelanggan untuk mendapatkan informasi tentang produk yang ditawarkan oleh pihak Distro No Way, serta mempermudah pelanggan dalam proses pemesanan suatu produk, dan dapat membantu meningkatkan penjualan bagi Toko Raja Komputer Bengkulu.
Kata Kunci : Raja Komputer Bengkulu, E-Commerce
Downloads
Download data is not yet available.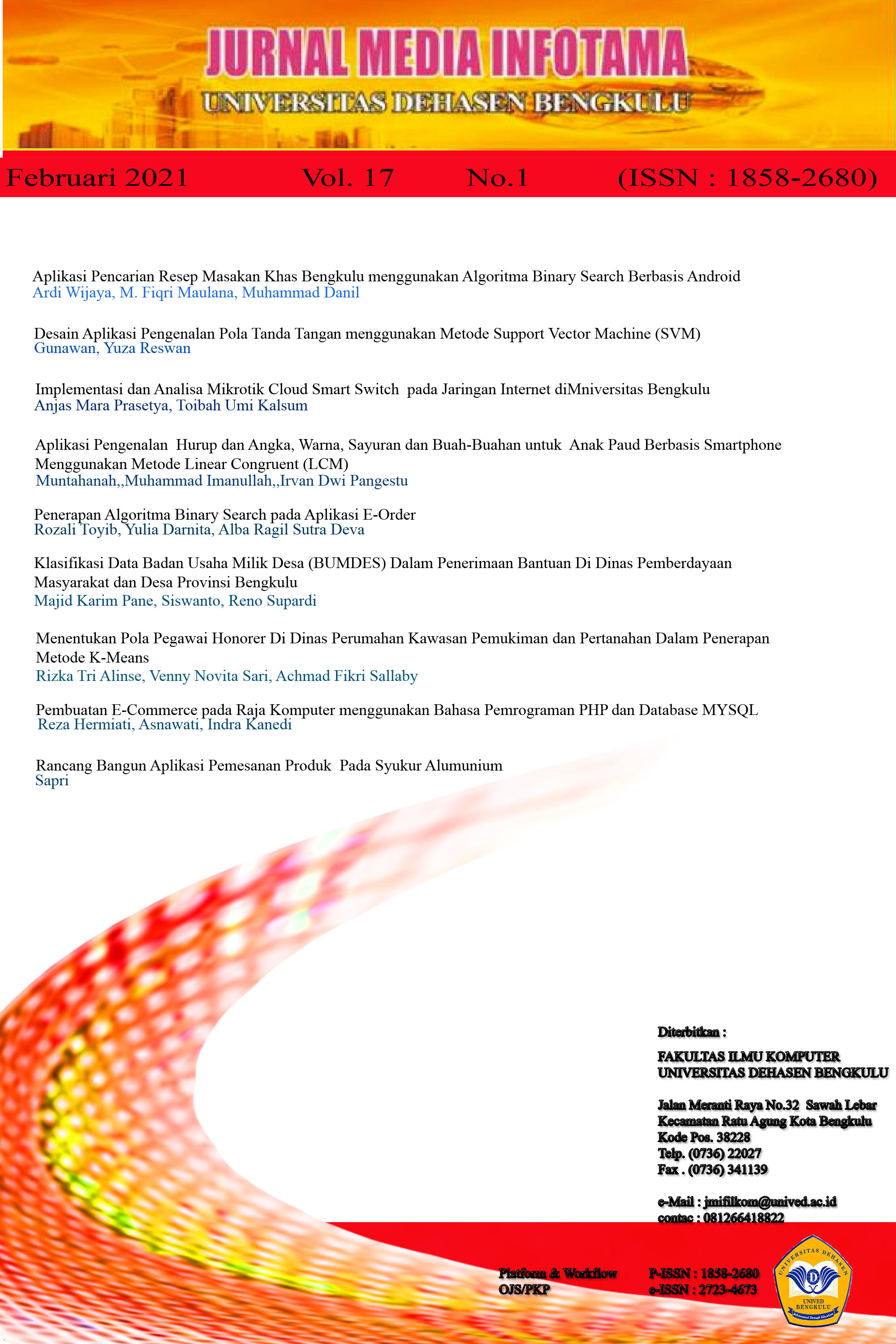 How to Cite
Hermiati, R., Asnawati, A., & Kanedi, I. (2021). PEMBUATAN E-COMMERCE PADA RAJA KOMPUTER MENGGUNAKAN BAHASA PEMROGRAMAN PHP DAN DATABASE MYSQL. JURNAL MEDIA INFOTAMA, 17(1). https://doi.org/10.37676/jmi.v17i1.1317
An author who publishes in the Jurnal Media Infotama agrees to the following terms:
Author retains the copyright and grants the journal the right of first publication of the work simultaneously licensed under the Creative Commons Attribution-ShareAlike 4.0 License that allows others to share the work with an acknowledgement of the work's authorship and initial publication in this journal
Submission of a manuscript implies that the submitted work has not been published before (except as part of a thesis or report, or abstract); that it is not under consideration for publication elsewhere; that its publication has been approved by all co-authors. If and when the manuscript is accepted for publication, the author(s) still hold the copyright and retain publishing rights without restrictions. For the new invention, authors are suggested to manage its patent before published. The license type is CC-BY-SA 4.0.
EKOMBIS REVIEW: Jurnal Ilmiah Ekonomi dan Bisnis is licensed under a Creative Commons Attribution-ShareAlike 4.0 International License.
You are free to:
Share — copy and redistribute the material in any medium or format
Adapt — remix, transform, and build upon the material
for any purpose, even commercially.
The licensor cannot revoke these freedoms as long as you follow the license terms.