APLIKASI PENGENALAN HURUF DAN ANGKA, WARNA, SAYURAN DAN BUAH-BUAHAN UNTUK ANAK PAUD BERBASIS SMARTPHONE MENGGUNAKAN METODE LINEAR CONGRUENT(LCM)
Muntahanah Muntahanah

Muhammad Imanullah

Irvan Dwi Pangestu
Abstract
Dunia anak adalah dunia bermain dan bergembira oleh karena itu masa emas bagi mereka jang anlah dibebani dengan hal-hal yang berat membani tumbuh kembang mereka oleh sebab ini jangan mereka dibebani dengan kurikulum belajar dan tugas-tugas yang menghabiskan waktu mereka. Faktor fisikologis orang tua yag mendapat pendidikan yang keras dan keinginan besar mereka agar anak-anaknya mengikuti apa yang menjadi kehendak orang tua maka dibebani dan mendapat tekanan untuk memperoleh hasil yang sempurna dengan cara memasukkan anak-anaknya ke di bimbingan belajar, Lembaga Pendidikan Anak Usia Dini (PAUD) karena prinsip mereka bahwa prestasi menunjukan keberhasilan orang tuanya khususnya anak di usia dini. Metode Linear Congruent(LCM) merupakan jenis PRNG yang banyak digunakan dalam aplikasi komputer modern, ditemukan oleh D.H Lehmer, Metode ini memanfaatkan model linier untuk membangkitkan bilangan acak  Hasil Pengujian Metode Linear Congruent(LCM) ini Mudah dipelajari dan di implementasikan, selain itu dapat diterapkan pada aplikasi simulasi lain karena algoritma ini kecepatannya yang baik sangat efisien secara waktu proses, Adanya proses shuffling, membantu mengatasi masalah Linear Congruential Generator (LCG) pada properti independent (kebergantungan dari bilangan yang muncul berurutan), karena bilangan yang dihasilkan diacak posisinya.
Kata Kunci: Dunia Anak, Belajar, Metode Linear Congruent, Algoritma
Downloads
Download data is not yet available.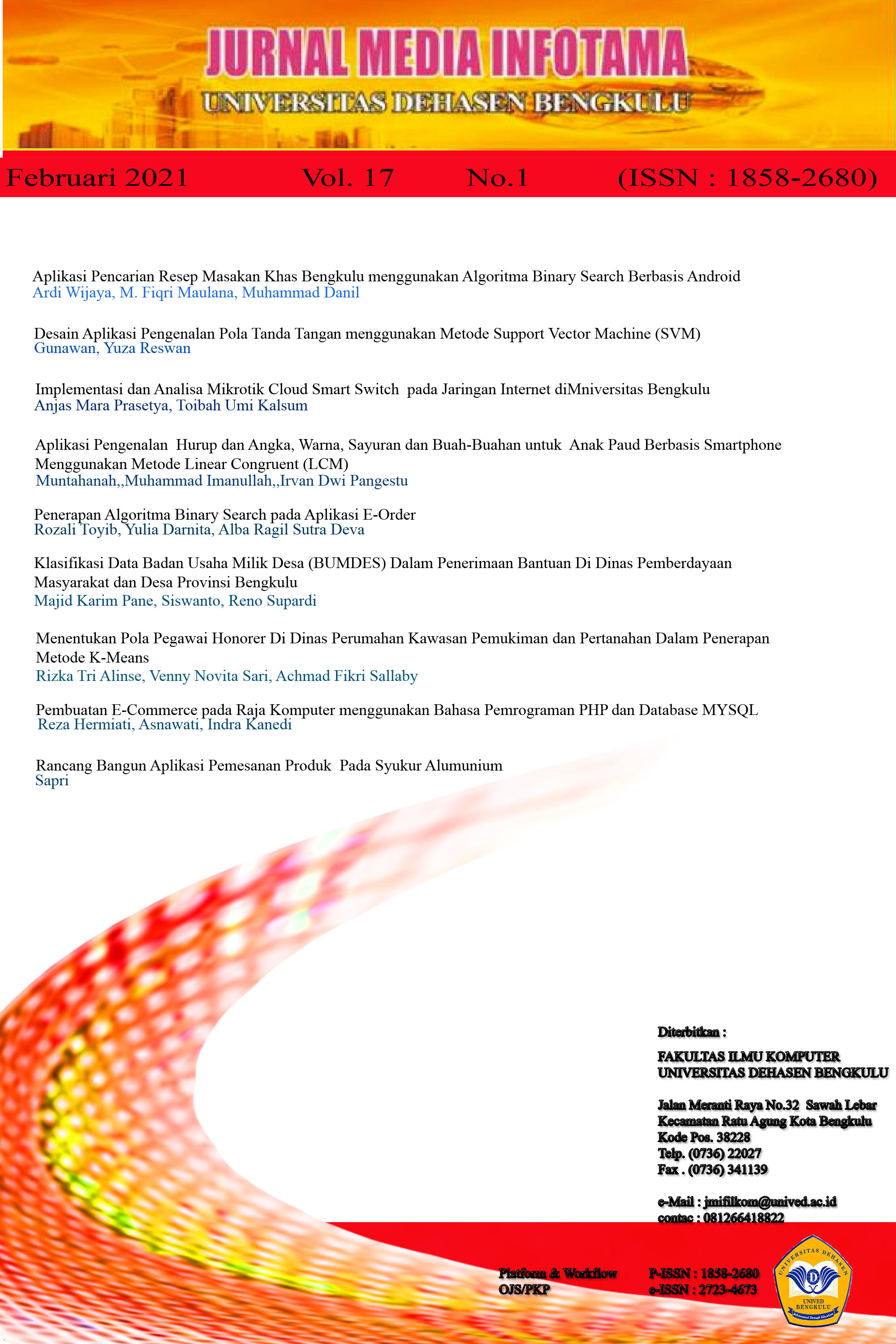 How to Cite
Muntahanah, M., Imanullah, M., & Pangestu, I. (2021). APLIKASI PENGENALAN HURUF DAN ANGKA, WARNA, SAYURAN DAN BUAH-BUAHAN UNTUK ANAK PAUD BERBASIS SMARTPHONE MENGGUNAKAN METODE LINEAR CONGRUENT(LCM). JURNAL MEDIA INFOTAMA, 17(1). https://doi.org/10.37676/jmi.v17i1.1313
An author who publishes in the Jurnal Media Infotama agrees to the following terms:
Author retains the copyright and grants the journal the right of first publication of the work simultaneously licensed under the Creative Commons Attribution-ShareAlike 4.0 License that allows others to share the work with an acknowledgement of the work's authorship and initial publication in this journal
Submission of a manuscript implies that the submitted work has not been published before (except as part of a thesis or report, or abstract); that it is not under consideration for publication elsewhere; that its publication has been approved by all co-authors. If and when the manuscript is accepted for publication, the author(s) still hold the copyright and retain publishing rights without restrictions. For the new invention, authors are suggested to manage its patent before published. The license type is CC-BY-SA 4.0.
EKOMBIS REVIEW: Jurnal Ilmiah Ekonomi dan Bisnis is licensed under a Creative Commons Attribution-ShareAlike 4.0 International License.
You are free to:
Share — copy and redistribute the material in any medium or format
Adapt — remix, transform, and build upon the material
for any purpose, even commercially.
The licensor cannot revoke these freedoms as long as you follow the license terms.