APLIKASI PENCARIAN RESEP MASAKAN KHAS BENGKULU MENGGUNAKAN ALGORITMA BINARY SEARCH BERBASIS ANDROID
Ardi Wijaya

M Fiqri Maulana

Muhammad Danil
Abstract
Memasak merupakan kegiatan yang bisa dilakukan oleh siapa saja. Dengan memasak, seseorang dapat menghidangkan beraneka ragam masakan diatas meja makan. Bahan, bumbu serta cara mengolah bahan makanan dalam membuat suatu masakan dapat dilihat pada resep masakan. Resep Masakan merupakan panduan bagi seseorang dalam mengolah bahan makanan menjadi hidangan yang dapat disajikan. Penggunaan perangkat berbasis Android dari tahun ke tahun mengalami peningkatan yang sangat pesat. Salah satu contoh adalah sebuah aplikasi di bidang kuliner. Pengguna perangkat Android bisa mendapatkan aplikasi resep masakan khas Bengkulu. Pencarian merupakan pekerjaan yang sering kita lakukan dalam kehidupan sehari – hari. Salah satu metode yang memiliki efisiensi adalah metoda pencarian biner (Binary Search). Pencarian biner (Binary Search)dapat dilakukan pada barisan bilangan yang telah diurutkan, baik secara menaik maupun secara menurun. Berdasarkan ringkasan di atas, penulis tertarik menerapkan metode pencarian biner (binary search) pada aplikasi pencarian Resep Masakan Khas Bengkulu Berbasis Android, yang bertujuan untuk Membantu dan mempermudah pengguna yang membutuhkan resep masakan khas Bengkulu. Berdasarkan pengujian sistem dengan User Statisfaction Testing menunjukkan nilai 4,14 untuk variable tampilan, 4,2 untuk nilai variable kemudahan pengguna dan 4,13 untuk nilai variable kinerja system dengan nilai tersebut dapat disimpulkan hasil secara keseluruhannya adalah "Baik".
Kata Kunci : Resep, Android, Pencarian Biner
Downloads
Download data is not yet available.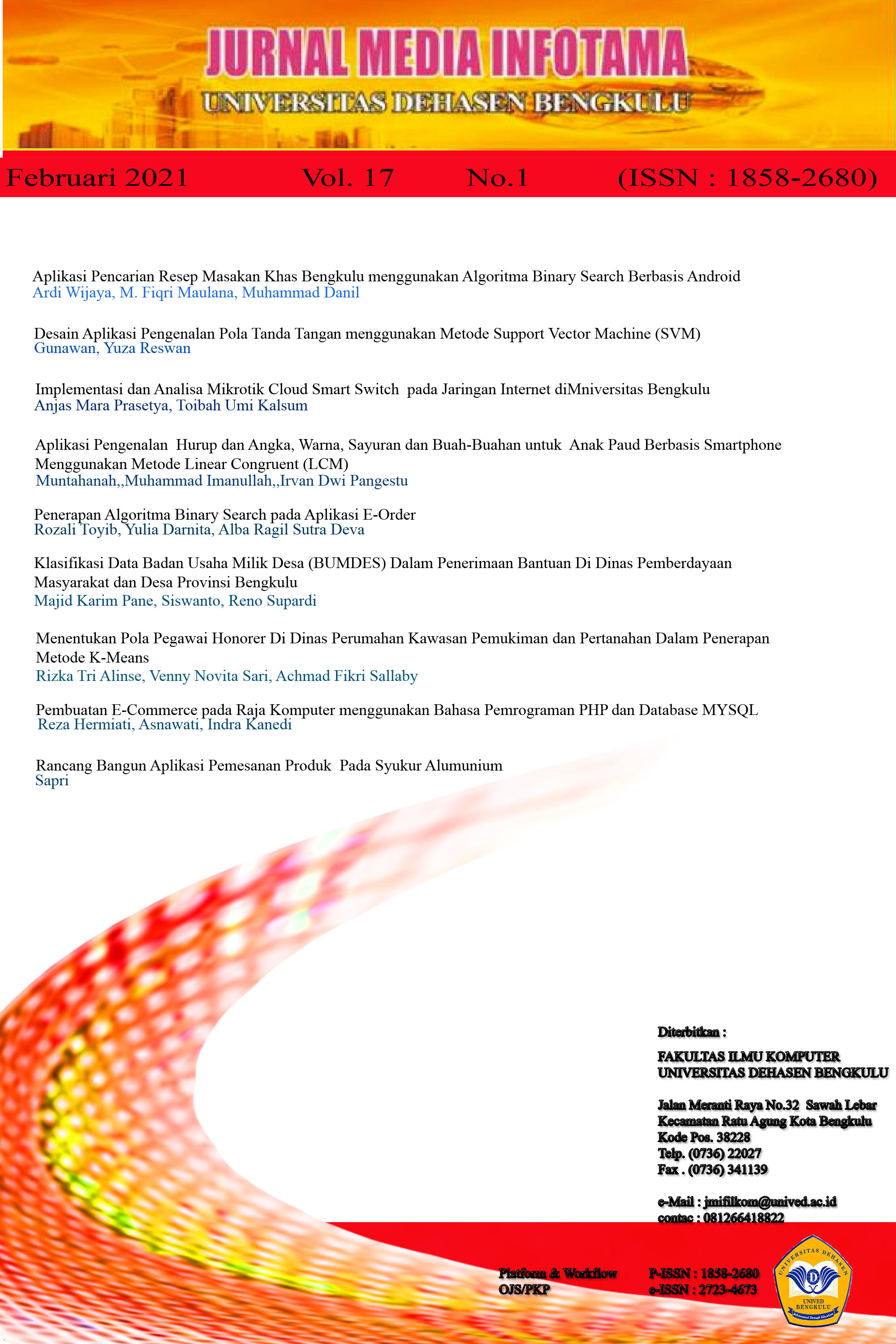 How to Cite
Wijaya, A., Maulana, M., & Danil, M. (2021). APLIKASI PENCARIAN RESEP MASAKAN KHAS BENGKULU MENGGUNAKAN ALGORITMA BINARY SEARCH BERBASIS ANDROID. JURNAL MEDIA INFOTAMA, 17(1). https://doi.org/10.37676/jmi.v17i1.1310
An author who publishes in the Jurnal Media Infotama agrees to the following terms:
Author retains the copyright and grants the journal the right of first publication of the work simultaneously licensed under the Creative Commons Attribution-ShareAlike 4.0 License that allows others to share the work with an acknowledgement of the work's authorship and initial publication in this journal
Submission of a manuscript implies that the submitted work has not been published before (except as part of a thesis or report, or abstract); that it is not under consideration for publication elsewhere; that its publication has been approved by all co-authors. If and when the manuscript is accepted for publication, the author(s) still hold the copyright and retain publishing rights without restrictions. For the new invention, authors are suggested to manage its patent before published. The license type is CC-BY-SA 4.0.
EKOMBIS REVIEW: Jurnal Ilmiah Ekonomi dan Bisnis is licensed under a Creative Commons Attribution-ShareAlike 4.0 International License.
You are free to:
Share — copy and redistribute the material in any medium or format
Adapt — remix, transform, and build upon the material
for any purpose, even commercially.
The licensor cannot revoke these freedoms as long as you follow the license terms.