Kolaborasi Whatsapp Group, Zoom Cloud Meeting, Dan Google Drive Sebagai Formula Dalam Pelaksanaan Kegiatan Perkuliahan Online Di Masa Pandemi Covid-19
Arius Satoni Kurniawansyah

siswanto siswanto
Abstract
Dunia Pendidikan menghadapi tantangan besar dengan adanya Pandemi Covid-19 ini. Semua kegiatan Perkuliahan yang biasanya dengan tatap muka, sekarang dilarang dan harus melaksanakan kegiatan secara daring atau online. Banyak Aplikasi yang ditawarkan dalam melaksanakan Perkuliahan secara online, seperti Zoom, Google Meeting, Whatsapp Group, dan Google Drive dan lain-lain. Dosen dan mahasiswa harus mampu dan melek Teknologi, kalau salah satu ada yang tidak bisa memanfaatkan Teknologi, maka akan sulit untuk terlaksana kegiatan Perkuliahan onlinenya. Dampak pandemi COVID-19 salah satunya adalah perubahan sistem pembelajaran sekolah menjadi via daring. Bagi kebanyakan sekolah pembelajaran ini masih harus menyesuaikan banyak hal, termasuk bagaimana melatih siswa menjawab soal-soal tanpa mereka harus menyontek dengan membuka internet. Salah satu media pembelajaran berbasis teknologi yang dapat dijadikan sebagai penunjang pada media yang sudah ada adalah dalam bentuk e-learning (pembelajaran elektronik). E-learning merupakan aplikasi internet yang dapat menghubungkan peserta didik dan pendidik dalam sebuah ruang belajar online. E-learning didesain untuk mengatasi keterbatasan antara pendidik dan pesrta didik, terutama dalam hal waktu, ruang kondisi, dan keadaan. Ringkasnya, e-learning dapat menciptakan sebuah ruang digital pembelajaran, dimana peserta didik dapat mengakses materi dari berbagai sumber tanpa dibatasi ruang dan waktu. Dalam masa pandemi Covid-19 sangat efektif melaksanakan Perkuliahan daring dengan memanfaatkan Aplikasi Zoom, Whatsapp Group, dan Google Drive.
Kata Kunci: Whatsapp Group, Zoom, Google Drive, Pandemi Covid-19
Downloads
Download data is not yet available.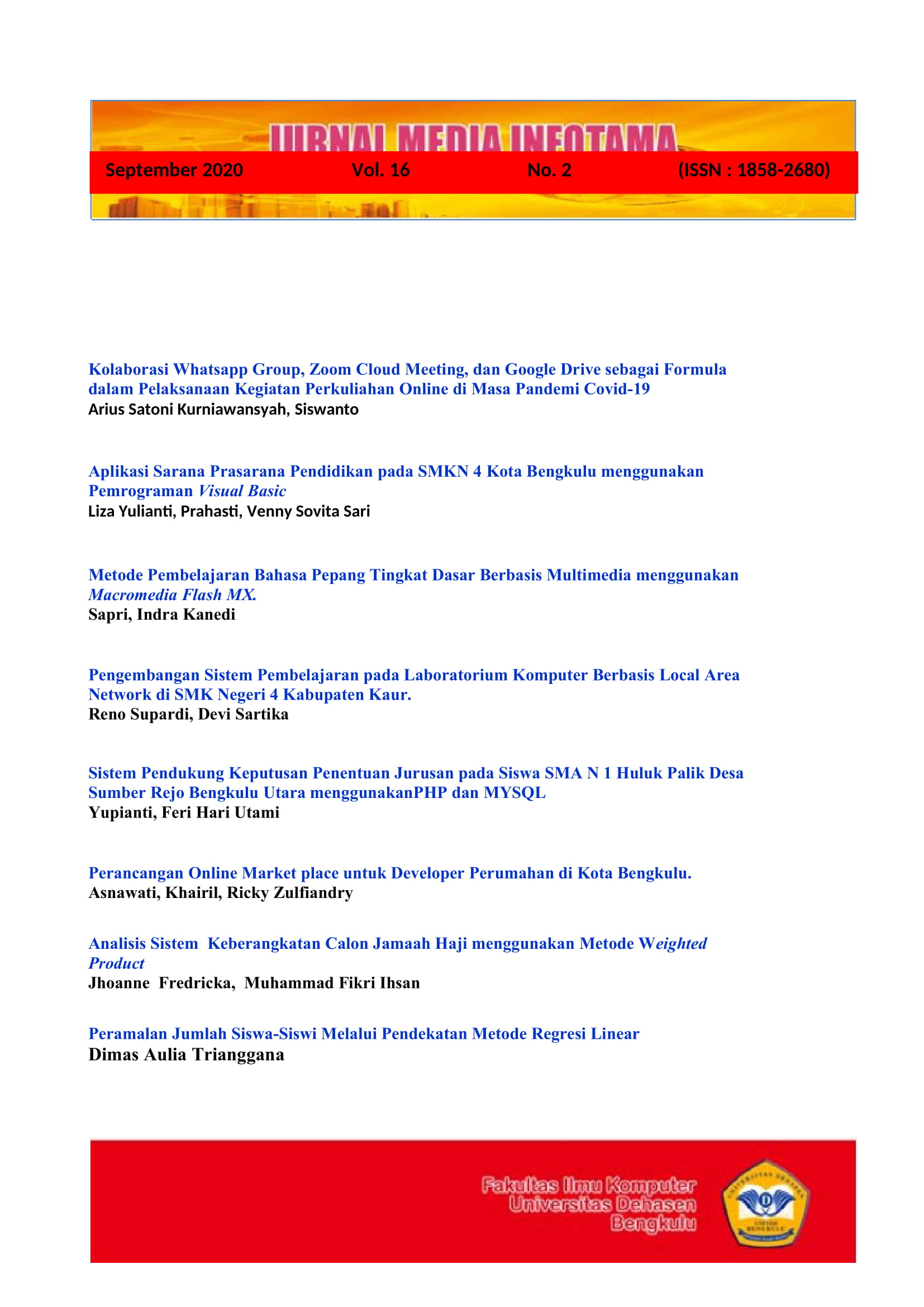 How to Cite
Kurniawansyah, A., & siswanto, siswanto. (2020). Kolaborasi Whatsapp Group, Zoom Cloud Meeting, Dan Google Drive Sebagai Formula Dalam Pelaksanaan Kegiatan Perkuliahan Online Di Masa Pandemi Covid-19. JURNAL MEDIA INFOTAMA, 16(2). https://doi.org/10.37676/jmi.v16i2.1155
An author who publishes in the Jurnal Media Infotama agrees to the following terms:
Author retains the copyright and grants the journal the right of first publication of the work simultaneously licensed under the Creative Commons Attribution-ShareAlike 4.0 License that allows others to share the work with an acknowledgement of the work's authorship and initial publication in this journal
Submission of a manuscript implies that the submitted work has not been published before (except as part of a thesis or report, or abstract); that it is not under consideration for publication elsewhere; that its publication has been approved by all co-authors. If and when the manuscript is accepted for publication, the author(s) still hold the copyright and retain publishing rights without restrictions. For the new invention, authors are suggested to manage its patent before published. The license type is CC-BY-SA 4.0.
EKOMBIS REVIEW: Jurnal Ilmiah Ekonomi dan Bisnis is licensed under a Creative Commons Attribution-ShareAlike 4.0 International License.
You are free to:
Share — copy and redistribute the material in any medium or format
Adapt — remix, transform, and build upon the material
for any purpose, even commercially.
The licensor cannot revoke these freedoms as long as you follow the license terms.