Aplikasi Sarana Prasarana Pendidikan Pada SMKN 4 Kota Bengkulu Menggunakan Pemrograman Visual Basic
Liza Yulianti

Prahasti Prahasti

Venny Novita Sari
Abstract
Pengelolaan sarana dan prasarana pendidikan yang kurang baik dapat menimbulkan berbagai permasalahan terutama dalam pendokumentasian dan pengelolaan aset yang ada di sekolah. Sarana prasarana pendidikan merupakan aset sekolah yang harus ditata dan dikelola dengan baik untuk mendukung terjaminnya kualitas pendidikan yang ada disekolah. Pemanfaatan teknologi informasi melalui bahasa pemrograman dapat menciptakan berbagai aplikasi yang dibutuhkan sesuai kebutuhan pengguna. Penelitian ini bertujuan untuk membuat sarana dan prasana pendidikan dengan menggunakan bahasa pemrograman visual basic dan database mySQL . Metode Pengembangan Sistem Yang digunakan Adalah Sistem Pengembangan Lif Cycle (SDLC) ATAU pendekatan udara terjun ( waterfall). Tahapan penelitian dimulai dari perancangan sistem, analisis sistem, desain sistem, program pengkodean, uji coba program, pelaksanaan sistem dan pemeliharaan sistem. Hasil penelitian adalah adanya aplikasi sarana prasarana pendidikan dengan laporan-laporan data ruang, laporan sarpras perjenis, laporan sarpras perruang dan rekapitulasi sarpras pendidikan. Aplikasi yang diharapkan diharapkan dapat meningkatkan pelayanan bagi pihak sekolah akan informasi sarana prasana pendidikan sehingga dapat menjamin mutu pendidikan di SMKN 4 Kota Bengkulu.
Kata Kunci: Sarana Prasarana Pendidikan, Bahasa Pemrograman, MySQL , Visual Basic .
Downloads
Download data is not yet available.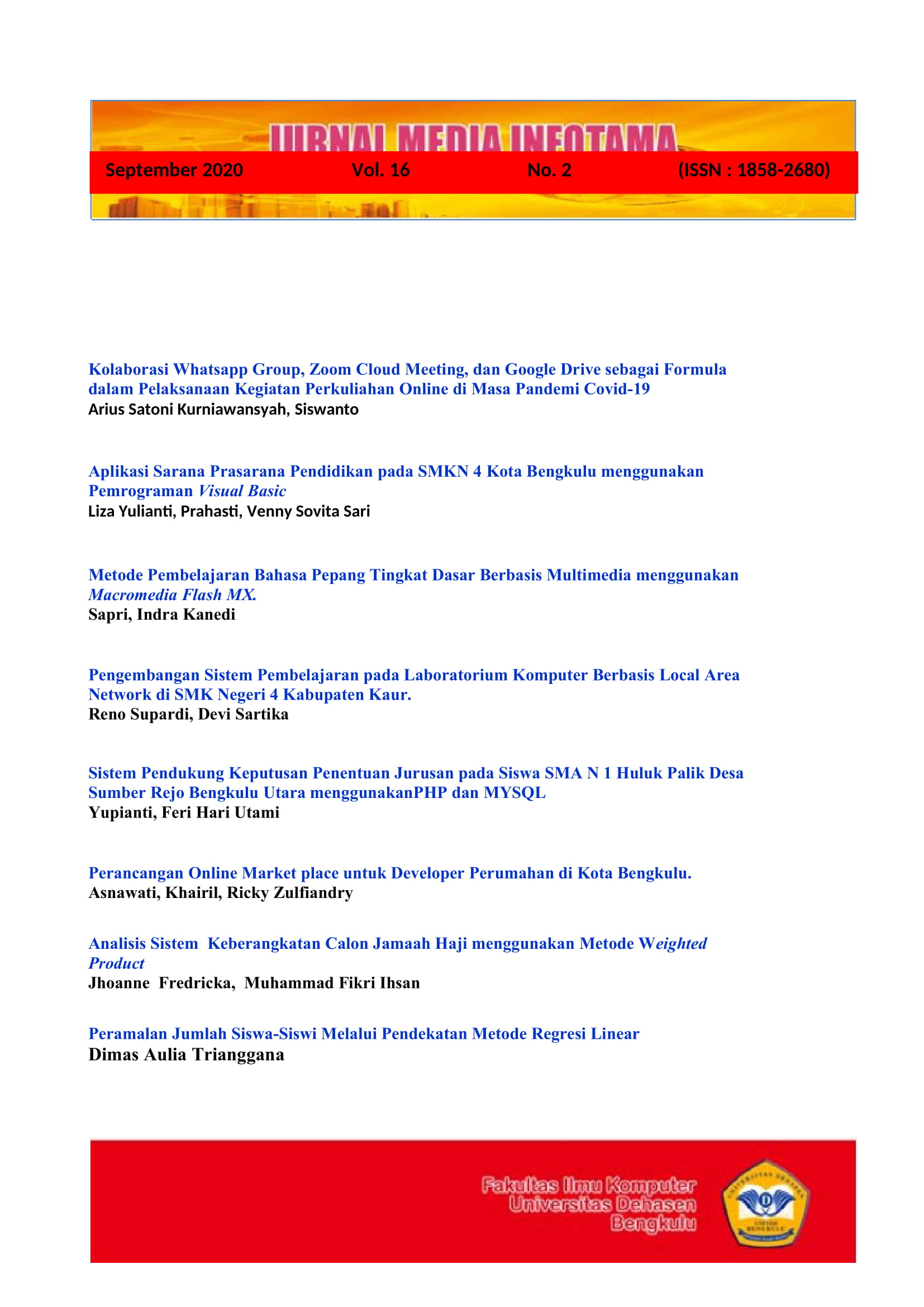 How to Cite
Yulianti, L., Prahasti, P., & Sari, V. (2020). Aplikasi Sarana Prasarana Pendidikan Pada SMKN 4 Kota Bengkulu Menggunakan Pemrograman Visual Basic. JURNAL MEDIA INFOTAMA, 16(2). https://doi.org/10.37676/jmi.v16i2.1143
An author who publishes in the Jurnal Media Infotama agrees to the following terms:
Author retains the copyright and grants the journal the right of first publication of the work simultaneously licensed under the Creative Commons Attribution-ShareAlike 4.0 License that allows others to share the work with an acknowledgement of the work's authorship and initial publication in this journal
Submission of a manuscript implies that the submitted work has not been published before (except as part of a thesis or report, or abstract); that it is not under consideration for publication elsewhere; that its publication has been approved by all co-authors. If and when the manuscript is accepted for publication, the author(s) still hold the copyright and retain publishing rights without restrictions. For the new invention, authors are suggested to manage its patent before published. The license type is CC-BY-SA 4.0.
EKOMBIS REVIEW: Jurnal Ilmiah Ekonomi dan Bisnis is licensed under a Creative Commons Attribution-ShareAlike 4.0 International License.
You are free to:
Share — copy and redistribute the material in any medium or format
Adapt — remix, transform, and build upon the material
for any purpose, even commercially.
The licensor cannot revoke these freedoms as long as you follow the license terms.