Pengamanan Data Teks Dengan Menggunakan Algoritma Zero-Knowledge Proof
Rozali Toyib

Yulia Darnita
Abstract
Keamanan data sangat penting dilakukan dalam menjaga kerahasiaan informasi itu sendiri, terutama bila informasi tersebut hanya boleh diketahui pihak yang tertentu saja. Pengiriman data atau informasi tanpa dilakukan pengamanan akan beresiko terhadap penyadapan. Sehingga informasi yang ada di dalamnya dapat mudah diketahui oleh pihak-pihak yang tidak berhak, dan hal seperti itu sangat merugikan.Hingga saat ini, kriptografi merupakan salah satu solusi untuk menjamin keamanan dari suatu informasi. Zero Knowledge Proof (ZKP) merupakan protokol kriptografi yang dapat digunakan seseorang untuk membuktikan kepemilikan seseorang (prover) akan suatu informasi rahasia kepada orang lain (verifier), tanpa perlu mengungkapkan informasi tersebut atau memberikan cara bagi orang lain untuk mengetahui rahasia tersebut. Hasil pengujian adalah Zero Knowledge Proof membagi satu aliran data menjadi blok-blok kecil Masing-masing blok ini dienkripsi secara terpisah. Dalam implementasi tanpa bukti pengetahuan, kunci untuk mengenkripsi hanya akan berada pada pengguna, dan dengan itu, ia akan dapat mengenkripsi dan mendekripsi informas, Algoritma zero knowledge proof adalah metode yang unik dimana pengguna dapat membuktikan kepada pengguna lain bahwa dia tahu informasi tambahan.
Kata Kunci: Keamanan ,data,penyadapan ,Zero-Knowledge proof
Downloads
Download data is not yet available.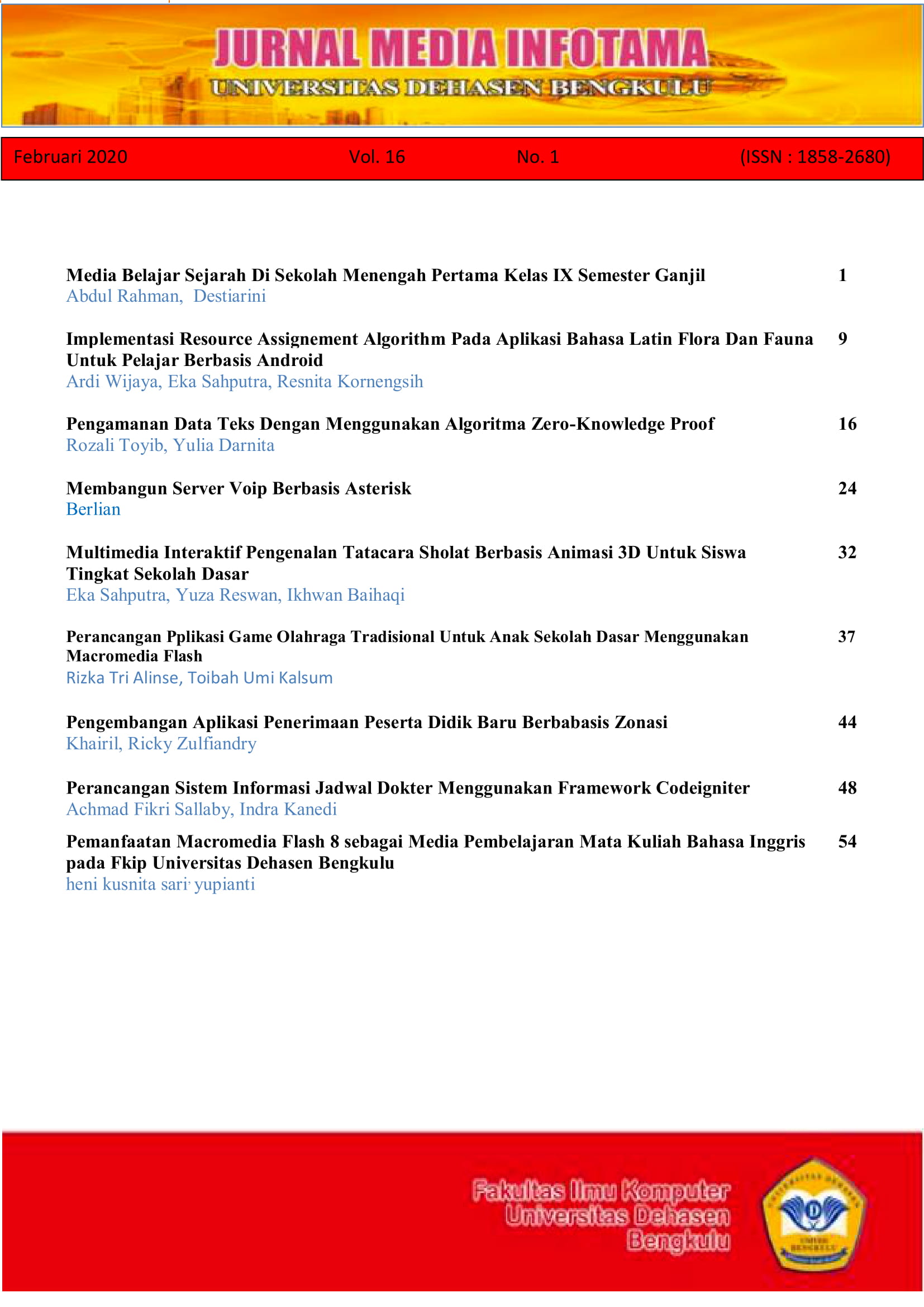 How to Cite
Toyib, R., & Darnita, Y. (2020). Pengamanan Data Teks Dengan Menggunakan Algoritma Zero-Knowledge Proof. JURNAL MEDIA INFOTAMA, 16(1). https://doi.org/10.37676/jmi.v16i1.1114
An author who publishes in the Jurnal Media Infotama agrees to the following terms:
Author retains the copyright and grants the journal the right of first publication of the work simultaneously licensed under the Creative Commons Attribution-ShareAlike 4.0 License that allows others to share the work with an acknowledgement of the work's authorship and initial publication in this journal
Submission of a manuscript implies that the submitted work has not been published before (except as part of a thesis or report, or abstract); that it is not under consideration for publication elsewhere; that its publication has been approved by all co-authors. If and when the manuscript is accepted for publication, the author(s) still hold the copyright and retain publishing rights without restrictions. For the new invention, authors are suggested to manage its patent before published. The license type is CC-BY-SA 4.0.
EKOMBIS REVIEW: Jurnal Ilmiah Ekonomi dan Bisnis is licensed under a Creative Commons Attribution-ShareAlike 4.0 International License.
You are free to:
Share — copy and redistribute the material in any medium or format
Adapt — remix, transform, and build upon the material
for any purpose, even commercially.
The licensor cannot revoke these freedoms as long as you follow the license terms.