Dns Server And Web Server Simulation With Debian Operating System On Local Area Network
Dina Kartika

Fakultas Ilmu Komputer, Universitas Dehasen Bengkulu

Riska Riska

Universitas Dehasen Bengkulu

Yessi Mardiana

Universitas Dehasen Bengkulu
Keywords:
Apache, Bind 9, Debian 10, webstresstool and nload
Abstract
The web server can be implemented on a local network and accesses the ip address of web server. To make it easier to access the web server, a DNS server can be applied which can translate ip addresses into domain names. This study aims to provide an overview of how to implement a DNS server and web server with the Debian operating system on a local area network, translate ip addresses into domain names, and provide web server services for clients. Where the research method used is NDLC, using the NDLC method the research process can be repeated to get good results. The result of this research is that the web server can be run on the local network by accessing the domain that has been configured on the DNS server, namely dinakartika.com, where in its implementation a response time test has also been carried out with the result that the more users access, the greater the response time. got. for testing the performance of the web server to get results with more and more users accessing the greater the memory usage and for processor usage there is a not too large increase, while for the network to get results with more and more users accessing the web the bandwidth usage will also increase.
Downloads
Download data is not yet available.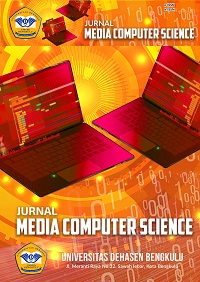 How to Cite
Kartika, D., Riska, R., & Mardiana, Y. (2023). Dns Server And Web Server Simulation With Debian Operating System On Local Area Network. Jurnal Media Computer Science, 2(1), 83–92. https://doi.org/10.37676/jmcs.v2i1.3439
Copyright (c) 2023 Dina Kartika, Riska Riska, Yessi Mardiana
This work is licensed under a Creative Commons Attribution-ShareAlike 4.0 International License.