Expert System To Determine The Type Of Mental Disorder Using Certainty Factor Method
Mishelna Mishelna

Program Studi Informatika, Fakultas Ilmu Komputer, Universitas Dehasen Bengkulu

Lena Elfianti

Universitas Dehasen Bengkulu

Asnawati Asnawati

Universitas Dehasen Bengkulu
Keywords:
Expert system, Certainty Factor, Mental Disorder
Abstract
This study aims to create an expert system application to determine the type description of mental disorder in humans using certainty factor method. Mental Disorders are a group of symptoms characterized by changes in a person's thoughts, feelings and behavior that cause dysfunction in carrying out daily activities. The problems that often occur are the lack of knowledge and limited sources of information causing low public awareness of efforts to prevent and even treat mental disorders. The MySQL database can accommodate patient information and data who consult with an expert system that can make it easier for patients to consult about Mental Disorders. From the results of the system program on users, it was found that the average results of respondents' answers which reached 53% answered strongly agree, 26% answered agree, 14% answered less agree and only 7% of respondents answered disagree. So from the results of data processing, it can be concluded that this system is feasible to use. Because more than half of the respondents agree that this system is suitable for use
Downloads
Download data is not yet available.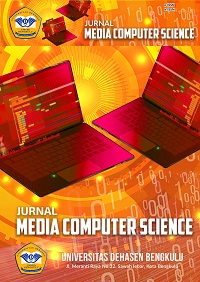 How to Cite
Mishelna, M., Elfianti, L., & Asnawati, A. (2023). Expert System To Determine The Type Of Mental Disorder Using Certainty Factor Method. Jurnal Media Computer Science, 2(1), 75–82. https://doi.org/10.37676/jmcs.v2i1.3413
Copyright (c) 2023 Mishelna Mishelna, Lena Elfianti, Asnawati Asnawati
This work is licensed under a Creative Commons Attribution-ShareAlike 4.0 International License.