The Basis Of Ratio Analysis For The Selection Of Majors At SMA Negeri 1 In Kepahiang Regency
Epan Susandi

Program Studi Informatika, Fakultas Ilmu Komputer, Universitas Dehasen Bengkulu

Liza Yulianti

Universitas Dehasen Bengkulu

Eko Suryana

Universitas Dehasen Bengkulu
Keywords:
Apori Guest, Data Mining
Abstract
SMA Negeri 1 is one of the schools in Kepahiang regency which annually routinely conducts major selection for the students. This major is intended so that later students can complete school according to their interests and abilities before continuing to a higher level. The current major selection process has weaknesses, including taking a long time and also the results obtained are less accurate because there could be many mistakes because there is no special application to support these calculations. In addition, the element of subjectivity is quite high because the criteria used are still few and less relevant. To overcome this problem, a decision support system is made to determine the selection of majors. This study used the method of multi-objective optimization on the basis of ratio analysis (MOORA) with the criteria of the value of report cards for science subjects, social studies scores, mathematics scores, Indonesian language scores, and the average value of report cards. The implementation of the system uses the Visual Basic 2010 programming language and the method used in this research is the Waterfall method. The final result was that the decision support system with the MOORA method was able to overcome problems in the process of selecting majors at SMA Negeri 1 Kepahiang Regency.
Downloads
Download data is not yet available.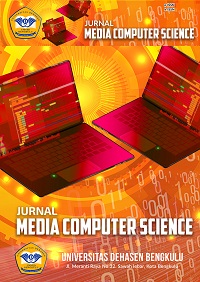 How to Cite
Susandi, E., Yulianti, L., & Suryana, E. (2022). The Basis Of Ratio Analysis For The Selection Of Majors At SMA Negeri 1 In Kepahiang Regency. Jurnal Media Computer Science, 1(2), 295–300. https://doi.org/10.37676/jmcs.v1i2.2744
Copyright (c) 2022 Epan Susandi, Liza Yulianti, Eko Suryana
This work is licensed under a Creative Commons Attribution-ShareAlike 4.0 International License.