The Development of A Tourism Information System Website in Kepahiang District Using The Rabin-Karp Algorithm
Yoga Yoga

Program Studi Teknik Informatika, Fakultas Teknik, Universitas Muhammadiyah Bengkulu

Nuri David Maria Veronika

Program Studi Teknik Informatika, Fakultas Teknik, Universitas Muhammadiyah Bengkulu
Keywords:
Development, Website, Tourism, Kepahiang, Rabin-Karp Algorithm
Abstract
Kepahiang Regency is one of the regencies in Bengkulu province which has a natural tourist attraction destination. Some of these potentials include kabawetan tea plantations and Suro Ilir dam, Raflesia flower nature reserve, agro tirto, glagah estuary lake and black hill waterfall. The potential for natural tourism in Kepahiang district is very interesting because of the geographical location of Kepahiang district. With all the attractions on offer, it would be a pity if it was not accompanied by an attractive tourism promotion as well. One of the efforts to increase the number of tourists is to build applications that can make it easier for users to travel. Applications that can accommodate tourist needs data, especially regarding data on tourist attractions, lodging, culinary and historical places that can be visited. A tourism website that is equipped with a gallery so that it can increase the interest of tourists to come to visit. The application is built using the PHP and MySQL programming languages so that it can be accessed only using a browser application. Applications that are intended for users do not need to use a login system so that they can be accessed by anyone and anywhere. The implementation of rabin karp in the application has not been maximized because it has not been able to follow the formal concept of the algorithm, but the application can find the data sought with a similar concept because the search is carried out on every word contained in the tourist, hotel and culinary name data. The application can display complete tourist, culinary and hotel data along with the location on the map but cannot provide assistance on the closest route to visit the place you want to go on the map.
Downloads
Download data is not yet available.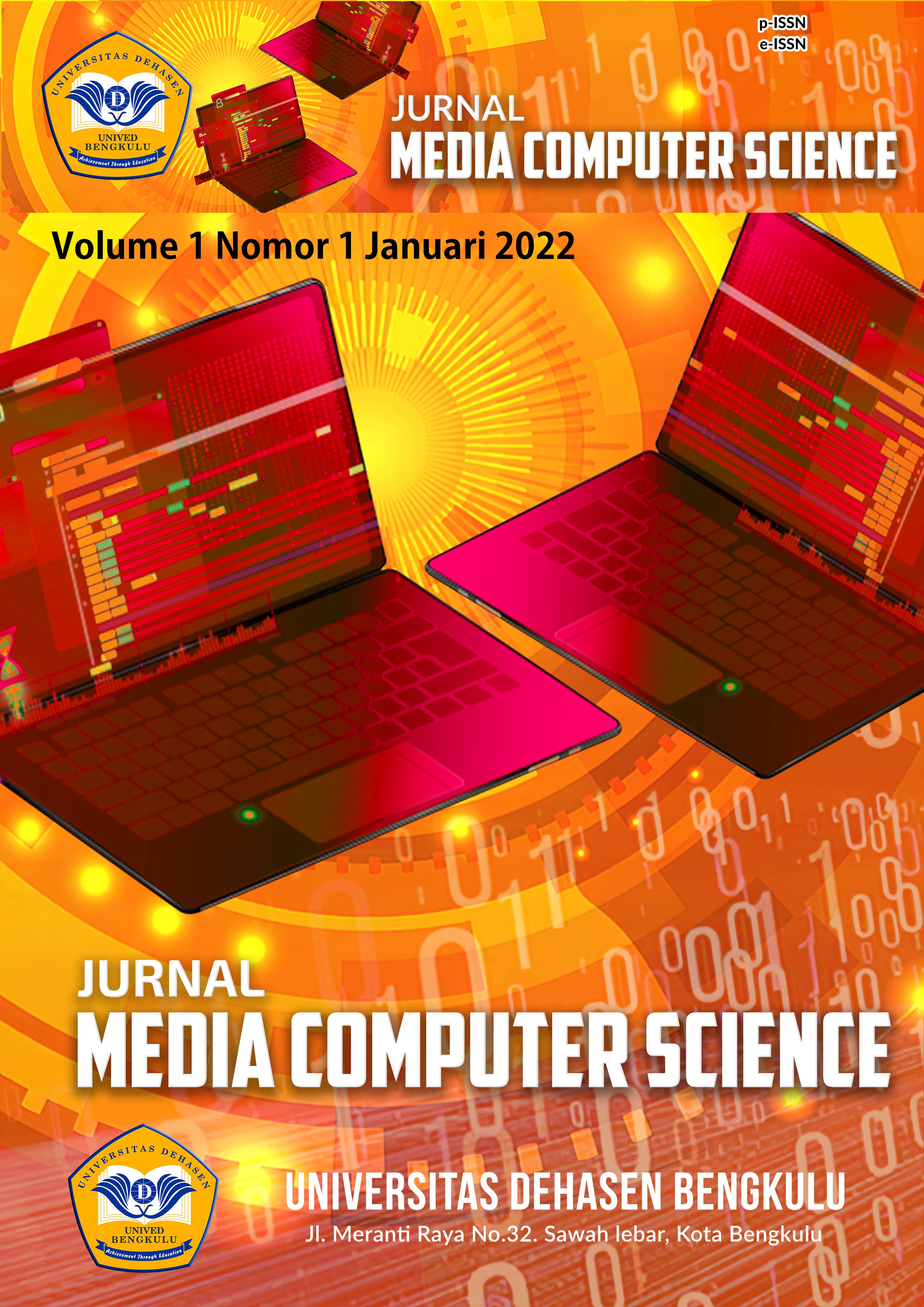 How to Cite
Yoga, Y., & Veronika, N. (2022). The Development of A Tourism Information System Website in Kepahiang District Using The Rabin-Karp Algorithm. Jurnal Media Computer Science, 1(1), 64–73. Retrieved from https://jurnal.unived.ac.id/index.php/jmcs/article/view/1939