An analysis of Kevin's ego in "Split" movie - A Psycoanalysis Study
Deni Pratama

Sastra Inggris Fakultas Sastra Universitas Dehasen Bengkulu

Merry Rullyanti

Sastra Inggris Fakultas Sastra Universitas Dehasen Bengkulu
Abstract
Split movie is an interesting psycholinguistically analyzed movie in the last decade. The movie criticizes a bad psychological relationship between the main character and his community. Through this study, the researcher analyzed the multiple personality of main character on Split movie and used the theory of Sigmund Freud within the title "An Analysis of Kevin's Ego in "Split" Movie (a Psychoanalysis Study)". The purpose of this study are to find out Kevin's ego based on the Sigmund Freud's defence mechanism in the movie and to find out Kevin's most frequently emerging ego based on the Sigmund Freud's defence mechanism. In  this  study the researcher used a  qualitative  descriptive  method by collecting  data  on all  character conversations in "Split" movie. The data were analyzed based on Frued's theory of defence mechanism. Furthermore, the data were also anaylized by using Spradley's theory. There are three steps that must be taken in using this theory, namely domain analysis, taxonomic analysis and component analysis. The researcher found 8 Kevin's egos that got involved in real dialogues in Split movie. They are childish, firm man, mother-like, effeminate person, firm and effeminate, cruel, cool man, and weak lady. The highest val ue of frequently emerging ego goes to childish. Whereas, the lowest frequently emerging ego is a weak lady. Hopefully, the results of this study will increase the knowledge in English letters, especially in psychoanalysis study about various egos of movie characters or even real persons and the defence mechanism based on Sigmund Freud's and Spradley's theories.
Downloads
Download data is not yet available.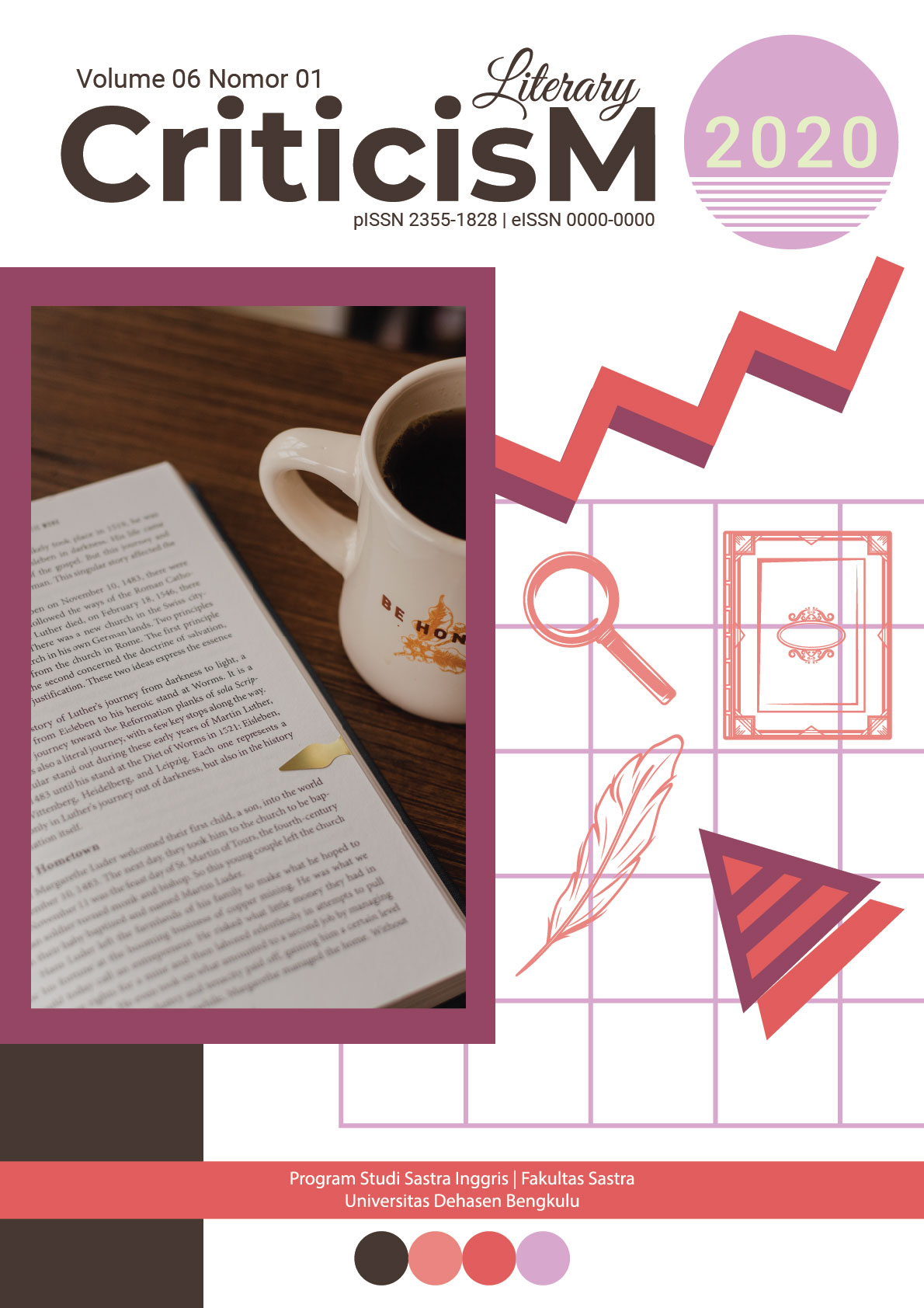 How to Cite
Pratama, D., & Rullyanti, M. (2021). An analysis of Kevin's ego in "Split" movie - A Psycoanalysis Study. Literary Criticism, 6(02), 60-65. Retrieved from https://jurnal.unived.ac.id/index.php/jlc/article/view/1576
Copyright (c) 2021 Deni Pratama, Merry Rullyanti
This work is licensed under a Creative Commons Attribution-NonCommercial-NoDerivatives 4.0 International License.