UPAYA HUKUM YANG DILAKUKAN OLEH BANK TERHADAP NASABAH YANG MELAKUKAN WANPRESTASI PERJANJIAN KREDIT USAHA PERDESAAN (KUPEDES) PADA BANK BRI UNIT KETAHUN DITINJAU DARI ASAS KESEIMBANGAN
Abstract
Bank and customer credit agreements bind rights and obligations. Therefore, it is necessary to balance the position of both parties which reflects fairness both in the contents of the agreement and its implementation. In fact, it is often found an imbalance in the position of both parties that gives birth to injustice both in content and implementation, especially in the implementation of guarantee execution. In analyzing the problems in this study, researchers used a descriptive analysis method so that the results of the study showed that the legal remedies undertaken by the bank against debtors who defaulted more on deliberation and non-litigation efforts. The implementation of guarantee execution has implemented the principle of balance and reflects justice.
Keywords: Legal Remedies,Credit Agreements, Balance Principle
Downloads
Download data is not yet available.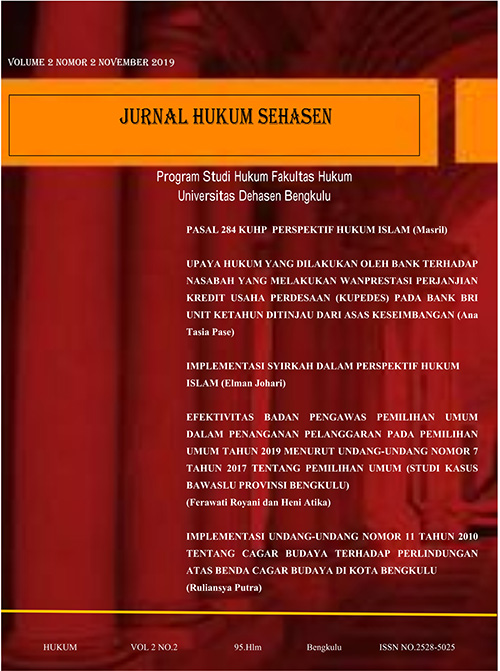 How to Cite
Pase, A. (2019). UPAYA HUKUM YANG DILAKUKAN OLEH BANK TERHADAP NASABAH YANG MELAKUKAN WANPRESTASI PERJANJIAN KREDIT USAHA PERDESAAN (KUPEDES) PADA BANK BRI UNIT KETAHUN DITINJAU DARI ASAS KESEIMBANGAN. JURNAL HUKUM SEHASEN, 2(2). Retrieved from https://jurnal.unived.ac.id/index.php/jhs/article/view/916