IMPLEMENTASI UNDANG-UNDANG NOMOR 11 TAHUN 2010 TENTANG CAGAR BUDAYA TERHADAP PERLINDUNGAN ATAS BENDA CAGAR BUDAYA DI KOTA BENGKULU
Abstract
Humans are basically leave history, history will leave artifacts of human culture for the next period. Given the cultural heritage objects are usually older than 50 years, it is only fitting when damaged. Hence the need for the protection and maintenance of cultural heritage objects. In this paper, the problem and the goal is to determine the implementation of the protection of cultural heritage objects in the Law Number 11 Year 2010 on Heritage and barriers associated with the implementation of the protection of objects of cultural heritage in the city of Bengkulu.
Keywords : Implementation of the Protection, Cultural Heritage.
Downloads
Download data is not yet available.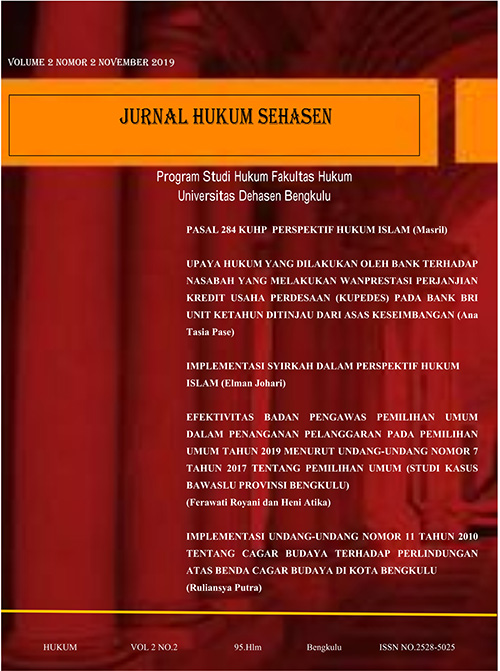 How to Cite
Putra, R. (2019). IMPLEMENTASI UNDANG-UNDANG NOMOR 11 TAHUN 2010 TENTANG CAGAR BUDAYA TERHADAP PERLINDUNGAN ATAS BENDA CAGAR BUDAYA DI KOTA BENGKULU. JURNAL HUKUM SEHASEN, 2(2). Retrieved from https://jurnal.unived.ac.id/index.php/jhs/article/view/915