Process Of Settlement Of Wanprestasi With Execution And Auction Object Of Fiduciary Guarantee at PT. Mandiri Tunas Finance Bengkulu
Meri Suarti

Fakultas Hukum, Universitas Muhammadiyah Bengkulu

Hendi Sastra Putra

Fakultas Hukum, Universitas Muhammadiyah Bengkulu
Abstract
Consumer Financing Agreements between finance companies called creditors who are domiciled as fiduciary recipients and debtors as fiduciary givers often default. Creditors' efforts to protect the object of collateral and to minimize non-performing loans from debtors require a Fiduciary Guarantee Institution. Based on the Consumer Financing Agreement that has been mutually agreed upon between the two parties, one of the consequences arising from the default is the withdrawal or execution of the object that is the fiduciary guarantee. PT. Mandiri Tunas Finance is one of the financing companies in Bengkulu, a multi-finance company that runs its business in accordance with applicable laws and regulations. In an effort to ensure the settlement of receivables PT. Mandiri Tunas Finance also registers fiduciary guarantees for objects that are collateral for debts. The focus of the research and the study in this research is how the execution process reaches the auction stage. The method used is empirical juridical also known as juridical sociological research where research can be carried out by observing data sources in the field. Based on the results of this study that the process of executing the object of fiduciary guarantees at PT. Mandiri Tunas Finance Bengkulu Branch was carried out on the basis of the provisions of Law Number 42 of 1999 concerning Fiduciary Guarantees that creditors have parate executie rights. The auction process for fiduciary guarantee objects at PT. Mandiri Tunas Finance Bengkulu Branch is carried out when the debtor does not heed the opportunity given by the creditor to pay off his debt as stated in the Credit Settlement Letter (SPK) given by the creditor after the execution is carried out.
Downloads
Download data is not yet available.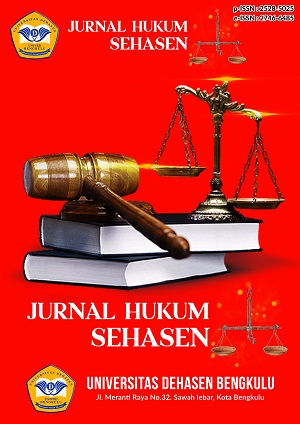 How to Cite
Suarti, M., & Putra, H. S. (2022). Process Of Settlement Of Wanprestasi With Execution And Auction Object Of Fiduciary Guarantee at PT. Mandiri Tunas Finance Bengkulu. JURNAL HUKUM SEHASEN, 8(2), 101-. https://doi.org/10.37676/jhs.v8i2.3081
Copyright (c) 2022 Meri Suarti, Hendi Sastra Putra
This work is licensed under a Creative Commons Attribution-ShareAlike 4.0 International License.